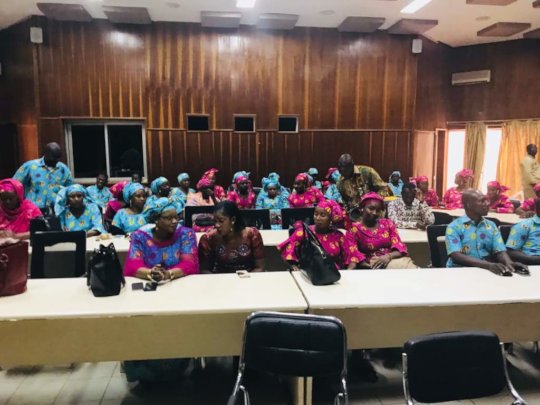 While protests against governmental abuses run concurrently with the COVID-19 pandemic, access to healthcare- an already-weak sector in Mali- has become increasingly more difficult. This is especially concerning for the population of Malian women we work with at GAIA VF, especially as it pertains to combatting the high rates of HPV and cervical cancer in the country.
Cervical cancer is the leading cancer-related fatality amongst Malian women. This is concerning given that the Human Papillomavirus, which causes 70 percent of cervical cancer cases, has a widely accepted vaccine that is 99 percent effective. This inequity demonstrates the clear disparities that exist within global health infrastructure. Unfortunately, these injustices are only compounded by the stigma surrounding the condition, another core reason behind the development of GAIA VF's HPV and Cervical Cancer Prevention program.
Since 2013, we have supplied five clinics with access to the HPV vaccine and free cervical screenings. Our most notable initiative, however, is the storytelling project. In West Africa, textiles have been traditionally used as a source of communication, such as narrating different cultural tales. At GAIA VF, we worked closely with women in Bamako, Mali to develop our own textile, focused specifically on HPV and Cervical Cancer prevention. Printed with the words of "I protect myself, I take care of myself, I immunize myself" across an image of healthy cervixes, this project promotes girls to receive the HPV vaccine and women to be screened by cervical cancer. The initiative is unique in that it is inspired by the West African tradition, using a familiar cultural concept to address public health concerns and help eliminate the stigma.
Another key tenet of our project is increasing awareness. Working with the Malian Regional Health Director, peer educators are trained in the specifics regarding HPV and cervical cancer education. These women wear the HPV cloth to help increase knowledge of screenings and the vaccine in different neighborhoods, lead info sessions, and also collaborate with media personnel (like radio hosts) to foster better understanding of cervical cancer.
Moving forward, especially amidst the COVID-19 pandemic, your donations go a long way in helping continue our fight against HPV and Cervical Cancer prevention. Raised funds will go directly towards overcoming the numerous global, social, and financial barriers that prevent proper access to cervical screenings and the HPV vaccine. In the United States, according to the American Cancer Society, the fatality rate of cervical cancer is 31 percent. According to the HPV Prevention Centre, it is more than double in Mali, with 77% of women dying post-diagnosis. To fight this inequity, please donate to continue funding our campaign to provide the HPV vaccine and cervical screenings while simultaneously increasing awareness and eliminating the disease's associated stigma.