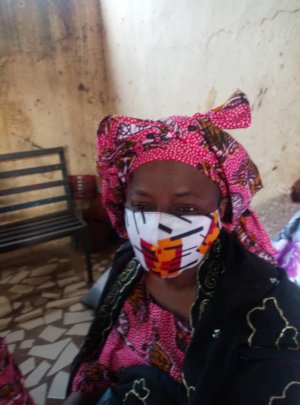 As the Delta variant continues to spread worldwide, there has been a reported increase in COVID-19 cases in Mali. Reports show an average increase of 8 new cases a day (though testing remains low). In total, there have been 14,647 confirmed cases and 534 deaths. However, good news has been reported. On August 5, 2021, Mali received 151,200 doses of the Johnson & Johnson vaccine from the United States and has plans to start a vaccination campaign soon. In total, about 0.44% of the population in Mali is currently vaccinated.
With the upward spread of COVID-19 infections, having the tools and supplies to continue the combat of the pandemic is essential. GAIA Vaccine Foundation's campaign for COVID-19 prevention supplies directly supports the clinics in Bamako, Mali. Your donation of just $25 funds masks to be distributed to our healthcare staff and community members.
Thank you for your support to GAIA VF!
In Mali, teenagers are leading the campaign to raise awareness and combat misinformation about COVID-19. Meet Fatoumata, a 15-year old who hosts a radio show in Mopti, located in central Mali. Fatoumata is testimony that educating our youth leads them on a passionate and effective path in society. As a 14-year old, Fatoumata attended training programmes hosted by UNICEF and other organizations. With the skills, knowledge, and encouragement Fatoumata and the other students received from mentors, they were empowered to become voices within their communities. The Teen Peer Education program at GAIA VF also actively recruits the next generation of Malians. Focused on teen health education, the Teen Peer Education programs trains 14 to 18-year-old adolescents and young adults through an engaging and inspiring teen health curriculum that aims to address health issues faced by youth in Mali. About 113 teens are reached per month, all commissioned to be voices and leaders within their community. Donate today to empower and encourage young community health leaders!

The recent wave of political instability in Mali can be traced back to 2012 when soldiers first overthrew the sitting president on charges of government corruption. This coup also provided an opening for Islamic groups to seize northern Mali, adding further disruption to the country. For the next 8 years the country suffered from public unrest, fueled by extreme poverty and overpopulation in the capital, Bamako, as Malians fled violence in northern Mali. This culminated in a military coup led by Assimi Goita in August 2020.
In April 2021, French journalist Oliver Dubois was kidnapped, a sign of rapidly increasing tensions between the different parties vying for power. In May 2021, there was a third military coup led by Assimi Goita triggered by his dissatisfaction with the appointed government cabinet. Shortly after in June 2021, Assimi Goita was sworn in as interim president, appointing many of his fellow army officers into the cabinet. Just recently as last week an attempted assassination of Goita was reported. The suspect was arrested on site and died in custody. Goita's response was as follows: "That's part of being a leader, there are always malcontents".
These frequent changes in power have created a somber tone in the government and have interrupted the continuity of provisions, including those important to public health. Many global institutions no longer recognize Mali in an attempt to disprove of its most recent coup. This instability directly impacts how effectively the government can meet the health needs of the country, and how quickly the government can respond to fast-changing public health situations. At a time where COVID-19 is still a major threat, public health programs are greatly needed. Dr.Karamoko, the GAIA VF Medical Director, spoke about the coup in relation to public health and mentioned that "it affects the systems of health because everything comes to an abrupt stop".
Thank you for reading. Continue to follow along on GlobalGiving and our Social Media pages listed below.
WARNING: Javascript is currently disabled or is not available in your browser. GlobalGiving makes extensive use of Javascript and will not function properly with Javascript disabled.
Please enable Javascript
and refresh this page.