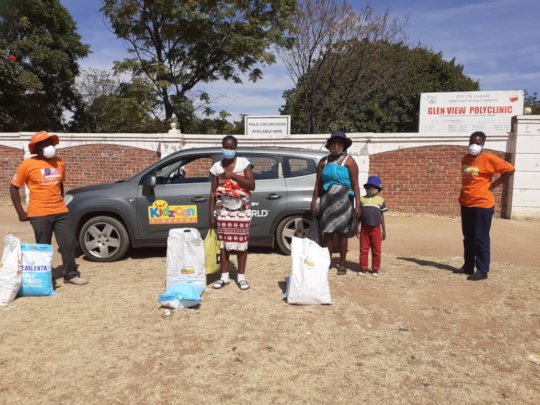 Dear Kidzcan Family and Friends,

We hope that this email finds you all well and are adjusting to the new norm by keeping safe as your wellbeing is key to the survival of children suffering from cancer. If there is anything we can do in terms of offering psychosocial support to you and your employees please feel free to reach out to Kidzcan.
As the new Coronavirus is spreading around the world and having a dramatic impact on people, communities, and businesses around the world, our number one priority for Kidzcan is the health and safety of our little angels suffering from cancer and, those we assist us around the globe and the communities where we live and work.
We at Kidzcan are also concerned of your wellbeing as one of partners in the fight against cancer in Zimbabwe.
We have taken all possible measures to ensure our patients and staff well-being, including; restricting travel and face-to-face meetings, implementing a global work-from-home policy, and constantly monitoring the situation around the world. We have been assisting with the distribution of food hampers to all our patients in Harare. A whatsapp group has been created for parents to share support, information and give them hope. We are very fortunate that we managed to procure some drugs from India just before the lock down, however many patients are unable to travel to Harare due to the lockdown and travel restrictions.In the last weeks, we have seen in our community thatfollow-up appointments and control scans are postponed. Patients are switched to treatments that are less effective but have fewer side effects.
Some patients on forums do not recognise the need to self-isolate and feel that 'cancer was already enough to worry about' with a high level of anxiety and uncertainty. The rampant levels of incorrect or unhelpful information being spread every day are not making it easier for patients and their families.

I believe that it is on us as cancer patient advocates to act now. Cancer patients trust us because they know we care. We have large networks, numerous relationships and established communication channels within and outside the cancer community. We know how to educate patients. We have experience with healthcare systems, support structures and know how to find our way. We have seen what works in healthcare and what doesn't. We have seen the good, the bad and the ugly. The fact we are still here means that we believe that change is possible. But by now, we are realists and no longer naive. We have lost the fear to speak up, the fear to be seen that is holding back so many right now, a long time ago. And if there is something we as Kidzcan have understood then it will be that it is futile to wait for others to solve our problems.

It is on us to make sure that our communities are well-informed and supported. We need cancer patients to understand the need to self-protect. And we need to find ways to educate, support and to keep fake news at bay.

It is on us to push for protective measures for cancer patients to put in place in our country, to ensure patients have sufficient drug supply and to support our oncologists.
While cancer management will be affected short-term, cancer patients will still suffer when everyone has gone back to normal. We know that rationing in healthcare is real. The harder our societies are hit economically, the more we will struggle in cancer once everyone else has gone back to normal. So we should now support strategies limiting the impact of #COVID19 on our society. We need smart testing/ isolation/ social distancing strategies and effective policies and financial support.

And we should not forget that cancer patients are not the only patient group at particular risk. Other patient groups face similar issues, so it is time to reach out and to collaborate. While cancer is what we know best, that is no excuse not to care about others who face similar problems.

Today, we have a knowledge advantage over many others who are just waking up. We already know that one cannot only rely on 'the system' to solve all problems. So let's use your knowledge and networks, share learning's and resources to not only keep cancer patients but everyone safe.
At the same time, we are not only victims, we are citizens of our country and members of our society, so we all need to do our bit to make sure everyone gets through this. So while we need cancer patients to protect themselves, we also need them to protect their communities, obviously in ways that do not put themselves at risk. Many small businesses do not have the necessary reserves to get through this crisis, so if we all want to go back to our local gyms, bakers, restaurants and hair dressers, we better find ways to support them now.

Let's fight COVID19 and let's all get to work.
TOGETHER ANYTHING IS POSSIBLE
Cancer never stops, doesn't take a pause and
doesn't take a stay at home order. My heart goes out to all these families'.
This is such a simple ask to get behind, when multiplied, can really make a difference.
Cancer doesn't stop.
And above all: Be SAFE and hope to see you again soon Face to Face.
Thank you as always for the support to childhood cancers in Zimbabwe.
Donate now: #cancer does not wait