Dear Friend,
Thank you for your amazing and generous support! You are helping a mother like Vajja find hope during a dark and depressing time.
Vajja is a young, widowed mother. After her husband passed away, she moved back home and was left as the sole provider for her child. She felt hopeless...
"I didn't know where my life was going," said Vajja. "I was suffering without any financial support because I didn't have a job and I couldn't find work. Sometimes I thought it would be better to die with my child rather than live with these struggles."
But you stepped in and your gift provided hope to Vajja. Today, she attends an India Partners Tailoring School which empowers women living in poverty in rural villages and provides them with valuable business and sewing skills. She will also get a
sewing machine so they can start their own tailoring business from home.
When Vajja got accepted into our tailoring school, she was so happy. She never thought she could get in because she couldn't afford the fees, but your gift paid for tuition and gave her a chance to succeed.
"I will definitely use this wonderful opportunity for the future of my son and my personal needs. Thank you for your support!" said Vajja.
You are making an incredible difference in the lives of mothers in India who often feel trapped in poverty. Your gift is providing them with the training they need to be self-sustainable.
Sincerely,
John Sparks
Dear friend,
Education is a huge part of overcoming the cyle of poverty. With better education comes better jobs and subsequently better wages. But for many children in India living on pennies a day, education is only a dream. Their families can barely afford food for their table, much less uniforms and supplies to allow them to succeed in school.
But thanks to you, children are able to learn! Amir is 15 years old and in the 9th grade. This year, his father couldn't afford to buy him a new uniform, even though his old one was torn and the shoes were broken. But your generosity replaced his uniform along with school supplies, a new backpack, and even an umbrella!
Amir says "I have my full uniform and comfortable shoes and I am very happy. Thank you for helping me in my studies."


Thank you for helping Amir achieve his goal of becoming a software engineer!
Sincerely,
John Sparks
President, India Partners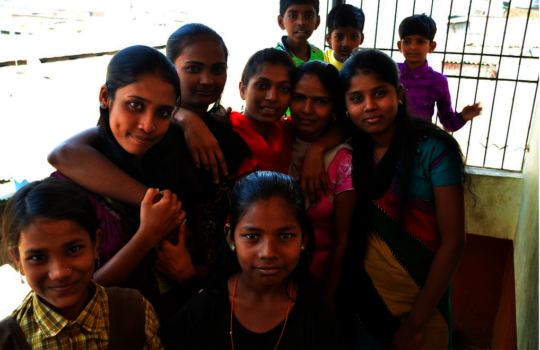 Dear friend,
Mother Teresa once said, "We think sometimes that poverty is only being hungry, naked and homeless. The poverty of being unwanted, unloved and uncared for is the greatest poverty."
Because of your gift, children who once lived in India's red-light districts no longer live in a dangerous and unsafe environment. These kids are safe and sound and are living in a safe house thanks to you. The children are loved, welcomed and cared for by wonderful house parents and they receive nutritious meals every day.
Many of the kids grow up in abusive situations because their mothers work in the sex trade. They were often neglected and uncared for, but today I'm happy to report that the children and women you helped are thriving and succeeding because of your generosity. 230 women and 150 children residing in red light communities were served through various medical clinics, drop-in centers, counseling sessions, education centers, and so much more.
Sangeeta was one child who benefited from your amazing gift. She used to roam the streets and was often known for being mischievous and stubborn. Because no one at home really cared for her, she acted out and always misbehaved. One day Sangeeta joined our education center in the red-light district. We gave her extra attention and helped her catch up in her studies. We saw past the facade of disobedience and stubbornness and gave her a chance to succeed and pursue her academics. Today she is a confident and sweet girl who is excelling in school.
Thank you for your compassion and generosity. You are helping poor women and children thrive.
WARNING: Javascript is currently disabled or is not available in your browser. GlobalGiving makes extensive use of Javascript and will not function properly with Javascript disabled.
Please enable Javascript
and refresh this page.