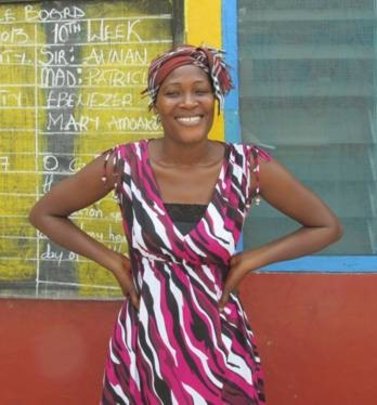 One Child One World™ Program
AmeriCares continues to support the health and nutritional needs of orphaned and vulnerable children in 30 residential homes in Ghana through One Child One World™, a program launched in 2011 in partnership with Hope for all Foundation and the Youth and Social Enterprise Fund. During the second quarter of fiscal year 2014 we shipped more than $250,000 of nutritionals in support the program. We continue to provide health and nutrition training to 300 caregivers and to work on identifying a sustainable local source of nutrition. We are also encouraging the homes to develop small-scale food projects that could not only provide nutritionals but also be income-generating.
Following is a story about Naomi, the founder and head of Royal Seed Children's home in Tema, Ghana, one of the 30 participating homes in One Child One World™.
Naomi herself was once a street child. Born to a family with limited resources, Naomi wasn't able to regularly attend school because her father did not want to invest in education for girls. Instead, she did farm work and sold goods on the road and in the train station to help her family survive. However, Naomi was committed to getting an education, and saved some of her money in order to periodically attend vocational school, without the support of her parents. This experience inspired her to work with street kids, many of whom had a similar story.
One night Naomi had a dream of giving food to an endless line of children, and woke up inspired to take action. Naomi took in four younger street children to live with her in the single rented room where she lived. She fed and sheltered the children, helped them attend school, and taught them some basic income-generating skills, such as dress-making.
Today, Naomi's Royal Seed Home is government-registered, includes a primary school, and is filled with 150 children of all ages. Many of the children are orphans, but many others are former street children or come from families who are unable to support them for economic, health, or other reasons. The home receives support mainly from private donations from individuals in the community, churches, and businesses, as well as limited government funding.
Naomi has told AmeriCares how much the training provided through One Child One World™ impacted her and her staff. Among the most important lessons she learned was how to care for children who come from challenging circumstances, and how to listen to them and build trust. Seven of the home's 28 caregivers attended the first caregiver training in spring of 2013. Naomi thought it was important to involve several members of her staff to empower them to expand their knowledge and to then teach others what they'd learned about nutrition, health, and child development.
Another lesson learned from the training was the value of developing small home gardens to fortify the children's meals with plant nutrition. After the trainings, Naomi and her staff were inspired to plant a garden in a vacant 20-acre field owned by the home. They are now growing sugarcane, bananas, and spinach, and the children not only have better-rounded meals, but they also learn about maintaining and caring for the garden.