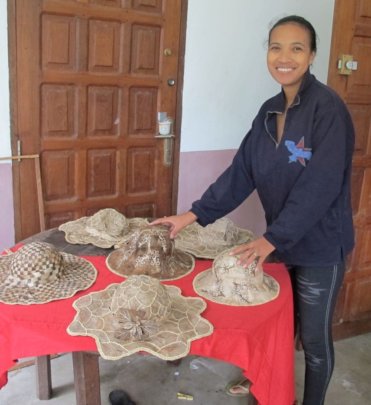 Dear CPALI friends,
It's been a great year for CPALI and we wanted to thank each and every one of you for your support and encouragement! Below are a couple of highlights from the past year and the plans that we are exctied about for 2019:
2018 Highlights
Better, Faster, Stronger
With your support, the team in Madagascar produced over 2/3rds more products this year than last year, expanding livelihoods for artisans and farmers alike! The project is now sourcing silk from 6 different sites, improving designs and developing new skills. We didn't expect the team to be able to grow so much between last year and this year, and we could not have achieved this incredible growth without your support.
Sheehan Gallery Exhibition
The Sheehan Gallery at Whitman College in Walla Walla, Washington offered us a chance to showcase our work and spread awareness about Madagascar and the environment through our Requiem for a Rainforest exhibit. The exhibit ran all fall and showcased artisans from the SEPALI team and friends working with our silks, photography and information about the environment in Madagascar.
Big shows help us ramp up our designs and get 'market ready'
Participating in big shows like the NY NOW Gift Show certainly put the pressure on. This year, our design workshop in Madagascar focused on learning what it takes to prepare a professional product line for a show. The team did a fantastic job and the show helped us connect with new customers, experts and advisers that will help us get the team in Madagascar on its feet.
Big Plans for 2019
In spite of all our success, the team still very much needs your help to reach their goals.
Bring Lalaina to Santa Fe
Our Lead Artisan and director of the women's group in Madagascar has been selected to attend the 2019 International Folk Art Show in June! The show provides education programs for budding artisans and has served as an important "jumping-off" point for many groups. Lalaina won a scholarship for her time in Santa Fe, but we still need to get her to the capital and we would love to extend her stay here in order to connect her with other amazing artists and buyers!
Strengthen our farmer networks across Madagascar
As the CPALI program grows, we are also diversifying. The moths and their host plants differ by region and habitat. This map shows where we source our silk in each region. In each new farm community that joins our group, we train a group of lead farmers in no-kill rearing techniques for their particular species of silk moth, host tree growth and maintenance, cocoon harvesting and processing, and environmental awareness. It is important for us to be able to check in with those groups each year, see how they are doing, and provide resources and training! Please help us visit them this year!
Support Native Raffia Nurseries
The SEPALI team worked out the kinks in growing raffia palms at our demonstration site this past year and now it's time to bring the farmers on board. Help us bring nurseries into the SEPALI communities and get involved in the native raffia program!
Raffia Workshop for Madagascar
CPALI artisans are starting to take on designs of their own and one of the materials that they are interested in exploring is raffia. They are just in time, too, because many of our new buyers are interested in raffia as well. Help us host a local raffia workshop in Madagascar to share traditional knowledge, designs and techniques for raffia and create something new!
Make SEPALI Strong
CPALI is acting to "level the playing field" for talented and courageous artisans and farmers who are willing to try something new. We provide access to resources, equipment, training, and development in the local language and we help the SEPALI team develop the infrastructure to communicate, ship and establish relationships with international buyers - all with environmental consciousness at the center of our project.
We hope that you will continue to help us support Madagascar! Thank you so much and happy holidays!
All the best for 2019,
CPALI Team