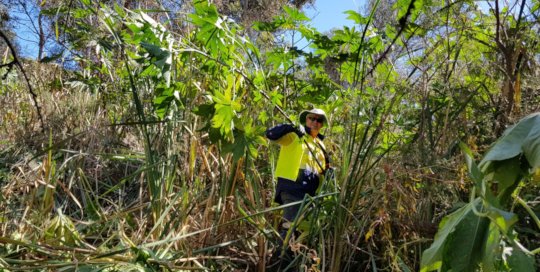 Our community conservation teams have been out in force in Beeliar Regional Park this year, helping the City of Cockburn plant native species and remove invasive weeds around Bibra Lake.
Carnaby's Cockatoos breed mainly in the inland agricultural areas of southern Western Australia, but they generally move closer to the coast from early summer to autumn. Their main remaining food source and roosting areas are on the Swan coastal plain in banksia and eucalypt woodlands, with Bibra Lake being an important nesting site for these cockatoos within the metropolitan region.
Invasive weeds are one of the largest threats to important habitat remnants, such as Bibra Lake, with introduced species being responsible for destroying native habitats by outcompeting the native vegetation.
One such invasive species is the Castor Oil, with large groves taking over the lakes banks, which are home to a variety of native mammals, reptiles and is an extremely important site for both native and migratory birds. Over two days in May, volunteers removed an incredible 6,075 square metres of dense Castor Oil, fighting off thorny Spear Thistle and collecting 18 kilograms of litter as they went.
The City's Environmental Officers and bush crew were delighted with the volunteers' efforts, commenting on what the large and passionate volunteer team were able complete in one day when it should have taken them a week. The Castor Oil Battle of May 2018 will forever be remembered by our volunteers, who, when asked if they would come back to help in the continuing war on weeds around Bibra Lake said, "Bring it on!"
Your very generous donations continue to allow us to engage the community in local conservation initiatives. We'd like to thank you, and all our supporters and volunteers who are passionate about making a difference for the local environment and our endangered native species. Further donations will allow us to continue this important work – please help us if you can.
Links: