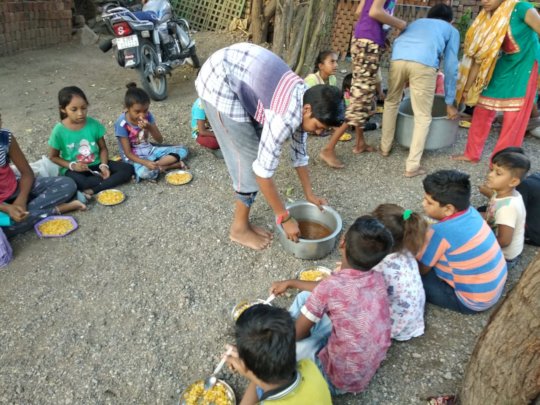 Participatory Action Research on Bullying
Bullying is common, it is everywhere, and among children too. Few of our children and facilitators shared about bullying in the area, school and even in Balsena.
How can we create safe space in Balsena? How can children really understand about effects of bullying?
"Participatory Action Research" came as one of the answers.
We organized a camp during 6-9th May with some of the active children of Balsena, and discussed issue of bullying in their lives, and how it affects any child. We asked them if they would like to get deeper into it and also bring about a change in their behaviour and in others. Together we designed 4 tools for collecting data for this Participatory Action research, where children came up with 54 indicators of bullying with separate indicators for physical, mental, emotional, economic and sexual bullying. They also identified 10 most common places where they face the same. They discussed about the impact it has on the child, his/her family, community and society at large.
128 Balsena children collected data from 17 communities where they live, and tried to understand the situation of bullying in their areas. They collected data from 988 children which includes 458 boys and 530 girls.
Based on the data collected, children analysed the data for their own area, prioritized the issues and made action plans based on the same.During the year, now they will organize programmes accordingly.
Compilation of data of all these 17 communities and its analysis is still under process.
Vacation Camp
Vacation Camp was organized in 17 areas of Balsena, where on an average 111 boys and 80 girls took part every day. Activities like 1 minutes games, sports games like cricket, volleyball, handball, kho-kho and kabaddi were organized. Children learnt hard skills like ironing cloths, mapping area, budgeting, making decorative pieces and wall hangings, stitching buttons and torn in the cloths, Sharbat-(home- made cold drink) making, etc. Through these hard skills children learnt that no work is small. Many of these tasks are for women and girls in real life so the boys learnt to respect the girls and also do these tasks. This provided as excellent opportunity to reduce discrimination between boys and girls and make them more gender sensitized. They also learnt soft skills such as letter writing, basic daily life arithamacy, application writing, etc. Children also organized "Samuh Bhojan" and Swayam Pak" activities where they would either get food and eat together, or they would cook together, and eat together. Children enjoyed this program the most. Boys also participated in cooking. Discrimination reduced not only between genders, but between castes and religions as well, as in their society people from different castes or religions do not even drink water at others' place.
Through this Vacation camp children not only hard and soft skills but also learnt life skills such as creative thinking, communication with parents, leadership, getting group consensus for any decisions and values like equality and no discrimination.
Facilitators observed that children started coming punctually for all the activities. Many parents would also come, and observe what was happening, some would even join the activities or help out the facilitators. This was a huge achievement for us.
Bholaram, is name of a child who is very active in Balsena point. He also came for leadership camp on bullying. He would be the first to reach point of his area, go and call all the children, help out in activities, tell children not to discriminate and bully others.
SETU (Child Rights Resource and Training Centre)
We believe in sharing our learnings with other organization. So through our support unit SETU, we organize various training for Shaishav and for other organizations which are working with children with rights based approach. During past 3 months, Shaishav team went to facilitate 6 workshops at 5 different places with children and youth.
On 20-22nd April, Shaishav Team members went to Vishwa Vatsalya Trust to facilitate a workshop on Leadership, Children's Collectives, and Creativity along with understanding about Dandi march by Gandhiji. 60 boys and 44 girls along with 28 facilitators from Vishwa Vatsalya Trust participated in this workshop.
On 25-27th April, workshop with same theme was organized in Khadaki, Sarvoday Parivar Trust at Dharampur at Valsad district, where 43 boys and 39 Girls along with 5 facilitators took part.
In their feedback, children shared that they learnt not to give up if any difficulties arise, take only what you need and not what they greed, working in collectives is better than working alone, trees also have life and we will ask other people to not cut trees.
On 16th April, training on soft skills like Application writing, giving interviews and how to reframe life using theory of Four R (Reform, Resist, Recreate and Reimagine).
On 10-12th May, 6 of our children participated in Gujarat Bal Manch, and 6 of our facilitators facilitated the workshop. 87 children and 27 accompanying adults came from 17 organizations from different districts of Gujarat. The theme of the workshop was "How to form and strengthen a good Children's collective?" Balsena and other four existing collectives analysed strengths and limitations of their collectives. Other children from 10 organizations founded their own collectives. Everyone also discussed different values, do's and don'ts they want to have or already have in their collectives.
Shaishav has been providing support to Aatapi Sewa Foundation from last year to strengthen their work with children and build a children's collective. During past three months Shaishav facilitated two trainings there on how to organize and conduct vacation camp and on child rights within children's collective. 85 children participated for these trainings.