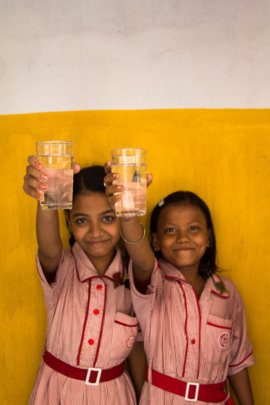 Thanks to your support, 26,778 kids at 27 schools, 3 orphanages and 2 shelters in Kolkata, India have access to safe water today!
While this is an incredible accomplishment, it's far from our ultimate goal of ensuring all schoolchildren in Kolkata have clean water, clean hands, and clean toilets.
Reaching this goal will mean implementing and sustaining WASH (water, sanitation, hygiene) programs at all 2,000 public schools in Kolkata to benefit a total of 420,000 aspiring youth! We still have a long way to go.
Since January 2016, Splash has launched hygiene education programs at 17 government schools in Kolkata, which included training workshops for 89 teachers, 320 students, and 198 additional community members. Our staff also facilitated soap drives at each school to ensure each school is stocked with a year's worth of soap! (Critical to promoting healthy handwashing habits.)
On the sanitation front, Splash has formed an exciting new partnership with a local consultancy, EcoTec, to help us design and construct toilet facilities that optimize space, resources, and, above all, child health and safety. We are also collaborating with the Confederation of Indian Industry to identify additional partners as we work to reach 50 more schools with our full WASH intervention by the end of this year.
Completing WASH programs at these 50 new schools will require roughly $50,000 -- a target we can hit with your help.
Having 50 more schools equipped with safe drinking water, proper hygiene facilities, and functional toilets will make more than 10,000 kids happier and healthier. Who doesn't want that?
I am proud to bring you this update and thank you again for helping us bring joy and safe water to thousands of kids in India!
Let's make more smiles together.
~Julie
Links: