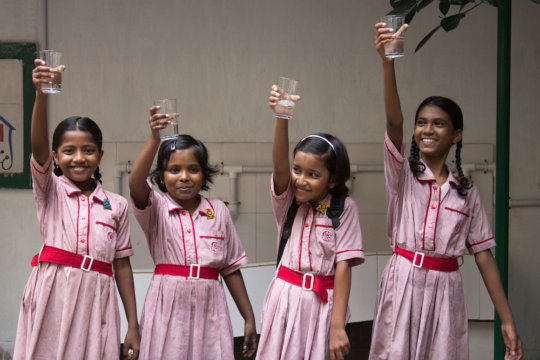 This year, Splash has begun to formulate the beginning of a sound and strategic approach to urban sanitation in schools, with a significant focus on menstrual hygiene management (MHM) and ensuring safe, functional toilets for girls.
Throughout the course of 2016, Splash has: conducted landscape analyses of existing sanitation policies, partners, and practices in target countries; developed program standards and key performance indicators for tracking changes in sanitation infrastructure and behavior at urban schools; added local sanitation experts to our in-country staff; executed mid-scale sanitation pilot projects; participated in global sanitation conferences and conversations; and documented all cross-country research and findings. These activities represent an important shift for an organization that, just one year ago, focused solely on water and hygiene. Today, Splash is actively planning and budgeting for scaled sanitation interventions as part of our core Water, Sanitation, and Hygiene (WASH) in Schools programming.
The development of Splash's new global sanitation program means that kids in the cities we serve (Kolkata, Kathmandu, and Addis Ababa) will not only have clean water and clean hands, but access to clean and safe toilets too—arguably, the most challenging WASH component and the most critical for improving health.
The development of Splash's Sanitation Program has required extensive participation and cooperation across multiple teams, countries, and stakeholders. Splash staff in India, and worldwide, have been challenged to plan for the integration of sanitation elements into each country's existing school water and hygiene programs. The development of global key performance indicators across all three sectors, including sanitation, has required immense creativity, collaboration, community participation, and dialogue.
In most poor urban schools, we have observed that toilets exist, but are usually broken, unhygienic, or simply abandoned. This year, Splash has been designing a sanitation intervention that targets the specific sanitation issues that plague resource-limited schools--especially the ones in crowded, urban environments.
In Kathmandu, Nepal, Splash recently completed a 20-school sanitation pilot completed in Kathmandu, Nepal, to test an early iteration of our global sanitation approach for urban schools. This intervention delivers sanitation "polishings" with an emphasis on girls' health. In this design, Splash's sanitation "polish" includes: restoring or improving water supply in toilets (replaces broken taps, install taps, buckets, etc.); adding waste bins in female toilet facilities; creating functional doors (with locks) in female toilet facilities; enabling sufficient lighting and ventilation in female toilet facilities; and making aesthetic improvements such as paint. Depending on the circumstances, schools could receive additional sanitation improvements such as: improved drainage; waste bins, doors, and lighting in male facilities. Additional, more labor-intensive sanitation improvements, such as rainwater harvesting for water poor schools, are still being investigated. The effectiveness of behavioral "nudges" (visual cues that trigger behavior change), such as mirrors at hand washing stations, painted footsteps from the toilets to the hand washing stations, and persuasive signs we evaluated as well.
Evaluation of our Sanitation Pilot in Nepal has helped Splash to significantly advance our implementation strategy for sanitation and MHM at urban schools. At a high level, Splash is now considering sanitation approaches that are adaptable to local conditions and constraints because typically, in urban settings, the problem isn't the availability of materials, it's about quality, space, use, and management.
In India, Splash has grown our sanitation human resource network by engaging local sanitation experts and hiring a full-time Sanitation Manager in our Kolkata office. We are pumped to kick off our first attempt at a scaled sanitation approach in India by the end of the year!
It has been a pleasure to share this update with you! Your donation to Splash has helped to make all this work possible. I hope you will continue to support Splash as we race toward 100% WASH coverage in Kolkata by 2021.
Thank you!
Julie (on behalf of the Splash Team)
Links: