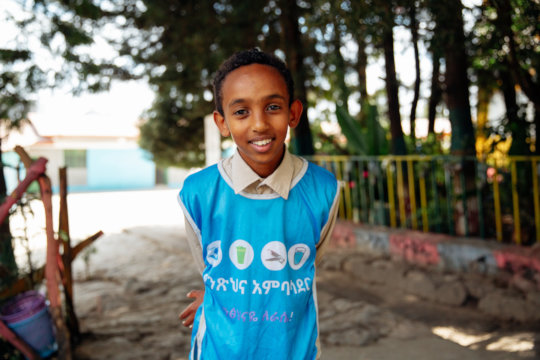 Dear Friends and Supporters of Splash,
Thank you for your continued investment in our shared mission. We are not the first to say it, but 2020 has truly been a year of facing unexpected challenges, pivoting, and evolving to ensure we are staying true to our supporters and serving beneficiaries to the best of our abilities.
In our previous update, we shared more about our continued implementation work in response to COVID-19 in Ethiopia, particularly within health centers and quarantine sites. The Splash team has recently received news from the Ethiopian Ministry of Education (MOE) that schools in Addis Ababa plan to begin the process of welcoming kids back to the classroom the week of November 9th.
Our team in Addis Ababa has been preparing for this first phase of the reopening process. Just as we had to take a step back and reassess how to best serve students when schools shut down, the same approach is being taken as we figure out how to best enter the classroom again – with the health and safety of all stakeholders being our primary concern.
Below is a list of major work that the Addis Ababa Bureau of Education has done, or is working on doing, to ensure safety for students and teachers with the reopening of schools:
Construct 1,800 additional classrooms and 107 feeding centers
Purchase 10,000 combined desks
Distribute 3,000 water containers/reservoirs
Hire 4,000 teachers and 2,052 health professionals
Hire additional cooks and purchase more kitchen utensils
Provide face masks, soap, and sanitizers and disinfect school compounds
To help make sure that schools are safe for reopening, Splash is ramping up our work to provide clean water, handwashing and drinking water stations, and improved sanitation facilities at schools. We will also be relaunching our Behavior Change program early December. With schools planning to organizes classes in shifts of students to promote social distancing, we are carefully assessing the new attendance schedule and how to best modify our approach under these circumstances.
Throughout the year, we have had to revisit, revise, and reintegrate our methods and adapt to current needs and circumstances. We thank you for your continued support of this process and for believing in Splash's mission. This vital work would not be possible without you.
From all of us at Splash, we wish you good health and look forward to sharing more with you in the future.
With thanks,
The Splash Team
Links: