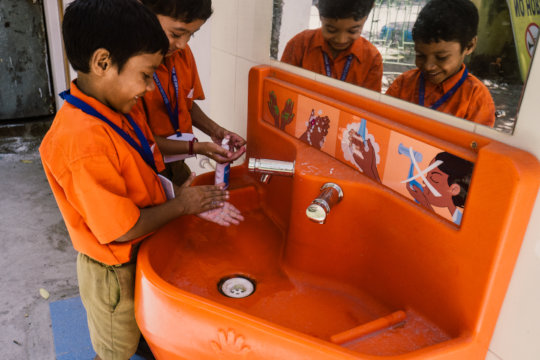 Project WISE (WASH in Schools For Everyone) Update – Splash's efforts to reach the most vulnerable communities are especially relevant in this increasingly hygiene-focused environment. In the cities where we work and in the congested schools where we focus our attention, handwashing is a critical component to improving the immediate and long-term health of kids. This is especially relevant now during this challenging time and looking to the future.
At Splash, there are a number of ways COVID-19 is affecting our people and operations. As supporters of our mission, we want to ensure you are aware of this impact and how we are responding. Our decisions are being guided by advice from the World Health Organization (WHO), and by the experience and leadership of our own team. We remain committed to ensuring that children in vulnerable communities have clean water, behavior programs focused on handwashing, decent toilets, and menstrual health education to support their health and well-being.
How is the virus affecting splash beneficiaries?
We are very concerned about the student beneficiaries we serve in Addis Ababa and Kolkata, as well as their teachers and families. Schools are closed in Ethiopia and the government announced a five-month state of emergency in April. India declared a 21-day national lockdown in March, including school closures, which was then extended to July 31. It is not clear how long school closures will be in effect in either case. This has widespread impacts on students from interrupted learning, nutrition/food insecurity (many students in both cities rely on school feeding programs), reduced child safety, and higher dropout rates.
What are you doing to address the virus?
Globally, we are looking at how to ramp up the production of our patented handwashing stations, to provide them to the NGOs, companies, and governments who can deploy them broadly.
In Ethiopia, we are supporting the government's efforts to protect their citizens in two important ways:
First, the government has converted three schools in our program into quarantine centers for people who may have been exposed to COVID-19. This means that those quarantined, and the health care workers treating them, will have access to clean water and Splash handwashing stations, both of which are critical to their care.
Second, we have partnered with the Addis Ababa Bureau of Health to bring our hygiene intervention to six hospitals. This includes the installation of handwashing stations and hygiene posters that encourage handwashing with soap, social distancing, and other preventative measures to keep health care workers, and those they care for, safe. We hope to expand this work soon to reach other health centers in the capital.
We asked our Project WISE country leadership how COVID-19 is impacting daily life and how they're staying inspired. Here's what they had to say:
Kelbessa Dada Wordofa, Project WISE – Addis Director
"While no lockdown has been mandated in Addis, the only time I venture out is when I visit the Splash office two days a week and when I go for groceries. To find some joy, we have frequent calls with our relatives located around the globe and have daily family prayer time in the evening. To keep myself entertained, I do online courses on project management and leadership, and read up on the current pandemic and its estimated impacts. I am looking forward to providing support to the students we serve once schools resume and continuing Splash's Project WISE efforts."
Manish Joshi, Project WISE - Kolkata Director
"When the lockdown was announced, I left Kolkata that very night to be with my family in my hometown located in a different state. My heart goes to those who were not able to leave to join families at this difficult time. Daily life has very much shifted during the pandemic. Luckily, technology is really helping me find joy. It's allows my family and I to stay in touch with friends and extended family members, and I've been watching Netflix for some entertainment. I'm really looking forward to getting back to schools where we work to help children and seeing my Splash team members."