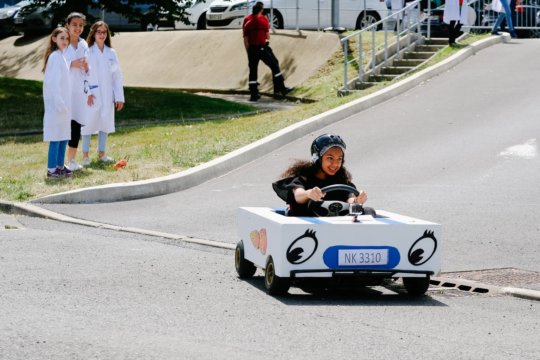 Un grand merci and thank you to our dedicated donors for your continuous support, and helping us inspire and empower the next generation of STEM leaders. Over the past few months we have reached 400 more girls across continents – from Paris, France, to Canberra, Australia, to London, England – all possible because of you!
During these events, the girls had wonderful opportunities to discover all aspects of Science, Technology, Engineering, and Maths – but, with an extra special occasion to dive into the latest cutting-edge technology, and to be inspired to "code" new possibilites for their futures.
At our very first g4g Day launch at the Nokia Campus in Paris-Saclay this past June, we welcomed 200 girls from the surrounding area for a full day of hands-on workshops, including on 4G and 5G technology, coding, electricity and circuits, virtual reality, prototyping with visual programming tools, and fruit batteries as girls used lemons, pennies, nails and more to transform chemical energy into electrical energy.
A favourite activity was when the girls teamed up to explore the science and technology of drones and radio communication…. with the help of soap box racing as cameras followed their every twist and turn!
A few weeks later on the other side of the world, greenlight girls in Canberra got ready to celebrate National Science Week in style, with a full day of hands-on STEM discovery at our second annual g4g Day @Canberra. There, 160 girls aged 10-16 learned about the phenomenon of light and the role it plays in the environment, captured celestial images with deep sky imaging software, created cool robotics and bristlebots, and even became biodiversity detectives with seeds and bees! In a surprise science activity, the girls got to meet a VIP guest marsupial native to Australia while learning about wildlife conservation… a bettong!
What made this year even more special included an opportunity for participants to hear from young girl science mentors from the venue Melrose High School – a huge hit! – and to share their experiences in STEM.
Plus, a g4g Day wouldn't be complete with virtual technology… and the girls even created their own 3D #VR time-lapse video of the day – which you can check out here: http://bit.ly/2xhPdXX.
The g4g team also traveled to London, where we invited 30 enthusiastic girls to the offices of a technology company in the insurance world for an interactive morning of DNA extraction, coding, and tasting the sweet side of statistics with M&Ms. They had a chance to hear from the CEO of the company and role model engineers who reminded us that anything is possible with passion and perseverance (we couldn't have said it better ourselves!)
As we step into September, our g4g team is looking forward to sharing all the exciting upcoming events around the world with you – so get ready to join us as we go to London, Krakow, Abuja, Croydon, Moscow, New York City, Bangalore, Brussels, and Shanghai! In the meantime, we invite you to check out some of the wonderful support we have also received lately in the press:
- g4g Day @Houston with Covestro: http://bit.ly/2qsuNZm
- g4g@work Day at AIG in Dublin: http://bit.ly/2eOJpO0
- Our three-city launch with Nokia in Finland: http://nokia.ly/2lYrJQR
Again, a sincere thank you from all of us for your generous support, and from all the greenlight girls whose lives you've made a difference in across the continents!