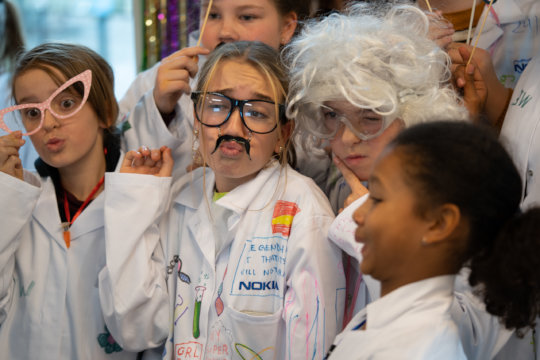 "Excuse me, but we need these at our school," said a little girl in the 6th grade matter-of-factly to her principal, pointing to the snap circuits that were adorning the gym floor at our g4g Day @Jackson Heights in New York City. The principal, thrilled to be passing through our event but caught in-between meetings, answered her quickly. "That would be nice for us to have, I agree," and then expertly dodged a flying saucer that the group had finally engineered to launch at super speed into the air. The principal attempted to continue walking, but the girl persisted and grabbed ahold of his arm, saying, "No, we really need these, come look at how fun they are!" She proceeded to show him exactly what the group had been working on – how determined all the girls were to figure out the best way to power the circuit – and the results that had come from it. In only the 6th grade, one of our greenlight girls felt incredibly inspired not only for herself but also on behalf of her school. She saw the great potential that can come from having more access to electronics fun, and took a moment to act on it! And, of course, the principal promised to get her class some for the beginning of next year.
Our greenlight girls are absolutely incredible – strong, intelligent, and curious young girls – and we never fail to be impressed by their determination and capability to see not only their own future full of possibilities, but those of their peers. These past few months, stories like this are so frequent across all of our events, we can barely keep up! We've had such fun seeing silly scientists, innovative engineers, resourceful technicians, and more emerge as the girls get messy with hands-on and interactive workshops and activities.
And what a few months we have had! We are so proud to share that we have encouraged over 3000+ girls ranging in age from 7-15 in India, the United States, Spain, China, Mexico, and Belgium! This is not only a brand new record for us – but for you! Your support, generosity, and continued dedication to our mission to encourage women and girls in Science, Technology, Engineering, and Mathematics has allowed us to soar to new heights. It's helped us bring all the fun – the silly (and I mean, silly!) – the positive – the innovative -- the cool – the high-tech – the curious – the beautiful – inspiration in STEM to girls around the world.
Just where around the world have we been, you may ask? Well, we are just back from our 9th annual g4g Day @Brussels that took place this past Saturday at the International School of Brussels in our headquarter city. We welcomed 300 girls & over 75 volunteers from Belgium and the Netherlands to join us for a day of polymer cupcakes, robotics, lasers, the physics of Rubens' Flame Tube, invention with design thinking, fruit batteries, and more! Partners like Nokia, Procter & Gamble, Baxter, Covestro, Stanley Black & Decker, and the local libraries joined us – plus, a very special guest speaker.... Zora, the robot! She even managed to show off her dancing skills!
At the same time – and for the past few months – we've been working in India to bring hands-on science and technology to over 2,000 girls at 5 events in Mumbai, Noida, Dharampur, Nagpur, and Calicut thanks to an incredible partner, Covestro, and other wonderful local partners. Girls had the chance to converse & hear from keynote speakers in both English and the local languages, extract their own DNA, dive into polymer worms, design their own sustainable invention, and more. These past few weekends, nearly 500 girls were being inspired nearly every 2 days – wow, another new record!!
At the beginning of November, you would have found g4g in Mexico bringing 65 girls to the facilities of Covestro for a unique opportunity to see an insider's look into a day in the life of a polymer chemist as they tested out polymer worms, coding, DNA extraction, and engineer paper planes with their sustainable wish for the future on it.
Just last weekend, you would have seen our inspiring g4g Founder & engineer, Melissa Rancourt, encourage nearly 200 girls in Shanghai and Hangzhou, China at the innovative facilities of Nokia, reminding them that science & technology is linked to absolutely everything around them and, especially, to any future career path they may choose. The girls loved exploring mathematics with chocolate, the chemical reaction of explosive bath bombs, and more as they became Nokia Certified Future Innovators in Technology!
And, from one Nokia Bell Labs to another… the g4g team welcomed nearly 100 girls to Nokia Bell Labs in Murray Hill, the site of the invention of the telephone by Alexander Graham Bell on November 13th. Surrounded by invention & inspiration, the girls got to be immersed in a virtual world where they got to experience and test robotic arms that controlled manufacturing robots. Plus, they got a sneak peek into the Anechoic Chamber, a unique aspect of Nokia Bell Labs and a room designed to completely absorb reflections of either sound or electromagnetic waves! As our event took place during Global Entrepreneurship Week, we even brought in a design-thinking activity in sprint fashion -- where girls worked in groups to create businesses, inventions, and more to better their home, community, or school.
But – we're not done yet! These past few weekends have taken us to the very special warehouses of our newest partner, Amazon Spain, to share the fun with over 120 girls in Barcelona and Madrid as they saw the coolest use of robots in action, created their very own personal Scribblebot to take home, dove into DNA extraction, engineered with marshmallows, and more.
Phew!
From India to the United States, from Spain to China, from Mexico to Belgium... what an incredible reach we've had these few months because of you and all your help allowing us to grow by leaps and bounds. We are so excited to continue moving forward, doing more, and inspiring the future inventors and innovators in science & technology.
And, where's next for us? Our team member has just flown to Moscow, Russia for the next event welcoming 60 girls aged 11-15 for a day with Stanley Black & Decker!
So, stay tuned for more to come. From all of us at greenlight for girls -- and from all the eager young scientists inspired because of your support -- we THANK YOU!!!