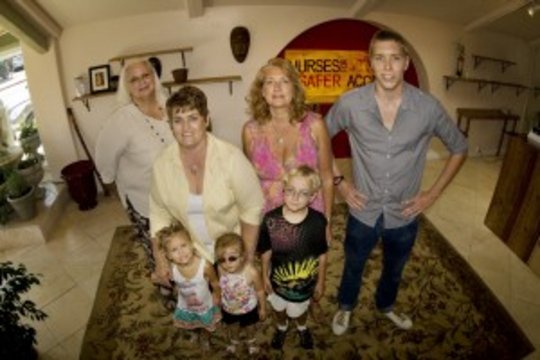 Like most mothers of a toddler, when Linda West plays with her adopted daughter, she models behavior, such as how to catch a ball, mixing instruction with congratulatory hugs and praise.
But there is nothing ordinary about their relationship. Three years ago, the four-month old preemie baby, a victim of her birth mother's methamphetamine binges, became a ward of the state due to her mothers drug addiction. Shortly after, the local authorities became concerned for the infants safety after learning her mother has a history of allegedly trying to sell her newly born infants in parking lots and off of the internet.
Thanks to the nonprofit Angels In Waiting, this little girl and other "medically fragile" foster children receive a chance to overcome physical and developmental obstacles in an unusual, government-approved placement arrangement. At-risk babies go home to the comforting and knowledgeable arms of licensed vocational or registered nurses like West, who are registered foster care providers and paid for their care-giving through Medicaid.
Just as a methamphetamine epidemic among young women is creating an ever-increasing number of fragile newborns in need of care, donations to Angels dropped by half during the recession, clipping West's efforts to recruit other nurse care-givers.
Now, West is trying a different tack to help salvage her passion, with another charity, Laguna Beach-based Nurses for Safer Access, 1968 S. Coast Highway. The storefront, which opens Sept. 7, will offer botanically-based health supplements to be distributed to customers under the supervision of a registered nurse where appropriate.
West sought natural remedies as substitutes for some of the myriad pharmaceuticals with their side effects prescribed for her own medically fragile children. The alternatives provided great results.
Now, West hopes to both raise funds for AIW and promote the use of herbal remedies with Nurses for Safer Access. Her 20-year-old nephew, local resident Blake Chapman, has joined her in launching the nonprofit to distribute herbs, nutritional supplements, vitamins, and teas costing from $6 to $100, which are largely unregulated by the Food and Drug Administration, including high potency supplements that are only sold to health care providers.
West and Chapman don't wish aim to provide safer access to Eastern-style remedies where practicable. "I have no problem integrating Western and Eastern medicine as a nurse," she said.
Currently, West's Angels number 45 nurses, mostly in Southern California. They operate independently and have obtained credentials to provide in-home care to medically fragile foster children, an alternative to discharging tiny patients from ICUs to nursing institutions or group homes. So far they have cared for about 110 babies.
According to Terry Lynn Fisher, spokeswoman for Orange County's Social Services Agency, even though the agency's goal is to keep children with their birth parents whenever possible, they always have a need for more foster parents qualified and willing to care for medically fragile and disabled children.
Care by a single individual rather than a rotating staff fulfills a child's need to bond, said consultant Jackie Peebles, also of Lake Arrowhead, an early intervention specialist, who established Special Discoveries Educational Services, Inc. in 2002. Infants deprived of nurturing may fail to thrive and face developmental challenges, she said.
For autistic children and drug-exposed babies, early and meaningful intervention will decrease negative behavior and increase developmental milestones, said Peebles, who works with AIW nurses. "We are able to mitigate a lot of the severe problems that these children have."
Working in hospitals in San Bernardino County where meth addiction has soared, West and other nurses were frustrated that their work schedules didn't allow time to hold and comfort the compromised infants. The mantra, "if only I could take you home…" was often wistfully uttered. Then West thought, why not? Why can't we take them home?
Determined to find a solution, she unearthed a Medicaid program called "In Home Operations" created in 1967 so that infants would not be institutionalized. West figured out the process that allows licensed nurses to become credentialed as foster-care providers for medically fragile children and bill Medi-Cal for their nursing. She founded Angels In Waiting in 2005 to promote the concept.
Ninety percent of AIW-recruited nurses adopt, partly because they become so attached to their children and sometimes in part because they may have reservations about the quality of care they'll receive in other homes, West said. Foster parents for medically fragile children receive a monthly stipend of $1,200 from California Children's Services.
"Once they call you 'mommy,' it's all over," said West, who lives in Lake Arrowhead, with her daughter and her new brother Sammy, now 8, another meth micro preemie who West adopted at 22 months.
Nurses for Safer Access will initially be open from 9 a.m. to 7 p.m. seven days a week and can be contacted at 949 715-7757