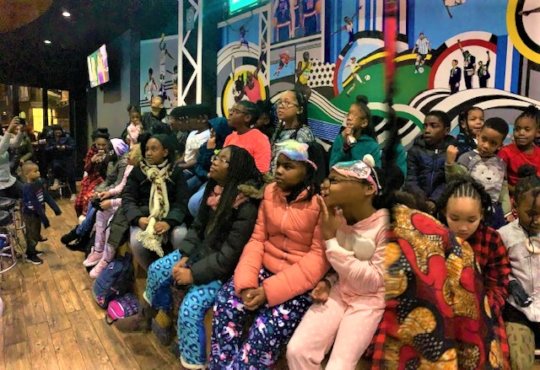 Greeting Loyal Supporter and Followers!
Complements of the season to you all! As the year 2019 is coming to a successful end, our Fall/Winter activities are in full swing. Thanks to your kind donations received, we continue to offer our participant the very best we can. It only by your helping hand, we are able to do so much. With your gifts we are able to carry over of our STEM projects to the fall and winter.
Our team continue with many of the activities of the summer, such as trips, athletics, dance, music, archery. However, due to the cold winter weather we have moved to more indoor activities. One of the recent trips was a trip for the children to the bowling alley, where some of the children got to try their hand controlling a bowling bowl, to knock down the pins... Although we are observing a mid-winter recess, we look forward to an exciting new year of program.
A very nice "Family Night at the Movies" was held for the children and their parents. The parents assisted to organize the event, and contributed a nice menu of food and snacks that were sold before, during intermission, and after the movie to offset some the expenses for future planned trips and cultural activities.
Many of the activities of the summer, are academic base but not totally. We have 135 kids enrolled to entertain and more importantly, to teach skills that will give them a more rounded life as grow older. As you know we are a cultural enrichment options that we continue to offer children of the inner city exposure to the arts and dance that they would not normally be exposed to. The participants will have a chance to display their skills learned in Winter Recital coming up at the end of January. The recital will include children performing modern dance, karate, steel pan solos, archery, and singing to name a few activities. To be able to do that we have hired specialized instructors to give the children the best opportunities to gain a taste if new skills from their classes. Your support made all this possible! Please remember IMANI HOUSE as charity whose cause can be supported and promoted.
Since this is a joyous time of the year for gift giving and merriment the children received small gifts of toys and food during their recent Christmas party. What better way to celebrate the children's achievements, and to welcome in the New Year! Some of the many other activities are further detailed in our Newsletter is attached to this report.
On that note, I would like to close this update and take the time for the IMANI HOUSE management and staff to once again, to wish you, our friends and supporters, very Merry Christmas, Happy Chanukah, Happy Kwanza, and a Prosperous, Healthy New Years! Hope to see you in 2020 with another exciting update!
.