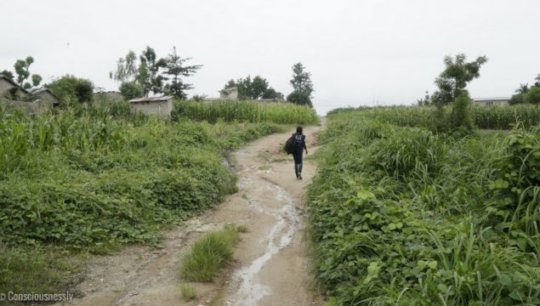 After 14 years, Hope Through Health changed its name to Integrate Health—here's why…
When Hope Through Health was founded in 2004, HIV was a death sentence. We were inspired by the resilience and determination of a small group of individuals living with HIV, to start Hope Through Health in partnership with the Togo-based Association Espoir pour Demain/Hope for Tomorrow. These activists refused to accept that their right to health was denied simply because of where they lived. We chose to fight alongside them. Despite the reality that there was no treatment available, little funding, and even less social support for people living with HIV at that time, we did what we could to care for those suffering. During those challenging, early years, hope was often the only available resource.
Maintaining hope was paramount to survival.
Today, HIV is no longer a death sentence. It is a manageable chronic disease thanks in part to the work of Hope Through Health's dedicated staff to build one of the largest and most effective HIV care programs in Togo.
Despite these successes, primary healthcare is still not widely available in Togo. One in ten children born in Togo die before their fifth birthday because they have no access to healthcare. The highly effective systems we built for HIV have failed to be integrated throughout Togo. This is our challenge today, to integrate health into every community and clinic across Togo. It is a challenge that calls for a new rallying cry, a new mandate, a new promise.
Our work has always been driven by the desire to create a more equal world. The latitude and longitude of a child's birthplace should not determine whether they live or die. Everyone has a right to health. To achieve that aim we work to integrate a highly effective, low-cost model of primary healthcare into every clinic and every community. In doing so, we can advance health equity and make universal health coverage a reality. We can achieve health for all.
Let me be clear, we are NOT changing what we do, how we do it or most importantly, who we are as an organization. We ARE changing our name, our look, our brand and the way we present ourselves to the world.
Why change?
Well, a few reasons. First, ask any French speaker how easy it is to pronounce Hope Through Health in français and they'll tell you that it doesn't exactly roll off the tongue. Second, we needed our brand to reflect who we are today, not who we were in 2004. We have grown, a lot. We have accomplished some pretty incredible things. And, we want to tell the world about it. We are a highly efficient, data-driven organization that remains community-led and committed, above all, to having the greatest possible impact for our patients.
That is who Integrate Health is.
Integration is our path to achieving health equity. Our logo is an equal sign, the global symbol of equity, with a slight overlap showing how the integration of two elements produces something greater than the sum of its parts.
The colors are bold and fresh, inspired by the traditional fabric of Togo and West Africa. The fonts are clean, clear and unambiguous. The name is our call to action. At once a rallying cry, a mandate, and a promise.
Integrate is not just a powerful verb, but applies to many aspects of our work.
We integrate Community Health Workers with improved health clinics to delivery high-quality care to our patients' front door.
We integrate HIV with maternal, child and reproductive health services to strengthen primary care.
We integrate public and private sector approaches to achieve scale and sustainability.
We integrate healthcare delivery into community structures to ensure we stay responsive to our patient's needs.
This new brand; the name, the logo, the colors, the fonts, is the vehicle through which we aim to inspire the world to join us in our mission to save lives. We have the track record, we have the on the ground knowledge, we have the impact data. All that was missing was a beautiful, clean and inspiring delivery vehicle for our message. This is what we are presenting to you with Integrate Health.
Links: