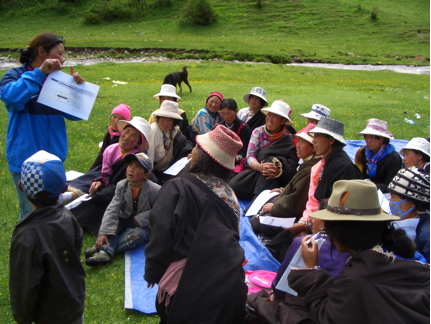 At the Clinic
In the last 3 months, Surmang Foundation has continued the training of Community Health Workers in the area within a 50-mile radius of the Surmang Clinic. At the same time, the CHWs have continued to treat pregnant women, attend to births, do well baby examinations and refer patients that demand more complex services to the Surmang Clinic. We are continuing the momentum gained last year, when maternal mortality was reduced to zero.
Clinic use continues to be busy – with about 1000 patient visits per month.
Expanding the Catchment to include a Nunnery
Surmang Foundation has also taken the first steps in a strategic partnership with a large Nunnery in Yushu Prefecture. This nunnery has experienced high levels of TB and hepatitis in the past year. The extension of services to this nunnery and the nearby village will comprise an extension of our strategic government partnership. These first steps in this direction included sending our lead doctor, Phuntsok Dongdrup, and our Mother and Child Health Director, So Drogha, both ethnic Tibetans, there to conduct a preliminary assessment. Their drive from Surmang took over 14 hours.
According to preliminary reports, the situation is dire: cramped unheated housing, lack of sanitary conditions. Our next steps will be to develop a strategic plan to address the more severe problems related to health and health care. This will undoubtedly result in a CHW-like program there, as well as recommendations related to basic hygiene. Surmang Foundation has already begun talks with Village People Foundation about the feasibility of bathhouse construction there and at 3 other locations in Yushu Prefecture.
Finally, Surmang Foundation has acquired the rights to distribute –for free—the Tibetan version of Our Bodies, Our Selves. This book along with similar references from Jinpa Foundation and One Heart foundations, completes our written Tibetan language resources for village health worker training.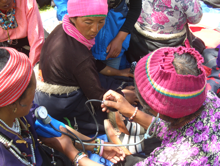 Links: