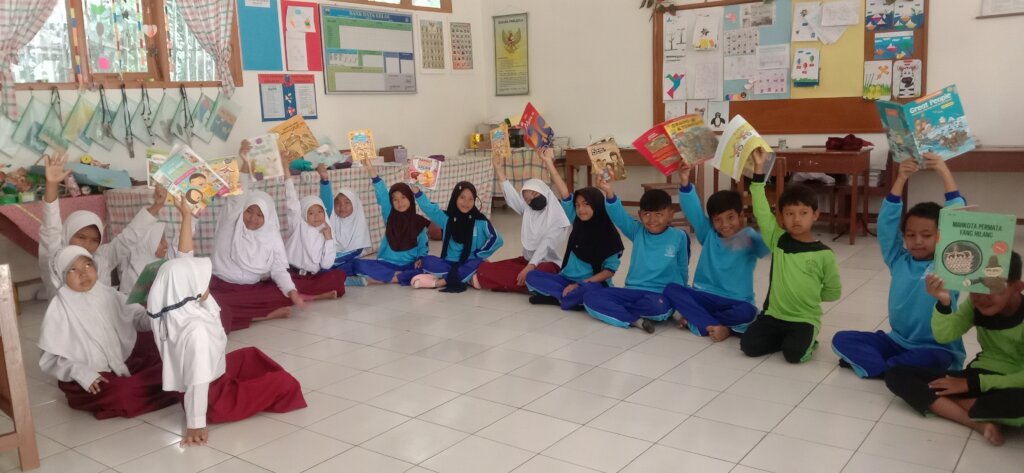 Before the pandemic, the Community Library in Cipanas worked closely with several local primary schools around the area to provide access to quality reading materials. We called this program the Box of Books (BOB) program, due to the fact that the books were placed inside a box when delivered to each school. According to our survey, we found out that not every school in the area has its own library. In order to remedy this, we created a mobile library system by distributing a box of books to various schools and placing them for 1,5 months. Afterward, the box will rotate to another school so that each participating school will enjoy a different set of books.
Due to schools being closed for almost 2 years, the program had been canceled. Fortunately, schools have started reopening, and this March, we received a request from SDN Bakom (Bakom Primary School) for a box of books to be placed at their school so that their students can read books before their lessons start or at break times.
Recently, we received great feedback from the school, coming from their students:
"I love reading these books. It is simple with many beautiful pictures. My favorite things are science books and folktales." Indah,4th grade
"I always come earlier to school now because I want to have time to read before the school bell rings. I love all the books from the box and I have read almost all of the books. I cannot wait for the next box to come. " Hanifa, 4th grade.
With your kind donation, we plan to reactivate the Box of Books Program and provide more books for students like Hanifa and Indah. Thank you all!