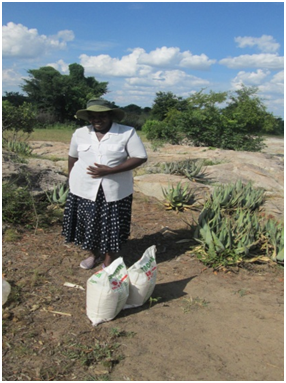 Primrose is an 11 year old girl.
Anabel is a 10 year old girl.
Limpert is a 6 year old girl.
Eric is a 1 year old boy.
What do they have in common? All four children are HIV positive. And all four children are orphans sharing a home with 55 year old Othiliah. There is more, they are a family blessed beyond words by your generosity!
Othiliah tells us about the porridge they received ...
"The corn soya blend is a great blessing for my family. We were feeling the pressure of our hunger, and considered eating field produce which has not matured. With this porridge, the children will be able to go to school full and very strong. The harvest in the fields will not be compromised as we wait until the crops mature."
Can you imagine facing such a decision? The hunger of your family must weigh heavily on your heart. Othiliah was considering compromising their crops when hope arrived in the form of porridge. Thank you for being a part of the hope that saved this family's crop and staved their hunger. Your generosity is felt each day that Primrose, Anabel and Limpert are able to attend school with full bellies.
Would you like to learn more about our projects and the work we are doing every day? Please write us at tweaver@AFCAids.org. And, check us out on Facebook and Twitter and see what else AFCA is up to (@AFCAids).