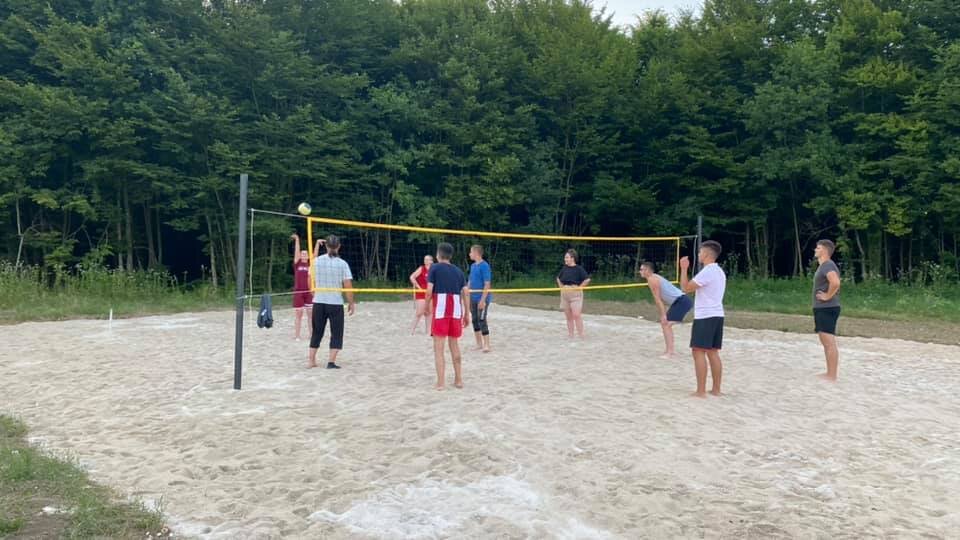 Dear friends and supporters,
Happy New Year!
Since August we have carried out many youth related actions:
International Peace Week, EcoKids, youth project "Bridge", CIM's volunteer Club, Theater "Life".
The 12th International Peace Week started September 16. Together with our volunteers, participants and friends from abroad, through different activities, we held this particularly dear and special event for us, and the crown of it was celebration of the September 21 - International Day of Peace.
This Peace week we devoted to topic of healing and reconciliation and all the program was carefuly planned so our participants had a chance to lear in depth about traumatisation, trauma healing and recovery. We also had some fun activities in the garden as well as swimming in the Sana river and hiking nearby hills.
On the 21st we hosted the Mayor of sanski Most Faris Hasanbegovic and representative of Austrian Cultural center from the Austrian embassy in Sarajevo Sabine Kernthaller who planted the first tree in our Garden's Center.
From June 2021, we started with the EcoKids section.
The aim of this section is for children in the early stages of development to understand the importance of nature conservation, but also to actively address issues related to climate change and nature conservation. We also want to enable children to learn how to grow certain plants, but also how to recognize edible wild plants in nature. So far we have 11 elementary and hihgschool kids involved in EcoKids activities. In the fall EcoKids members learned how to finish a vegetable growing season, how to prepare beds for next growing season and also how to plant fruit trees. We planted 80 fruit trees of a different kind.
Youth project "Bridge"
The coordinator of the Volunteer Club, Elma Ramic, managed with her team to win a grant through the Pro-Future project, and to design and implement the "Bridge" project. It was about socializing and joint learning of young people from Sanski Most and Banja Luka and it lasted 6 months. We are proud that Elma and her team, even though they are high school students, managed to design and completely carry out a rather demanding project on their own. We congratulate Elma and look forward to the next joint ventures.
The MOST project was financially supported by USAID through the PRO-Future project, dedicated to building peace and trust among citizens of all ethnic and religious groups in Bosnia and Herzegovina. Please note that the Pro-Buducnost project is implemented by the American humanitarian organization Catholic Relief Services CRS, with partners: Caritas BiH, Institute for Youth Development KULT, Tuzla Citizens 'Forum (FGT), Helsinki Citizens' Parliament Banja Luka (hCA) and Interreligious Council in Bosnia and Herzegovina. *
CIM's Volunteer club continued to come together to learn and work with our vegetable garden as well as learning in depth about species we have in the fors at the Garden. Some members are also preparing presentations on youth activism and peacebuilding and in the 2022 they will be giving presentations in local schools so we introduce the Club and attract more young people to join.
Children's Theater "Life"
From September 2021, after the restrictions caused by the pandemic were lifted, our volunteer Timka Omanovic started preparations for a new show called "Stay Here". A total of 14 children participated in the preparation and performance of the play, which was performed on 27.12. where our guests were mostly children covered by the programs of several organizations from Sanski Most. After the show, we took the opportunity to present New Year's packages to the children present, which we received from the German humanitarian organization Aktion Pomoc.
Thank you for supporting us in our efforts to raise leaders of new generation who will be taking good care of our Planet with all being living on it.