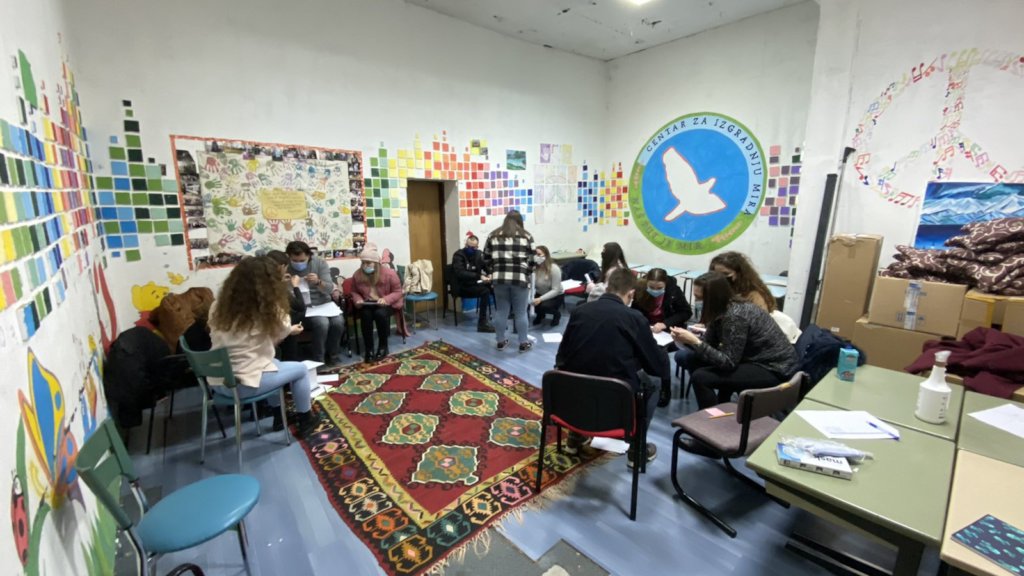 First of all, we would like to wish you all happy new year from all the staff members in CIM and we hope that you are all safe and healthy. 2020 has been a very busy year for us, and no doubt you have been very busy too. We hope you will have an amazing new year, and may most, if not all your resolutions become reality.
In Novembar we organized the second training as part of the Youth Regroup! Youth for Youth in Krajina project. Through this project we want to increase the involvement of young people in advocating for their needs and interests, and develop the necessary skills and knowledge to lead local initiatives in their communities. The project covers 7 municipalities / cities in the Krajina region: Bihac, Buzim, Bosanska Krupa, Kljuc, Sanski Most, Prijedor and Novi Grad.
On this occasion and with their active participation, young people gained theoretical as well as practical knowledge necessary for youth work and coordination of youth clubs. They have created a plan of future activities that they plan to implement in their local communities, and we hereby invite you to through attendance support young actors of social change in advocating for the interests and needs of youth.
After the second training within the Youth Regroup! Youth for youth in Krajina, youth from 7 municipalities started implementing local initiatives designed during the training. Upon returning to their communities, the participants actively worked on preparations, recruitment and on that occasion organized meetings with young people and representatives of non-governmental organizations in order to present the project and the importance and benefits of opening youth clubs. The first local initiative was held in Kljuc, within which the project participants organized an info desk and informed the public about the needs and problems of young people, as well as the future program of the youth club. The activity was visited by municipal councilors, a youth officer as well as representatives of non-governmental organizations who expressed satisfaction with the promise that the initiative will receive their support. In order to examine the needs and problems of youth as well as the degree of involvement in youth activism, project participants from Sanski Most created an online survey. They held a meeting with members of CIM's volunteer club to whom they presented the project and plans regarding the opening of the youth club. The workshop on youth activism that followed was their final activity. The initiatives held in Kljuc and Sanski Most, in addition to the excellent response of youth, aroused the desire and motivation of participants for further learning and involvement in the activities of the Youth Club, and the support of local authorities .Initiatives held in Bihac, Bosanska Krupa, Buzim, Prijedor and Novi Grad also had a great response from young people from their municipalities and they openly talked about their needs and problems in their local communities.
After numerous successfully held local initiatives in 7 municipalities covered by the Youth regroup! Youth for youth in Krajina, we are starting with the work of youth clubs! Young people from these municipalities finally have the opportunity and space to socialize, learn and exchange experiences and knowledge, and jointly advocate for their needs in the local community. We are now entering the second month of the work of our Youth Clubs and our youth from these 4 municipalities had the opportunitiy to gain knowledge in different spheres such as youth activism, teambuilding, dancing, interreligious dialogue, digital peacebuilding and many more.