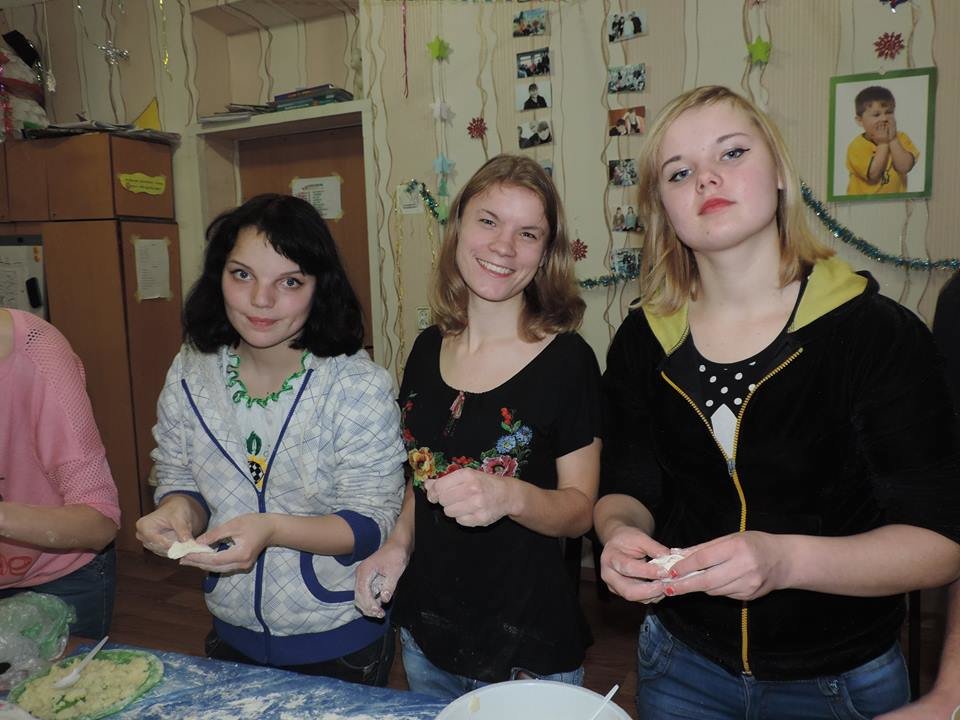 Dear friends,
As the season of miracles and festivities is about to start, it is important for us to let you know how much your support enriches the lives of vulnerable young people who are deprived of parental care and very often of any kind of support in general.
Therefore, we are sending you story of a young lady who has been participating in trainings and other activities of youth club "Alternative" in Dnipro for three years.
Hopefully, the inspiration of this story will accompany you during the upcoming season.
"My name is Valia*. My life has changed significantly thanks to the youth club "Alternative". I have been attending activities of this club for three years now. During these years many things have changed in my live. What is most important for me, I learnt to respect the others, support them in difficult situations, learnt to reach my own goals no matter what.
During the trainings [of the youth club] me and other participants learnt to outline our goals and the ways of achieving them. One of my goals was to enter a professional school and I knew that it would not be easy. My first try failed, but I did not give up. I was diligently preparing myself, took additional classes and finally succeeded. Study does not come easy for me, especially when it comes to math, English and some other subjects too. But I started to attend additional classes organized by a charity foundation. I started to read much more and, thanks to this, started to speak and write withless mistakes.
I also learnt to be patient, express my thoughts clearly and talk to other people with respect, never to be rude. Now I think it is important to help close friends, trust each other, compliment each other once in a while.
Other things I mastered were planning various projects, avoiding polluting the environment and keeping my own living space clean as well.
I also explored various ways of communication, learnt to always be polite, be brave and solve difficult situations without conflicts and fights.
I learnt to work in a team and deliver common projects, behave in a safe way online.
I started to treat my own life with wisdom, became more persistent with reaching my goals and now I never give up and stay positive no matter what. I realized that it is important to demonstrate my love to close friends and those people who are practically family for me, take care of them, treat them with respect.
All these things helped me to find a job on the Internet, pass interview and get the job. Yes, it is not a high paying job so far, but I found it myself and I am making my own money. Slowly I am learning to solve my own trouble and always achieve what is wished, to forgive people and fight for what is important.
Right now my life has much more sense and I am very thankful to the youth club "Alternative" for all this!"
Such stories are possible thanks to your kind support and GlobalGiving, as always, provides opportunities to quantify them. This Giving Tuesday the platform is making all donors and all donations count all day**. Therefore, we want to kindly ask you to consider starting a new recurring donation, since those are guaranteed a 100% match and, hence, will have the potential to strengthen our effort twice as much. Thanks to your support and GlobalGiving's wonderful opportunities we will be able to make more stories like this come true.
Of course, we will also highly appreciate sharing and distributing information about youth clubs via any channel accessible to you.
On behalf of all the young people who have attended the youth club "Alternative" during these last years let me thank you for all that you have already done to support this cause and ask you once again to help us keep it rolling!
Regards,
Alyona Levchenko
Youth Club Leader, Youth Club "Alternative"
*The names of the beneficiaries are changed to protect their identity.
**Find out more about #GivingTuesday matching campaign by GlobalGiving here.