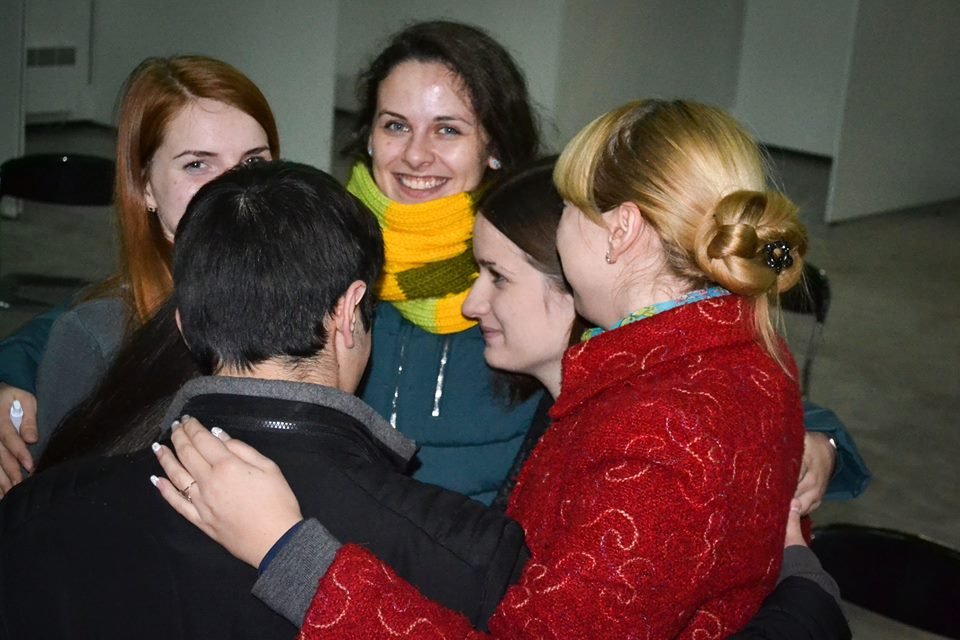 Dear Friends,
Warm greetings from Ukraine!
You might have noticed that it has been a while since we last reported and we would like to change this right here and right now. Not to bore you with bare numbers (which you can easily check out by clicking here) we would like to tell you about our failure and how it turned into multiple success stories.
As you may know, every year we train a group of youth over 18 y.o. and assist them in establishing youth clubs in their communities, in order to empower local disadvantaged young people through training and peer learning. This model proved itself very effective at first, so in the fall of 2015 we started another cycle and by the end of the year 17 new youth trainers, full of ideas and energy, started youth clubs in different regions of Ukraine. However, despite all the preparations, many of them simply could not gather enough participants. Surprisingly enough, the situation was most problematic in Kyiv, the city with thousands of vulnerable youth.
"Creating a youth club turned out to be harder than I through, I had to spend much more time on engaging participants", - says Nastya, trainer of one of the Kyiv youth clubs. Indeed, as it turns out, trainers were psychologically not ready for the difficulties they faced:"During the trainings, I was constantly raising the question of how we should engage young people, - shares Olena, another youth trainer from Kyiv. – While I was starting the club, my "toolbox" lacked a variety of methods on youth engagement that I would wish I have learnt and worked out during the trainings".
In the final result, Olena only managed to engage 5 participants who attended all of the meetings. Only those young people who were in critical need of assistance pushed themselves to spend their free time on youth club, she says. "There is simply too much to do in Kyiv, not all young people are interested. Some already have negative experience with different kinds of trainings. If I had sufficient knowledge on youth engagement, I probably would have done everything in a different way. At first, one has to analyze potential auditory and try to understand how they will perceive an attempt to help them. For instance, when Olya first came to the professional school where she was later holding her club, she understood that young people studying there were willing to change something, but they didn't know how. In such conditions her effort was fruitful".
Olya is another girl who established her youth club in Kyiv this year and at first she also had trouble with engaging young people: "Potential participants were very passive, they did not want to contribute their time", - Olya says. However, this was not the only issue: "The passiveness of young people could be overcome, but administration was an even bigger challenge and I actually was not ready for this. During the trainings we were only told positive things, but, in fact, we should have been psychologically prepared to deal with all kinds of negative situations".
Despite all the difficulties, Nastya, Olena and Olya carried on and, in the final result their youth clubs developed the most sincere and tight relations between participants and the trainer, young people attending these clubs demonstrated impressive personal improvements.
All of my participants, - says Olya whose youth club included over 20 people, - study at a "professional school" because they were excluded from more prestigious educational institutions. After attending our meetings all of them started trying to be re-enrolled. Now their administration claims it is losing pupils because of the club, so we have temporary stopped our activities, but I stay in contact with all of them, they often call me and ask for advice. I am starting my own organization which will become the new platform for our trainings".
Olena is no less eager to share: "My club does not have many participants, but all of them succeed in their own way. Now they are very active as volunteers and run their own social projects. What is more, during the first 15 trainings I could not get them to name at least one of their strengths, but now they are confident because they finally realized what they are good at".
Nastya is also excited to talk about improvements demonstrated by participants of her club: "It is important for me that they continuously develop, set new goals. They even created individual goal achievement plans".
Thanks to all of the insights provided by girls, as well as other youth trainers, we were able to identify some weaknesses in our training programme. It is obvious now that a model of youth engagement should be developed, which we are able to do thanks to the rich experience collected this year.
But what is more important, we realized that most of our time and human resources should be distributed differently. Massive training of youth trainers does not guarantee the quality of assistance provided to vulnerable young people in the youth clubs. However, continuous and extended support to the most motivated youth trainers who value their participation in our project creates, perhaps, modest, but sustainable and life-changing impact.
There are youth trainers in other cities besides Kyiv, who continue to carry on with their clubs, even though their work is unpaid and all the "carrots" available within the project have already been handed to them. Taking this into account, we want to continue support to the youth clubs, which, hopefully, will help youth trainers to go an extra mile and deliver their trainings in the best way possible.
Therefore, we would be extremely grateful for your further support to the project. Please, note, that all the raised money will be handed to the youth clubs and spent on activities for building confidence and crucial life skills of vulnerable young people.
Once again, let us express the deepest gratitude to all of you! Only with your continuous support could our failures become success stories!
With best wishes,
Project Monitoring and Evaluation Officer