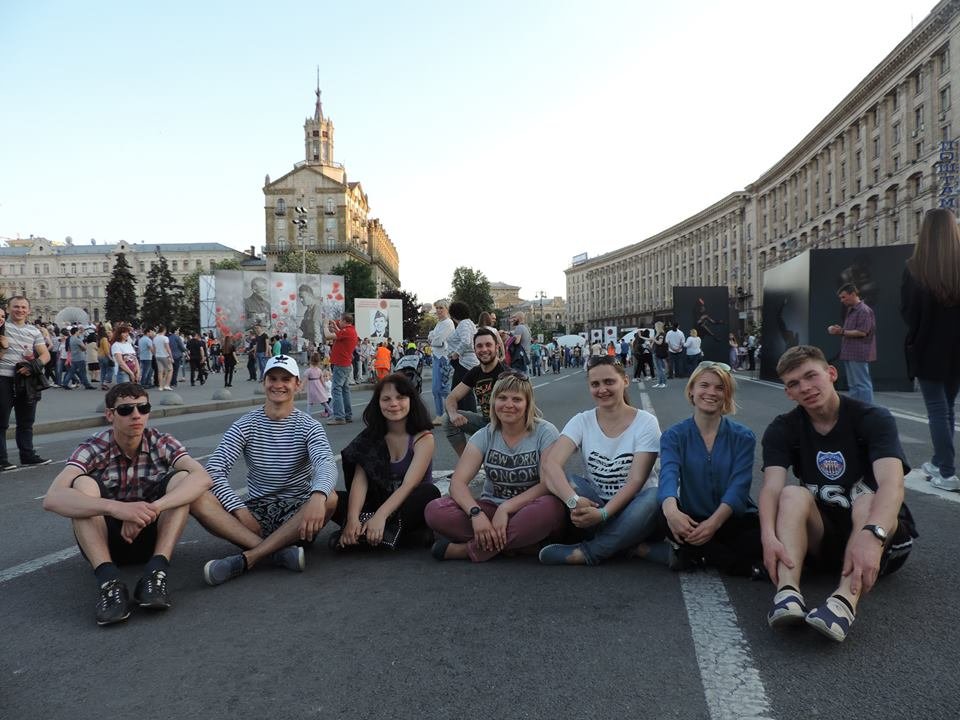 Dear friends!
Once again we are heading towards that part of the year when the results of our activities should be summarized and analyzed, plans reviewed, conclusions made!
Thanks to your kind support we have been able to sustain our effort over the last few years and support not one, not two, but three generations of youth clubs! In our previous reports we have told you stories of individual clubs, of the whole "generations" (or, if you prefer "editions") of youth clubs. We have also told you about the struggle that is sometimes faced by youth trainers and, most importantly, about the success stories of the youth club participants and the changes that happened in their lives.
Each of the "generations" or "editions" of youth clubs means that a whole cycle of "How to become successful" trainings and other exciting activities (which usually takes 6-9 months) was completed by a number of vulnerable young people from different communities and different regions of Ukraine.
But we are particularly happy to see that each generation continues and enhances the efforts of the previous one, becoming an integral part of the local communities and, at the same time, creating a cross-regional community of support. Such clubs have been functioning in Kaniv and Smila of Cherkasy Oblast and the city of Dnipro. In this report we would like to take a closer look on what has been achieved by these youth clubs during their third year.
"In the town of Kaniv the news about the youth club spread really wide, especially among the young people. - Says Katia, one of the youth trainer. - A lot of positive feedback from youth club participants of the previous years created wonderful conditions for continuation of this work. Motivation of young people was supported mainly through interesting activities and gaining useful knowledge, through meetings with new people, comfortable atmosphere and opportunities for participation in other creative youth projects".
Kaniv youth club, "How To Become Successful" engaged young people living in residential institutions of long-term foster care, between 15 and 18 years old and put an emphasis on developing the skills of self-analysis, communication, professional choice.
"Participants confirmed at several occasions that they are always eagerly expecting the next sittings of the youth club. - Says Maksym, the youth trainer of the Smila youth club "Step to Success". - Also, participants feel free around their peers, actively communicate during trainings".
This youth club has been functioning since 2014 and drew considerable attention of the local community, including media. For example, in 2016 local media created a video report about the second "generation" of the club attendees. During introductory meeting of the club Maksym now uses photos and evidence of the participants from previous year, which creates an effective appeal to the young auditory.
Youth club "Alternative" from Dnipro, which is also one of the youth club "seniors" this year put a lot of effort into deepening knowledge of young people about civil and social rights, encouraging them to become active members of their communities. "Some participants even got rid of harmful habits, - share trainers of the club, - namely, smoking, drug and alcohol consumption. 1 participant managed to secure their own place by the time they turned 18. 3 participants realized their dream of visiting Kyiv, the capital of Ukraine. 5 participants took decisions about their professional paths and started study in accordance with these decisions". These are, according to the trainers, the most considerable results achieved by this youth club in 2017.
We thank you for all you have done to make the youth clubs tradition so sustainable!
In our next report we are going to tell you a success story of one of the youth clubs participants, do not miss out!
Warm regards,
Kateryna Snisarenko
Project Communications Officer