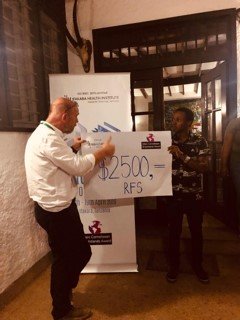 A BIG thank you again to all of you who donated as part of our Global Giving fundraising campaign before Christmas. We have been working hard over the last quarter to identify deserving students to attend the London International Youth Science Forum in 2019.
Following nominations from our partners operating locally in Africa, we have now confirmed Scholarship awards for four students and expect to confirm a fifth student scholarship shortly. The confirmed YoSA scholarship students for this year are:
Rose from Tanzania – Rose was an award winner at Young Scientists of Tanzania in 2016 with her research on the possible reasons for the persistence of cholera in local water supply despite the government's efforts to overcome the disease and established the STEM club at her school.
George from Kenya – George has been inspired to follow a career in medical science after recognising the need for improved medical diagnostics during the illness of a close family member. George supports an initiative to bring children in his community back into education and has secured a place at university in Kenya to study BioSystems.
Edzani from South Africa – Edzani was the winner of a 'Bright Young Leaders' initiative in his community with his creation of a 5-in-1 mechanical robot which operates using air and water to perform basic agricultural functions for farmers to save them using more expensive fuel based machinery.
Macdonald from Zimbabwe – Macdonald was inspired by a visit to his Grandmother's rural village to create electricity from bio-gas. Macdonald worked with his science club at school and found that a local plant contained the right bacteria to create a bio-gas, which generates electricity by heating a thermoelectric module.
We have interviewed each of the scholarship award winners and are very excited that they will be able to share their science stories with the rest of the world and take fresh insights back to their local communities to support their ambitions to make a difference in Africa through science.
Our YoSA scholarship students from 2017 and 2018 continue to develop their science careers. Ammy from Kenya, who attended LIYSF in 2017 and returned as a student ambassador in 2018, continues to help needy children with their education when she is not studying and has recently accepted the role of YoSA Alumni Champion, responsible for supporting us in keeping all our scholarship students connected and aware of development opportunities. Whilst Gracious from Tanzania has just received an award to turn his automated mosquito net innovation into a marketable product and has confirmed that he will return to LIYSF in 2019 as a staff ambassador.
Links: