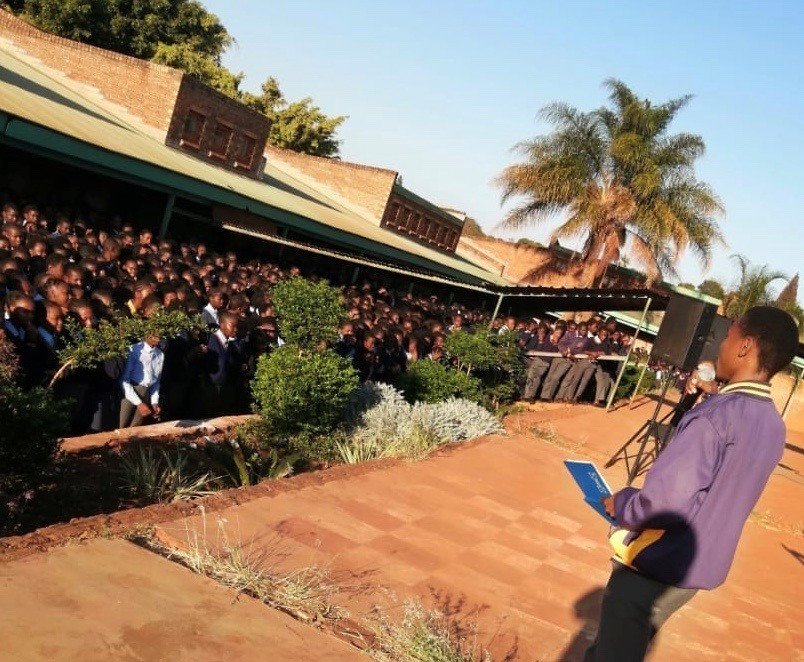 A BIG thank you again to all of you who have donated as part of our Global Giving fundraising campaign and changed the lives of young scientists in Africa. During the last quarter we have remained connected with our students as they have written reports about their time at the London International Youth Science Forum (LIYSF) and have shared their experiences in their home communities. The benefit of attending LIYSF really comes to life in the detail of their reports and the way they have shared their experiences with their schools and across their communities.
MacDonald visited Oxford University, Imperial College, The Royal Institution, Airbus, NIHR Oxford Biomedical Research Centre and the Alexander Fleming Laboratory during his time at LIYSF:
'These exclusive visit opportunities gave me deep insight into the broad, challenging and exciting life of a scientist which extends far beyond the research lab.'
'Presenting my project during the FameLab evening highlighted the importance of being able to effectively translate science to engage an audience who may not have a scientific background.'
He learned from his experiences at LIYSF and re-presented his project at the Climate Change programme run by Unicef Zimbabwe and Voices for Youth in September, where he wasawarded the Green Innovations Award by SNV Zimbabwe. In October MacDonaldreceived the First-place award in the Physical Science Category from the Young Scientist Journal. He has also been awarded a scholarship to continue his studies at the prestigious Africa Leadership Academy in South Africa where he intends to focus on Biomedical engineering.
The photo above shows Edzani presenting to his whole school of 2,536 students. Edzani is finishing his final exams and will be applying to University in January. He has highlighted in his report that:
'Around the globe we are all family, regardless of our skin colour and where we come from; whether our home background is a rich one or a poor one we are all one.'
'Africa is still a developing continent with scientists capable of great things for the whole of Africa, YoSA and LIYSF have helped provide me knowledge and inspiration to go on and do this.'
Phamela also spoke to her whole school of 1,100 students before finishing High School with multiple academic certificates, including being awarded the 'Top Learner' prize for her school for 2019. She has started a project with her friends teaching maths and science at one of her community primary schools. Inspired by LIYSF she has delivered 10 lessons and wants to pass on this inspiration to younger children and engage them with science from an early age. Phamela concludes her report by saying:
'LIYSF has changed my life and inspired me to pursue a career in STEM, the friendships and connections I have made will forever live within me.'
George is now at the University of Nairobi studying Environmental and Biosystems engineering. He is working on a project to reduce the rate of infant mortality by studying the level of sterility of breast milk. George reflected that:
'There were more than 500 participants attending LIYSF. This means over 500 ways of thinking, reasoning, cultures and different ways of tackling problems we encounter. LIYSF made it possible for me to interact, learn and network with these brains from different parts of the world.'
'Debate night gave me a voice as well as a platform to be heard. I was overwhelmed standing up and presenting my ideas in front of everyone, but it felt great when I saw everybody listen to me.'
All of the YoSA students at LIYSF this year were 'flag bearers' at the opening ceremony which took place in the presence of Her Royal Highness, The Princess Royal. They all state in their reports how tremendously proud they are of this honour and their scholarship to LIYSF as a whole and are all working hard to ensure it makes a lasting difference to their futures and that of their communities.
Links: