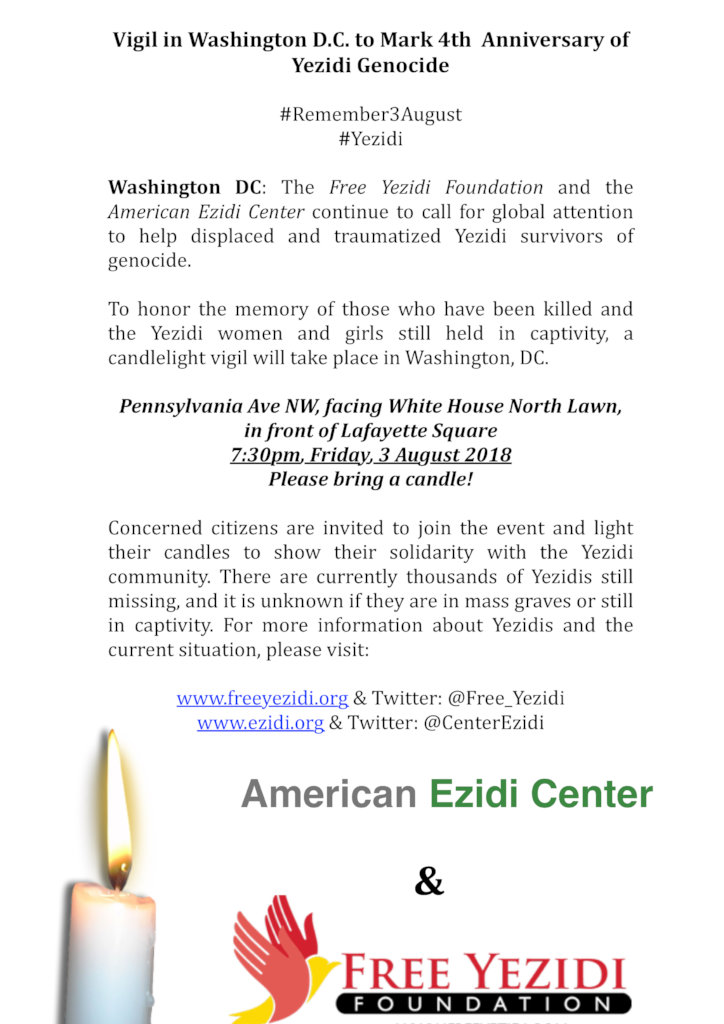 FYF Invites You to Remember 3 August in Washington DC
FYF hosts an annual vigil in Washington, DC on 3 August. Please join us again this year
to show support for Yezidi survivors.


On 3 August 2014, ISIS terrorists overran the town of Sinjar (Shingal), carrying out a pre-meditated plan of mass murder, violence, kidnapping, rape, and other crimes against the Yezidi civilians because of their religion. The attacks have been widely described as genocide, including by the US State Department.

To mark the fourth anniversary of the genocide perpetrated against the Yezidis, the Free Yezidi Foundation and the American Ezidi Center call upon concerned citizens to join the vigil in front of the White House and express support and solidarity with Yezidis.

Survivors of the Yezidi genocide face immense challenges in trying to rebuild their lives. Sadly, even upon the liberation of Mosul, thousands of Yezidis are still held captive by ISIS terrorists. Meanwhile, survivors seek to improve their lives, despite three years of displacement. Most Yezidis now live in IDP camps in the Kurdistan Region of Iraq.

The Free Yezidi Foundation and the American Ezidi Center would also like to express support for other minority communities affected by the ISIS terror attacks, including Iraqi Christians, who have also suffered enormously.
The Free Yezidi Foundation and American Ezidi Center invite everyone to stand in solidarity with Yezidis on 3 August
This is a day to remember the suffering of the Yezidi people and to show the world that Yezidis are not alone. I would like to thank our Foundation's supporters and friends, and I hope many of you join us again with a candle on August 3rd.
Sincerely,


Pari Ibrahim
Executive Director
Free Yezidi Foundation
Links: