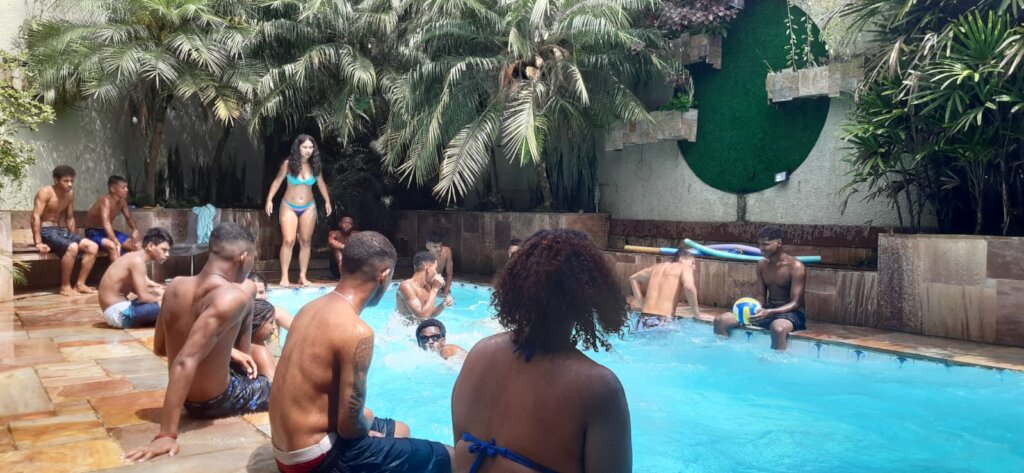 Dear donor,
We hope that 2023 will be a kinder year and one of great achievement for all of us! And to start the year well, I bring you news.
In the last 3 months, so many cool things have happened in Grupo nÓs and with the young people who participate in the program.
In December 2022, we had a get-together for all the youth in the group. It was a day to evaluate the program and the activities that took place throughout the year and, at the same time, a more relaxed moment where they could have fun in the pool and also participate in a DJ workshop.

Also at the end of the year we had the graduation of 10 young people who participated in the group. To make this moment memorable, we went on an "outdoor trip" with these youngsters to the Bertioga beach. It was a time of balance, farewells, and hopes for the future.

Thus, we enter 2023 with the continued participation of 55 young people in the biweekly activities of the thematic group meetings and cultural outings; 16 young people in individual accompaniment of their life projects; and about 5 young people attending in the On-Call sessions, which are weekly online meetings, open to young people who want to talk about issues that permeate this stage of preparing for the exit from the foster care service.

L. is a 17-year-old teenager, determined and opinionated, who likes to participate in group activities, expressing her ideas and dialoguing with the other participants. She likes soccer, writes poetry, and recites it when she has the opportunity. She works as a young apprentice in the computer area. Recently, she has experienced some challenges in her life and has brought her anguish to the group about the approach of leaving the sheltering service. In this exchange with the other youth in Grupo nÓs, she has been strengthened,finding understanding, support and affection to face her issues. She works as a young apprentice in the computer area.
Thank you for making all of this possible for young people who had not believed in their potential and now see opportunities for a dignified life.
Instituto Fazendo História