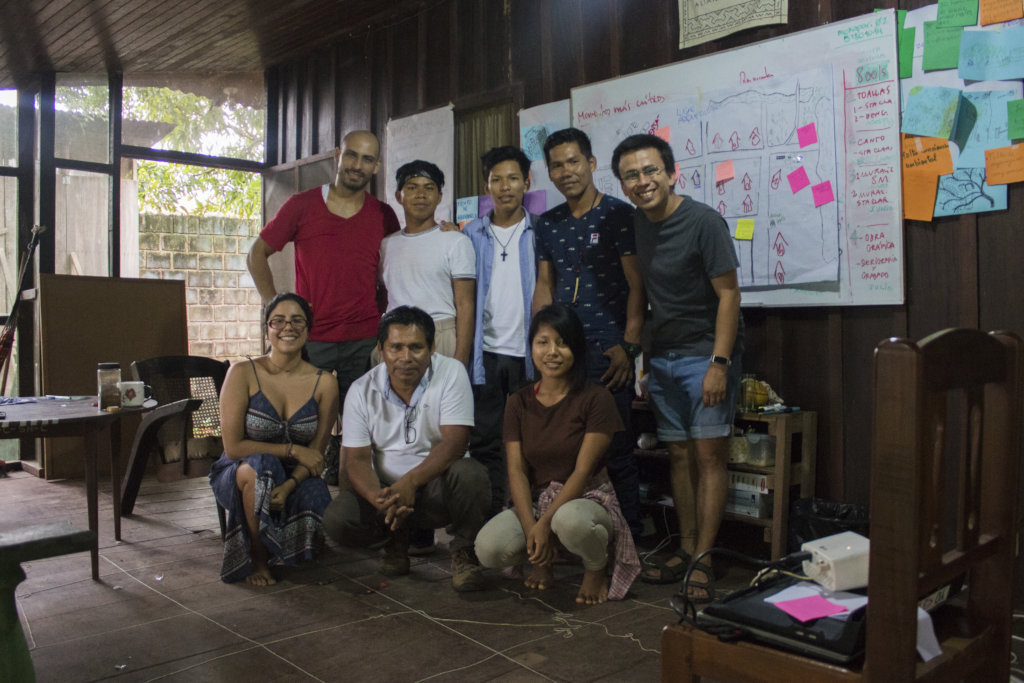 Between 5th _ 8th May, five members from the Santa Clara Community Youth Association of the Ucayali region, took part in the pilot workshop on methodologies for participation with a territorial focus. It was organized by Alianza Arkana with the aim of expanding and strengthening knowledge and promoting actions for Climate Change within the Santa Clara community.
Four steps for climate change
The workshop was divided into three phases, with one day dedicated to reflection and feedback. The first phase was focused on the identification of the socio-environmental problems that have occurred over time. We used games and group exercises to draw up the common daily activities and routes that were used ten or more years ago which today are no longer viable due to territorial transformations. We then looked at the losses and lack of basic services that is needed for the environmental, and therefore social health, of the community.
In the second phase we deepened our understanding of the territory. We learnt how to construct a geographic memory map by recalling day to day interactions within the landscape and this allowed us to identify who the key players in the community might be.
In the third phase, we learnt the basic tools for the identification of socio-environmental problems and then how to outline areas for transformation and objectives which would then be the cornerstone of future projects. To finish, we reflected on the importance of thinking about our collective space: its dynamics, its strengths and weaknesses and most importantly, how to do this as young people, supporting and finding solutions together.
This workshop has been facilitated by our colleague and friend David, political scientist and specialist in territorial planning, whom we thank for his practical and didactical way of transmitting knowledge to the group.
The Future is positive
A week after the workshops, young people from the community joined in assembly to define the board of directors for the year 2020. Our next step is to come together to outline how we can replicate this pilot workshop in the community, with the intention to deepen the work in each phase. Our goal is to create a socio-environmental analysis of the territory in order to be better prepared for climate change and create a regenerative movement within the community.
With your support, we will be able to create workshops with better material and human resources. Help us sustain young people and their communities in order to help raise awareness about climate change.
Thank you for supporting us!
*The Youth Association of Santa Clara (Asociación de Jóvenes de Santa Clara) is an initiative that comes from the necessity for young people from the community of Santa Clara to strengthen their Shipibo identity, and to develop skills in order to become multi-sectoral change agents (health, environment, education, economy) in their own territory.