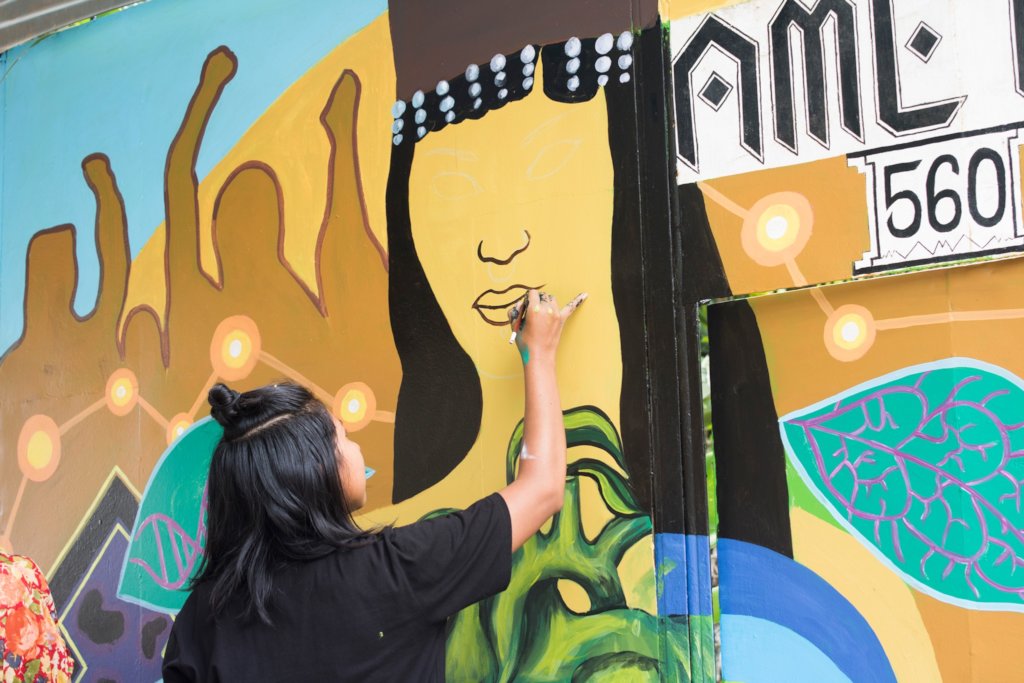 Indigenous women, as all the women around the world face discrimination, lack of opportunities, social marginalization, violence... and more.
However, no woman wants to be seen merely as a victim, we want to be seen as Actors in our own life. As women we play a decisive role in our own lives and those in our communities!
Here in Yarinacocha, on March 8th indigenous young women, urban women, western women all embraced our diversity and stood up for our values. We expressed our commitment to support all women while remembering those working women who died during the strike against exploitation in the textile industry in 1911.
To celebrate women, we chose to engage in a collective day of wall painting because of the strong visible message that this form of artistic expression communicates. Koshi Ainbo (Strong Woman) was the main inspiration of our mural. This important theme reminds us how, a century later, we women are still fighting to build an equal and fair society, while validating our ancestral knowledge and strength.
The mural shows..
...a Shipibo woman leading the fight while holding the heart of the Amazonia, a beating heart that continues fighting together with its peers. The Ipo Kené - the Plant of Arts, the Ancestral Knowledge and the spots of the Wiso Ino, black female jaguar and protector of the Plant of Love, the Noya Rao support indigenous women and people in the fight.
The chosen colors answer to traditional natural inks: purple -Ami, and yellow -Koron, accompany us through our work strengthening our conexión to Mother Earth.
The Alianza Arkana Team believes Empowerment is a key tool for instigating positive change.
In all of our Program activities we work towards the right of individuals to participate fully in the free expression of ideas while providing safe spaces to share, discuss and promote self awareness. This allows individuals to develop skills to express themselves, solve conflicts, build confidence and self care, to practice a healthy sexuality and decision making.
At the group level we intend to develop people's abilities to work together to influence social changes that aim to achieve an equal and fair society which is much needed in gender relations.
Above all, we hope to build a secure and supportive network where individual's self esteem can be strengthened, especially in the sensitive situations that affect women's wellbeing.
As women,
We make each other visible,
We listen to each other,
We validate each other, we have each other's back through challenges,
We help each other to achieve our goals!
Thank you all for being part of this Empowering process!
Ichabirres Irake!