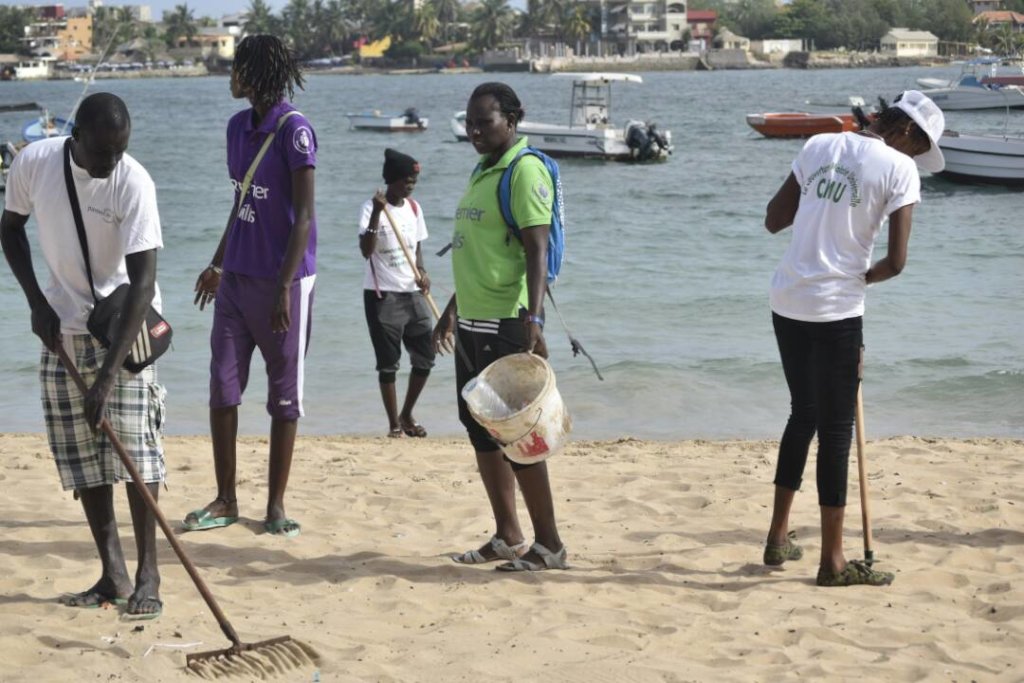 The 24 young women who participated in trainings we wrote about in our June blog have been rocking it- bringing their leadership and coaching skills back to their communities. During the training, they designed leadership projects consisting of a soccer tournament and a community initiative of their choosing. Now, they are implementing them in their neighborhoods and villages.
We've been impressed. We think you will be too. The young women decided that the best way to promote girls' soccer to the whole neighborhood would be to get boys as well as girls involved. Over the years, we have found that boys and men actually take pride in helping to organize and participate in girls' tournament activities when they are given a role. It's one of the best ways to win acceptance for girls' soccer and recruit allies. So while the girls' games remain the main activity, the young women have organized games for the neighborhood boys as openers or as side events. In her neighborhood in Pikine which lacks a girls' team, Ouleye recruited former women's national team players to play a game and really show off women's soccer in order to get girls in her neighborhood interested.
For the community initiatives, some young women have chosen to address problems at the heart of soccer in Senegal. Soccer fields, surrounding streets, and beaches are almost always littered with trash. Several young women have designed Set Setal or "neighborhood cleaning" initiatives where they gather players and other youth to pick up trash. In her neighborhood Ngor on the coast in Dakar, Arame organized a course in basic lifesaving techniques in the water in addition to a Set Setal beach cleaning.
Another issue with soccer in Senegal or anywhere is that players get injured. Awa, Mariama, and Ndeye organized a free first aid course for players and community members in Parcelles Assainies and Grand-Yoff neighborhoods of Dakar. Not all the young women have chosen to focus on soccer-related issues however. Lala in Bignona in one of Senegal's poorest regions chose to raise awareness about the importance of registering your child's birth because many children in villages her region lack birth certificates needed to attend school or access government services.
Seyni and the Ladies' Turn team have been traveling throughout Senegal to support the projects. Some women are teaming up so when they are done, they will have organized 19 tournaments and community initiatives throughout Senegal. This means quite a bit of travel for our team, but it's worth it. British Council has provided mini grants for each project, and your support through GlobalGiving has also been crucial. It has helped our team continue their work and provide equipment.
So thank you again for your support this past year. As 2017 comes to a close, please consider a donation to support all the exciting girls' soccer and leadership activities we have in the works for 2018.
In Solidarity,
Jennifer and the Ladies' Turn Team