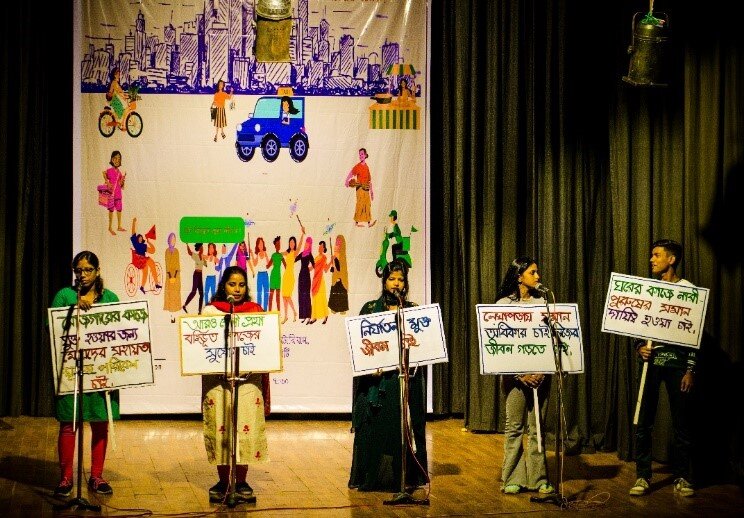 Azad Foundation works across social and religious divides to enable resource-poor women to empower themselves by engaging them in remunerative and non-traditional livelihoods. We have been working on multiple levels, to advocate with the state and civil society actors and communities for opening up new markets for women which has been traditionally closed to them. We provide transformative capacity-building training to women from marginalized communities so that they join non-traditional yet remunerative livelihoods and we engage with men, women and adolescent girls to create an ecosystem to support women to adopt non-traditional livelihoods, exercise choices and live violence-free lives.
Kamla Bhasin Award (South Asia)- Driving the World Towards Gender Equality
First Award Ceremony
Azad launched the Kamla Bhasin Award for "Driving the World Towards Gender Equality" on 8th March, 2022, in the loving memory of Kamla Bhasin who was an icon of the Indian and South Asian women's movement in partnership with iPartner India and National Foundation for India.This award aims to advance Kamla's legacy of recognising and supporting grass-roots change-makers who are fighting against the patriarchal norms and structures in society.
64 applications were received in the first year of the Award from across South Asia in 2 award categories including, a) a woman (cis/trans) practitioner of non-traditional livelihood and b) a male (cis/ trans) who has worked towards enabling a gender-just ecosystem that encourages women to take on livelihoods with dignity. The Jury for the Award were leaders of their respective fields across South namely– Binda Pandey, Nepalese Political activist and a member of the first Constituent Assemblyin Nepal; Khushi Kabir, social activist, feminist and environmentalist from Bangladesh;Anu Aga, social worker devotedly working on primary education for the economically underprivileged in India; Namita Bhandare, a renowned journalist who frequently writes on gender and other social issues in India and Salil Shetty, a senior activist on poverty and justice in India who has spearheaded Amnesty International's work to the global south.
On the evening of 26 November 2022, Azad, along with its partners, hosted the first Award ceremony to felicitate the winners- Natisara Rai from Nepal and Vidya Rajput from India, both of whom have displayed immense courage in their fight for gender equality and inclusivity.Natisara Rai is a survivor of forced sex work and is championing the rights of women living with HIV and survivors of human trafficking in Nepal while Vidya Rajput, a transwoman from Chhattisgarh, is dedicatedly working for the education, employment, housing and healthcare rights of trans community. The ceremony brought together 450 participants including organising team members and friends of Kamla, representatives from various national, international and grassroots organisations, and Azad youth & feminist leaders, trainees and women drivers. The day was filled with love, laughter, colors, music, slogans, poetry and dance, much like the life of Kamla herself. The audience enjoyed films depicting the life journey of the 2 awardees and joyfully danced to Sonam Kalra's music resonating with the themes of love, equality, freedom and inclusion, a tribute to Kamla's legacy.
The event received wide media coverage nationally and regionally.
More Women Join Non-Traditional Livelihoods
From October to December 2022, 92 women became employable by acquiring their four-wheeler and two-wheeler driving license across Delhi, Jaipur, Kolkata and Chennai. 68 women were placed as professional drivers and riders in e-commerce and transport. Of these, 39 women are working as delivery executives in e-commerce companies including Big Basket, Domino's, Even Cargo, Delhivery and Flipkart and generating wealth for themselves and their families.
Strengthening Youth Leadership
Azad has stressed on the role of young people marginalised due to their gender, class, caste, race, religion, gender identity, sexual preferences, location and language in achieving the Sustainable Development Goals 2030 Agenda and has been empowering young women and young men as partners in achieving gender equality. These young men and women together facilitate a gender-just ecosystem enabling women's access to opportunities of skill training and economic empowerment.
60 young men and boys from across Delhi, Jaipur and Kolkata received advanced Leadership Development Training to become role models in their communities, challenge toxic masculinity, educate their peers and collectively create an enabling environment ensuring equality and violence free lives for women and girls. 131 women and adolescent girls across locations are undergoing leadership training that will enable them to pursue education and skill-building, gain the capacity to exercise their choices on marriage, reproductive rights and other life decisions and enable other women in their communities to access their rights.
Campaigning Against Gender Based Violence
We recognise that gender based violence and discrimination including restrictions on women's mobility, physical, verbal and economic abuse and the burden of unpaid care work limits the choices of women and girls to access opportunities of education, skilling and employment. This year, to advocate for the right to life choices for women and girls, our youth & feminist leaders, trainees and women drivers rose in solidarity with the International Campaigns to end gender based violence including the One Billion Rising Campaign 2023 and the United Nation's 16 Days of Activism Against Gender Based Violence.
With the aim to sensitise the masses and urge them to take action to end violence against women and girls, our teams across Jaipur, Kolkata and Delhi are actively organising activities locally with rallies, street plays, community meetings, perspective building workshops, slogan raising, panel discussions, puppet shows and film screenings. Through these campaigns, we will reach out to over 19,000 people in the community and culminate our engagement on the occasion of International Women's Day on 8th March 2023.
Collectivising our Alumni
Azad Foundation celebrated its alumni meet with high spirits across Chennai, Jaipur and Kolkata. With songs, slogans, role-plays, films and panel discussions, the teams talked about important issues including women's rights, gender-based violence, women's participation in the workforce, their access to technical skill education and their burden of unpaid care work. Over 500 young women and men feminist leaders, trainees and women drivers from Azad as well as other Civil Society organizations participated in the events across locations.
Many women engaged in non-traditional livelihoods other than drivers and riders from Azad, such as plumbers, security and police personnel from the member organizations of Non-Traditional Livelihoods Network of India, seeded by Azad, shared their encouraging life stories. The meeting was a celebration of the continued efforts of Azad's alumni towards creating a violence-free and supportive ecosystem, enabling more and more women to adopt non-traditional livelihoods. It aims at building alumni collectives by weaving conversations and actions amongst the various change agents such that they can together become a more cohesive force in their communities to ensure gender-just ecosystem in their respective communities.