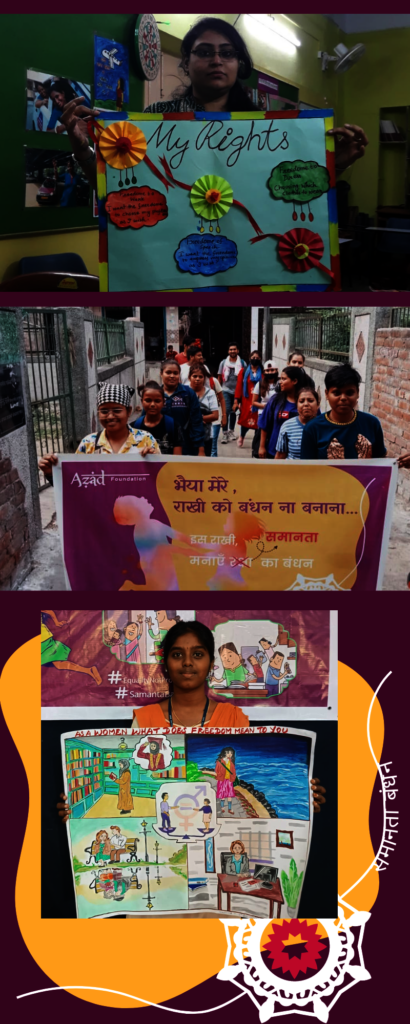 Azad Foundation works on multiple levels, to advocate with the state and civil society actors and communities to create a gender just ecosystem which enables women to exercise their agency and men to challenge concepts of toxic masculinity in their lives. We work across social and religious divides to enable resource poor women to empower themselves by engaging them in remunerative and non-traditional livelihoods.
Remembering Our Friend and Guide- Kamla Bhasin
Azad launched the Kamla Bhasin Award for "Driving the World Towards Gender Equality" in October 2021 in the loving memory of Kamla Bhasin who was an icon of the Indian and South Asian women's movement.Kamla's understanding of the world and social change was complex and simple too. She was an ardent supporter of Azad's work – to encourage marginalised women to empower themselves and take on livelihoods with dignity in non-traditional sectors. She was also a persistent supporter of the need to work with men to enable them to critically question patriarchy and how it impacted them; in the process becoming allies for social change and gender equality. The award that we launched celebrates this work.
We received 64 applications this year from across Afghanistan, Bangladesh, India, Nepal, Pakistan and Sri Lanka, all equally amazing and reflective of the courage and stoicism with which activists work, often quietly but persistently, pushing the boundaries for social change. On the occasion of Indian Constitution Day on 26th November 2022, Azad is coming together to co-host the Felicitation of the Awardees in partnership with iPartner India and National Foundation for India.
Partnerships Facilitating Women's Employment
Azad entered into a partnership with Jubilant FoodWorks Limited with the objective of training 300 women as 2-wheeler riders in a year and prepare them for the workforce across cities including Delhi, Jaipur, Kolkata and Chennai.
Jubilant also launched its e-riders initiative to enable 2-Wheeler riders trained by Azad to enter employment with the commitment of providing e-scooters to 25 women riders trained by Azad and facilitate their employment. After paying off the cost of the vehicle in installments over a period of 2 years, the e-scooter will belong to the rider, enabling her to build an asset for income generation. This initiative will enable 131 women to earn a cumulative of INR 2.6+ crores by the year 2027.
Two-Wheeler riders who have joined Dominos as Delivery Executives
With Azad and Jubilant FoodWorks Limited's committed efforts, 2-wheeler riders trained by Azad have started joining as Delivery Executives in various e-commerce companies including Big Basket, Even Cargo and Dominos generating wealth for themselves and their families.
Advocating with the State for Gender Inclusive Transport
Since the year 2014, Azad has been engaging with the Delhi Transport Corporation (DTC) for the inclusion of women in public transport. Back in 2015, V. Saritha, a driver trained by Azad was the only one who could qualify the restrictive height restrictions set by DTC to become Delhi's first female bus driver. Hence, between 2014 and 2022, Azad continued its advocacy efforts influencing the Transport Ministry to take steps towards creating inclusive and sustainable employment opportunities for women in transport. February 2022 marked the success of this relentless advocacy with the Transport Ministry's announcement to reduce the height criteria for women drivers from 159 to 153 cms; a waiver in the HMV experience from 3 years to none, and a waiver in the HMV training fee for women to facilitate their entry as bus drivers in DTC.
The month of August brought in more good news as 13 trained drivers from Azad were appointed by DTC to join as bus drivers. Among these 13 women is Seema, who is proudly driving DTC buses on Delhi's roads. Watch Seema's story here: https://youtu.be/bOCd4DoneLg
#SamantaBandhan Campaign: Advocating for a Gender-Just Ecosystem
Over the ages, restrictions on women's mobility, discriminatory gender norms, the burden of unpaid care work and violence has limited the agency of women to exercise their choices and systematically deprived them of opportunities to gainful employment, education and skilling. For more than a decade now, Azad Foundation has been striving to forge a supportive ecosystem that enables women to enter the non-traditional workforce as well as navigate the public spaces with confidence, thereby fostering their equality and freedom.
Through the Samanta Bandhan campaign, instead of the promise of protection, men and boys from Azad family and communities promised to support their sisters in their fight for equality. Azad embarked on strengthening the ecosystem of support enabling women to adopt non-traditional livelihoods. During the campaign, we reached out to communities across Delhi, Jaipur, Kolkata and Chennai through awareness rallies, sensitization workshops, poster making workshops, street plays and many more creative activities, unitedly challenging the age-old patriarchal clutches over women in our society in the label of protection through Raksha Bandhan.