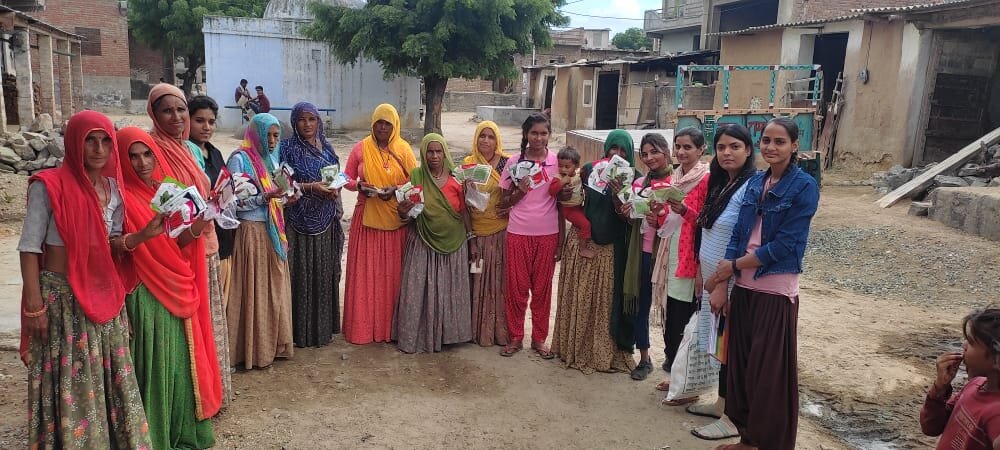 Dear Global Givers,
Here's an update from our campaign where through your support, tribal families in Rajasthan from extremely resource-poor communities are fighting hunger. In order for this campaign to be successful, we are trying hard to raise funds through both, online and offline donations. iPartner India is determined to support these tribal families to fight hunger, by reaching out to friends and supporters so that we can conduct training and workshops, and educate them on sustainable smart farming. This can only be possible when we come together.
As per UN-India, there are nearly 195 million undernourished people in India, which is a quarter of the world's hunger burden. Also, roughly 43% of children in India are chronically undernourished. India ranked 107th out of 121 assessed countries on the 2022 Global Hunger Index (GHI). With an overall score of 29.1, the level of hunger in India has been categorised as "serious."
Update from the campaign:
To date, 540 families have received support with the Kitchen garden setup. Seeds for carrot, radish, fenugreek, and beetroot were provided for the Rabi (winter) Season.
50% of the kitchen gardens of the Kharif season (monsoon) got destroyed due to rains. The average savings per family on vegetable expenses was INR 550/- before the rains.
20 families have also set up their nurseries and one training has been organized for them on sustainable farming techniques.
Hydroponic farming has been introduced which will help in growing green fodder throughout the year with minimum investment in water and manure. Hydroponic System is a system of growing crops without soil, often called soilless farming.
3 smart farmers have been identified and helped in setting up the smart farm. The family received guidance and support in horticulture to plant 100 Papaya plants, lay 5 vermicompost beds to ensure chemical-free farming and 2 Azolla beds which is a cost-effective climate-resilient technique to ensure algae formation and help the farmer to maintain nutrition for livestock rearing.
With the pest management training, the beneficiaries have reduced their input cost by 20 to 25% further increasing their profits.
Smart Kitchen Garden – Inclusive Solution
Through another grant we were able to pilot the concept of the Smart Kitchen Garden, therefore going forward we would like to explore it further.
Under the smart kitchen garden concept, our objective is to equip the women of every household with knowledge of IPM (Integrated Pest Management), INM (Integrated Nutrient Management), and natural farming by using kitchen waste to secure annual nutrient requirements. In the demonstration unit, mechanized drip irrigation powered by a solar system has been set up in the backyard of the household. Controlled irrigation management practices enable households to overcome the water scarcity in the kitchen garden and production can be ensured in heavy summer too.
Effective irrigation management is the major inspiration and value-addition component in a sustainable kitchen garden for better nutrition management for deprived and marginal households. The smart kitchen garden concept will be further improved for more effective and desired outcomes.
Story of Change
Nutritional Security of the Family through Smart Kitchen Garden Paravti lives in Harsuliya village. She belongs to the Nat community, predominantly involved in inter-generational sex work. She has six daughters and two sons. Her husband is casual labour and works in the fields of other farmers.
Parvati is a hard-working woman. She is one of the beneficiaries of the kitchen garden initiative. Since she does not have a backyard space, the team has helped her to grow vegetables on her neighbour's idle land. The team has helped her through various workshops on soil and water management. Despite water scarcity, Parvati has reaped the benefits of the kitchen garden programme by growing her vegetables.
Irrigating the kitchen garden has been a major challenge for Parvati. The only solution was manual water transportation to irrigate the kitchen garden. Earlier, she required 500 liters of water every alternate day to irrigate the kitchen garden area and was solely dependent on the monsoon and winter season for growing vegetables. Due to the paucity of water, she had to forego the summer season of cultivation, which has an extra financial burden on her family. The smart kitchen garden setup enabled her to save her time and manage irrigation in 200 litres of water for 3 days and the ability to cultivate around the year with value addition in her practice.
Thank you Global Givers for your support. We need your continued support and solidarity as we still have a long way to achieve our campaign target of 2,000 tribal families. Post-pandemic, there has been a huge crisis in India, especially for the people working in the informal sector. With high unemployment and inflation with prices of fuel, and essential commodities rising continuously, resource-poor families especially the daily wage workers are being impacted deeply. Going forward, iPartner India would like to put more emphasis on smart kitchen gardens and hydroponics which can help these families to take up sustainable farming, increase their nutrient intake as well as help them earn by selling their surplus
produce.
We look forward to your support in our endeavour to fight food insecurity in India.
With deep gratitude,
Team iPartner India