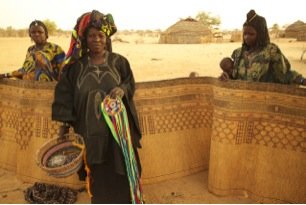 The remote community of Seiga is located near a lake in the Tillaberi region of Niger, bordering Mali in the southern part of the country. Seiga and it's surrounding communities of Tooru Tondi and Belkou are comprised of nomadic herders of cows, goats, sheep and camels. The village is now primarily women, as the men migrate in search of pasturelands or work. The Tillaberi region is one of the most food insecure regions of Niger, and Seiga is no exception. This past year found Seiga highly impacted by the effects of drought with food stores and income at an all time low. Responding to the community's short-term and long-term needs, RAIN has initiated various herding and animal husbandry related income generated activities (IGA's). These activities serve to build sustainable ways to provide a source of revenue in times of need, and allow women to directly participate in supporting their community. Women from Seiga and the surrounding communities skilled in traditional crafts are now expressing interest to RAIN in forming an artisan co-operative as another IGA with the understanding that 50% of their income will support their children's schools.
The women of Seiga primarily work with straw, prevalent among the Bellah (a class of former slave families), creating both baskets and elaborate decorative mats that may be used as placemats, trivets or home decor. RAIN plans to provide the raw materials and assist the artisans in honing their skills through training sessions. We are exploring the possibility of partnering with SAFEM (Salon Artisanat pour des Femmes), the primary artisan association of Niger.
Very few women have the knowledge of how to make the most elaborate item, the Teydeyint decorated tent wall mat. There is a great variety of designs for the teydeyint and the efartay (smaller decorative mat) that may be adapted for a variety of different products. Along with the Bellah people in Seiga is a smaller number of Inaden families, members of the Tuareg crafts class. These families specialize in metal, wood and leather work. Inaden's heritage as artisans, the Belkou Inaden knowledge of most traditional craft items, and the fact that they remain dedicated to local level production demonstrate the importance of including them in RAIN's artisan cooperative. They will add variety with both Inaden-produced items or with the creation of new items based on the Inaden skill base.
Currently, most sales are commissioned, but they may also put items into the local Bankilare or Tegue markets. Participating in an artisan cooperative with RAIN will provide much needed additional income and expand the scope of their current sales from local to international.
All the raw materials needed are purchased from local markets and include wood, various raw metals, akof (palm fronds), tezawen (reed grass), leather, naturally produced dyes, yarn and mirrors.
Items created by Bellah people include:
Efartay: small decorative straw mat
Efartay wan tikan: very small efartay
Eytewel: winnowing pan with sides
Leyfey wan asahar: winnowing pan
Leyfay wan eghaf: cone winnowing pan cover
Leyfey tilliwan: small, yarn-wrapped winnowing pan
Lgaraygaraya/Isanam: decorated hanging leather panels with fringe and mirrors
Alaami: turquoise leather panels
Tekurut/Essarer: leather tied stick mat
Tasotit: simple long straw tent wall mat
Tawana: hanging bowl holder with long leather fringe
Teydeyint: decorated reed-grass tent wall mat
Inaden examples:
Adefur: leather pillow
Agadut/Agalagut: leather bag to hold water or butter
Enafat: small leather purse necklace
Isamut: large leather bag for grain
Izayan: large leather bag
Tagbat: simple leather bag
Tanuwart: large horizontal leather bag
Tebawunt: large leather decorative travel sac for camels
Tegarut: medium sized leather bag
Spoons, decorated small spice mortars

The women artisans and Inaden families would benefit from the organization of a RAIN artisan cooperative producing a variety of products, overseeing a boutique for supplies, and training children and teenagers in the community in traditional artisan skills for future livelihoods and cultural preservation. As some items needed for production fluctuate seasonally in cost, establishing a store of supplies to build during lower price periods for sale during higher price periods would allow the artisans to work throughout the year unburdened by material inflation. Artisans and older youth can work together to produce traditional and marketable products, both independently and in collaboration.
RAIN is excited about this budding artistic enterprise in Seiga, and with your support, together we can make it happen!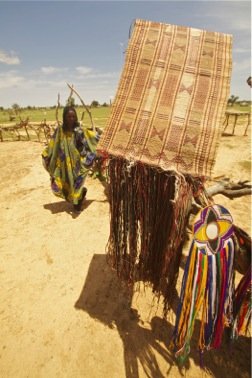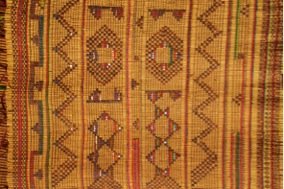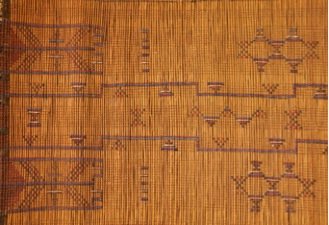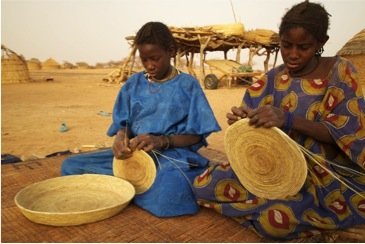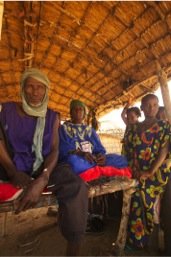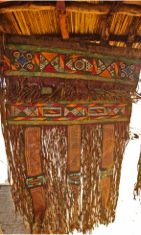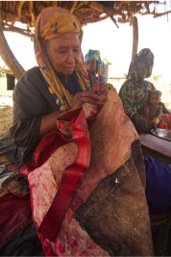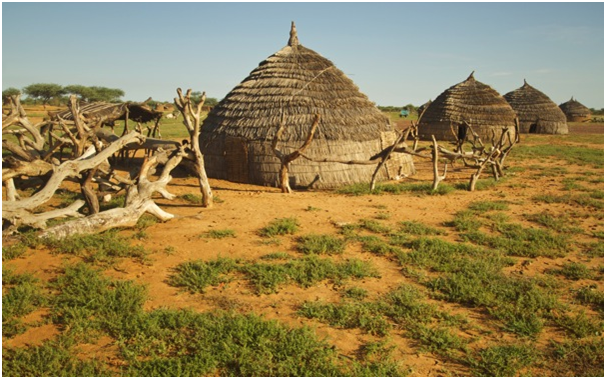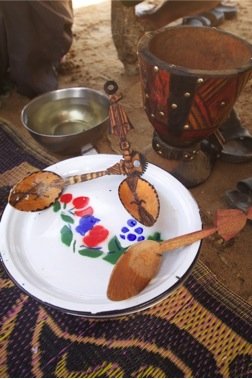 Links: