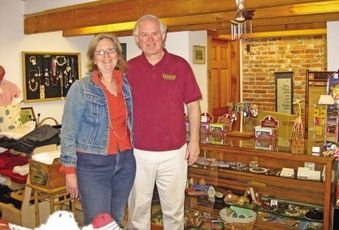 RAIN invests in the talent of nomadic and rural women in Niger so they may hone their skills and create new livelihoods through traditional artisan crafts. RAIN provides the materials, training and marketing opportunities, and the women do the rest, creating one of a kind leather and embroidery items for sale in local markets as well as here in the U.S.
Located in Portsmouth, New Hampshire's Commercial Alley, Fa La Lo is one of our retail partners who is proud to offer the artisan's beautiful co-operative products for sale.
Owned by husband and wife team Liz Wright and Scott Segee since 2008, Fa La Lo has made their mission to offer a wide range of hand-crafted ceramics, jewelry, clothing and other items that are made in the U.S. and across the globe exclusively by companies that practice fair trade practices.
"Fa La Lo strives to promote the dignity of all people. Supporting RAIN is a wonderful way to accomplish this. Not only does RAIN recognize the talents of nomadic people of West Africa, they empower rural women to directly fund their children's education while learning future livelihoods. In helping RAIN foster a U.S. market for the purses hand embroidered by Wodaabe women and Tuareg leather items, Fa La Lo works to support this empowerment. We also support RAIN with the sale of unique Tuareg jewelry, which helps fund all RAIN programs, including artisan groups. We enjoy being a part of heightening western awareness and understanding of these vibrant peoples." – Co-Owner Liz Wright
Connecting traditional artistic traditions with the West reflects one of the central goals of RAIN's programs: help ancient nomadic cultures adjust and thrive in the 21st century, while at the same time, support and preserve traditional culture. The women in our artisan co-operatives have the opportunity to learn new livelihoods built on the knowledge passed down from generations – translated into an immediate connection to those who purchase their beautiful products. With 100% of sales going directly back to the women, the cultural bond becomes very concrete in the form of direct support to the women, their school, and the families they keep together.