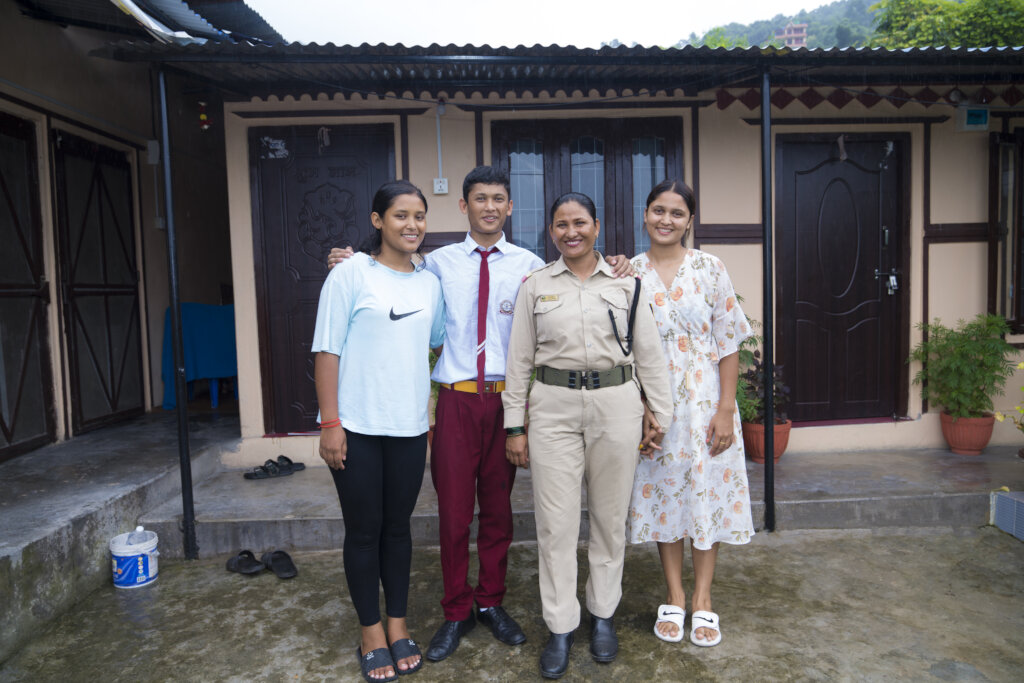 Re-integrated Family
Sarita (name Changed)"EduCare Family"
Sarita (name Changed) 42 years old, Mother
Reeta (name Changed)23 years old, Daughter
Reeja (Name Changed) 19 years old, Daughter
Ritesh (Name Changed) 17 years old, Son
(age on reintegration)
This family has been re-integrated in June 2022.
In our previous reports we described the background and the circumstances of those "EduCare-Families" that are currently receiving our support. In this report however, we are describing one of our families that was successfully reintegrated recently.

Narrative: Sarita (name Changed) family was admitted as an Educare Family in July 10th 2016. Sarita (name Changed) got married at the age of 17, to 18-year-old Ramesh (Name Changed). It was "love marriage" and since both their parents didn't consent, Sarita (name Changed) and her husband had no choice but to move from their village to Pokhara to make a living. Ramesh (Name Changed) found a job as a truck driver and his salary made for a simple living. Over the years they had three children, two daughters and one son. All attended Government school and were eager to learn. In the year 2013 Ramesh (Name Changed) died in a truck accident at the age of 34. Bereft of the husband, father and the only bread earner the family was devastated and in dire straits. With no support from neither family and in absence of any social net at all life became a nightmare.
At the time her daughters Reeta (Name Changed) was 16, Reeja (Name Changed) 12 and the boy Ritesh (Name Changed) 10 years old. At his age particularly destitute adolescent girls are very vulnerable to be trafficked into the sex-trade.
They moved to a rickety hut in one of the slums in Pokhara and Sarita (name Changed) desperately struggled for survival. The whole family was always on the brink of disaster and Sarita (name Changed) lost her fighting spirit and became suicidal. It was at this time, that a social worker who knew about this family came to our office and explained their situation to us. We immediately went to meet this family and assessed their situation. One week later we admitted them as one of our "EduCare-Families" and provided them with all the support that was required for them to live a life in safety and wellbeing.
Over the six years that this family was under the wings of "BEF" all family members went through a dramatic positive change. With the basic needs met, all regained hope, health and spirit and they took up the challenge of daily life with zeal and courage. With our encouragement and support they moved away from the slum to a safe neighborhood. The children all successfully pursued their education and meanwhile the two daughters finished their education and both are now working and supporting their family. Ritesh (Name Changed) now aged 17, still pursues his education. Since he is an average student, we will try to persuade him to start an apprenticeship after finishing class ten and this as a carpenter, electrician or plumber. All these professions are in high demand and make for a good career.
As for Sarita (name Changed), her life took an amazing turn. Over the years of our support, we encouraged her to attend informal education which is available for women in Pokhara. This was followed by a training provided for potential female Police officers. Given that Sarita (name Changed) belongs to the low-caste and there are provisions from the Government to integrate people belonging to the low castes into the police-force, Sarita (name Changed) successfully applied and was employed as a police-officer in the female-police-department. Now she is earning a decent salary and all are respected members in their community: From hunger, rags and desperation to a decent life in confidence and self-respect.
She frequently is visiting our office, beaming from confidence and courage in her police uniform and all of us are immensely proud and encouraged by this unique success-story.
This is making all our efforts and care worthwhile and this for us, as your implementing partner, and for you as our partners and donors.
And what about the costs?! Over the past 6 years we invested a total of around € 8760,00 for the support and the empowerment of this family. Approximately € 2200,- for each family-member.
And no, Sarita (name Changed) didn't commit suicide, and no, none of her daughters ended up in prostitution in a "dance-restaurant" in Nepal or in a brothel in India, and no, the boy didn't end up working in a brick factory as a twelve-year-old ruining his health! All family members are now respected members in their society, thriving and prospering.
We made an investment in their future, and we believe that this is the best of investments there is!
"The end is inherent in the means" (Gandhi)
We proudly declare that this is "SUSTAINABILITY" at the very best!
Let us continue together and rejoice in this success and the enormous impact our work is making for our beneficiaries!
It's simple, it's simply "BEF"!
Sincerely yours
Surendra, Raymond and the TEAM