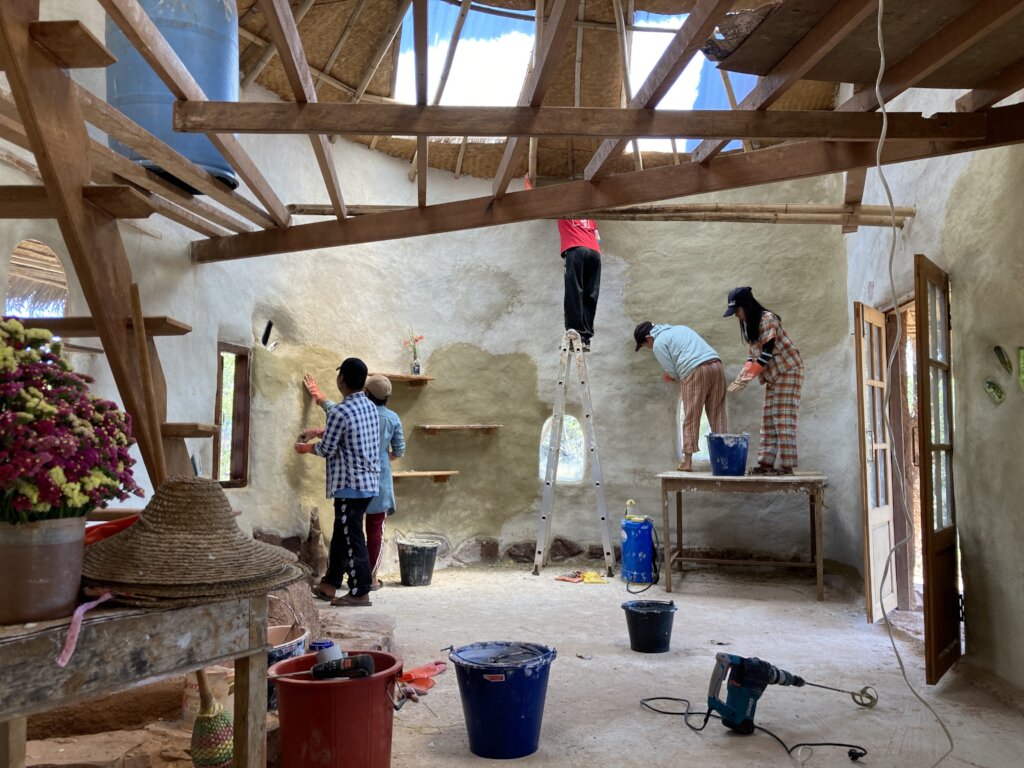 Dear Friends and Family,
The cool winter weather of the Shan mountains in Kalaw has come and gone!
Still we continue to face challenging times here in Myanmar as we are still in the middle of the Omicron wave and a political situation which continues to make life a bit unstable here.
However, with the good weather over the last few months, we have been taking our time to continue work at our rural training centre.
Lime Plaster and Finishes
We continue to slowly make progress on our buildings at the centre. We have started the lime plasters and lime finishes and washes. We are happy to have been able to share our skills in lime plaster and lime finish with several other groups in the local region who are interested in building with natural materials.
With 5 new interns now living with us for 3 months through Sprouting Seeds, we are able to accomplish more at the farm over the next few months.

Natural lime plasters and paints help the building to stay stronger and more durable while keeping the breathability crucial in an earthen building.
The interns are working hard so we can finish the building before the rapidly approaching rainy season!
Wild Bees and Honey!
As we mentioned before, we are have planned to have honey bees at the farm for some time. Finally, we were able to get our honeybee boxes from a local source here in Shan State.
We have several hives of wild honey bees living at the farm, so we are getting the boxes ready and going to try and move the wild honey bees to the boxes.
Youth Training Camp
Over the next weeks we will also start our Youth Empowerment Training Camps in the village. We are excited to once again be able to easily work with youth from the surrounding villages.
We look forward to sharing more news and stories over the next few months!

Be safe and stay healthy!

Whispering Earth Family!