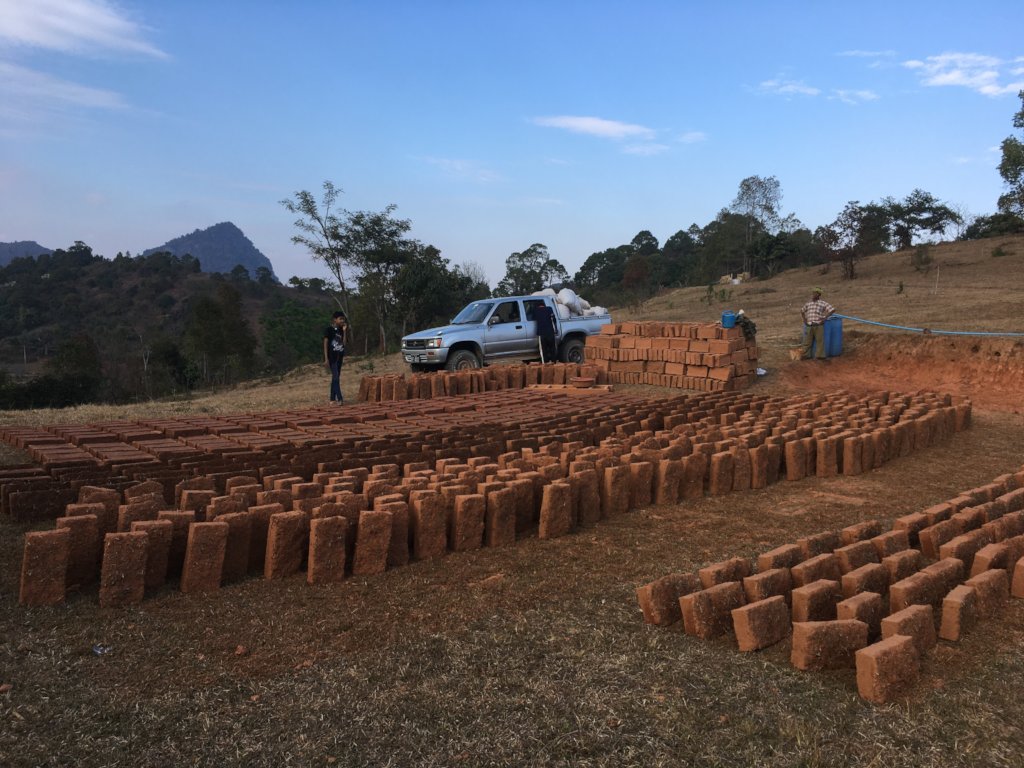 8th Report for Myanmar Youth Training Centre
Dear friends and family,
We are happy to share the latest news from the last 3 months with you. Its been a very, very cold winter here in Kalaw and out at the farm. However, things continue to move forward slow and steady.
Adobe Brick making starts again!!!
After many years of not having our own place to build, we are so excited to be once again in the mud!!
After a few weeks of working on the adobe brick making we have close to 2,000 bricks made and ready for use. We are aiming for 3,000-3,500 to complete the first building within the next few months.

The Lodge, or welcome centre will be the first building on Whispering Earth Training Centre to be built. We will experiment with alternative heating sources also, as winters are so cold here in this part of Shan State.
We will be making adaptations of the rocket mass heater and also building a Kiva-Rumford fireplace for those cold evenings. We are looking forward to starting these two projects once the basic walls are up on the building.
Water Tanks and Flowing water
Yes…after two almost 2 years of hard work and many attempts to pump water to the top of farm, we have had success! Its taken a long time, and it is a long way from our fresh water source at the bottom of our farm, to go all the way to the top, but finally our system works!

Now we have capacity of holding and storing over 9,000 litres of water in various tanks spread across the land to use for building, farming, gardening and basic use in within the farm.
APA Student Group
In early December we had the pleasure of working with APA and hosting 90 high school students from Yangon at our farm. This was our first group to stay with us, and we were so happy to have them there camping for 3 nights.
We managed to build a larger temporary bamboo kitchen, a toilet, bathing areas and proper campsite. While the group was with us we worked on adobe brick making and started the farm and walls of our first adobe/bamboo vermicompost toilet (worm composting toilet). We are excited to continue our work with APA in the future!
We thank you for all of your support and are excited what the next few months bring of building and planning on the farm!

Whispering Earth Team