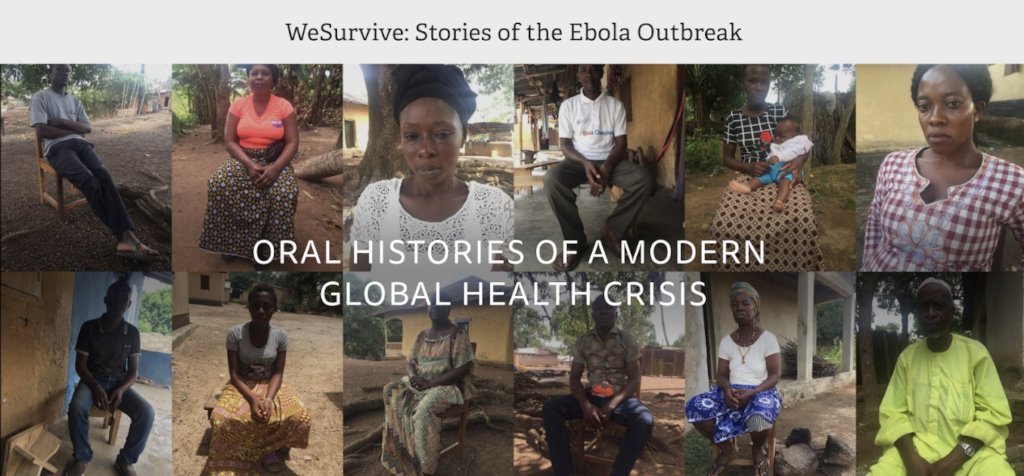 Hello GlobalGiving Supporters,
2018 was an incredible year for our team and marked ten years since we met Arthur Pratt and Lansana Barmmy Boy and began working together on the WeOwnTVinitiative. In that time, WeOwnTV has become a leading organization supporting media literacy, civic engagement and media production training in West Africa. In 2019, we are continuing to work to bring our documentary Survivors and the WeSurvive project to key audiences within Africa and Europe and catalyze critical discussions about local health systems. The 2014 West Africa Ebola outbreak was the longest and deadliest in history. Lasting 24 months, the epidemic began in rural Guinea before spreading to Liberia and Sierra Leone. The virus killed more than 11,000 people and infected nearly 30,000, causing a global healthcare panic. The three countries most affected by the outbreak were Guinea, Sierra Leone, and Liberia. These were countries with little to no health infrastructure in place to support the kinds of isolation and public health work required.
Raising Awareness in Africa - Strategic Partners, Capstone Events & Screening Tour
In Africa, we have planned a series of capstone events with institutional partners, and a regional West African screening tour, that will bring the film and our educational materials directly to communities that were hit hardest by the outbreak. In Sierra Leone, we have screenings planned with NGO partners in all of the country's main city centers. With Medecins Sans Frontieres (Doctors Without Borders), we have planned capstone screenings in Sierra Leone at the Kenema Government Hospital; in Bo and Kailahun; and, an event in Monrovia, Liberia. We are also working with Dr. Dan Kelly to plan a series of events in the Kono District together with the WellBody Alliance. Dr. Kelly is a leading researcher at UCSF who has worked extensively in Sierra Leone and in the DRC. He is a founding member of the Wellbody Alliance which runs multiple health clinics in Sierra Leone. Our main focus to date has been screening events within Sierra Leone that address the complex psycho-social and cultural issues following the Ebola outbreak.
With the resurgence of Ebola in the Democratic Republic of Congo, we have also been working with partners to strategize presenting the film and our materials within the DRC and surrounding countries. Each screening will be customized to include a strategically relevant combination of filmmaker Q&As, panel discussions with experts and scholars, and facilitated conversations with community members. Dr. Kelly is currently working in the DRC and has connected us to the WHO Ebola Virus Disease (EVD) emergency preparedness team. There are 11 surrounding at-risk countries that have been identified and we are exploring the possibility of planning individual screenings through this program, as well.
Building Trust - Community Screenings and the WeSurvive project:
Our team is organizing a series of screenings and discussion events in the greater Freetown area and in rural areas countrywide in partnership with the network of community leaders and organizations with whom we collaborated during the outbreak. We will also continue production on WeSurvive: Stories of the Ebola Outbreak as an integral part of how we plan to work with affected communities moving forward. Our entire production team is made up of Sierra Leoneans, all of whom lived in Sierra Leone throughout the outbreak and are living at home today. The outreach events we are working on are also being planned collaboratively within communities we know well and that we worked with during the outbreak, in production on Survivors, the WeSurvive project, and during the distribution of public health messaging. These include political leaders in rural communities, churches and mosques, non-profit groups and local cinema centers.
For each screening, we have planned a full 48 hours of activities. The events will begin by inviting community leaders to give opening remarks. Screenings include refreshments and an extensive period for discussion. In addition to a Q&A, community members will be encouraged to share their own experiences. The second day will be used as an opportunity to share thoughts and experiences by contributing first person testimonials to the WeSurvive oral histories project. There are many current and complex psychosocial issues that have been affecting the country following the Ebola outbreak and we want to use these events to create a platform for communities to feel like they are still being heard. The issues that we will address in the community facilitated discussion will include: Post Epidemic Healing, Improving Information Infrastructure and Empowering Indigenous Media. Looking very forward to updating you all as our program rolls out.