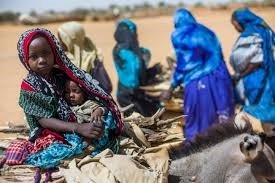 Hello supporters and friends,
The Darfur Women Network (DWN), the clients, and our staff wish you a very happy and blessed Thanksgiving!
We are thankful for your generous donations that helped make change among the survivors of Darfur genocide. We hope you are all surrounded with peace, joy, and love during this joyous holiday. Happy Holidays to all our friends, supporters, and volunteers!
Unfortunately, the rain has stopped in Chad. Therefore, the valleys are completely dry so the refugees must depend on our drinking water wells. During raining season, the refugees get their drinking water from their valleys that stored the water from the rain.
Your generous donations have made positive impact on our refugees in Touloum camp. Now, we have safety tools to ensure that our volunteers can clean up their wells with no worries about their safety. They have helmet, plastic boots, safety belts, strong strings, torches, and gloves.
DWN are thinking about innovative idea to keep the drinking water well clean during rainy season.
If anyone has idea or suggestions, please let DWN know! t
Here is a link to our project:https://www.globalgiving.org/projects/water-project/