By Dr. Corinne Taylor-Smith | Project Leader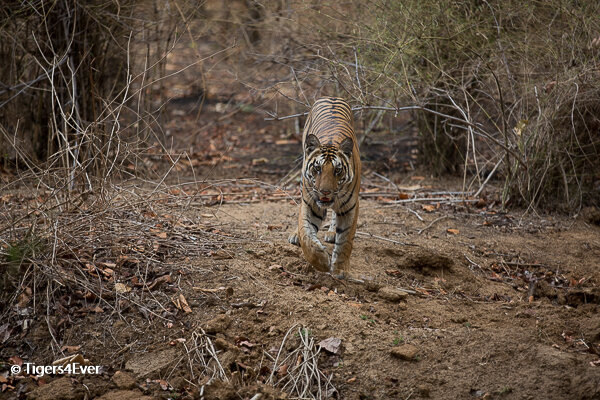 During 2022, as many of us faced rocketing prices as the cost of living crisis bit hard, we were humbled by your generous support. Without your loyal support for our wild tiger conservation efforts more wild tigers would face uncertain futures each day! It seems like saying thank you for your continued incredible support isn't enough, but believe me when I say that without your help we couldn't give wild tigers a wild future. So thank you so much for your help to ensure that we can make a real difference for wild tigers in their natural habitat.
After Seven Months of Challenges
If you've read our previous project reports you'll know we've faced many challenges whilst trying to provide year round water for wild tigers in the Panpatha Buffer Forest. We hoped that our troubles were over as we recently identified another underground stream which could supply the borewell pump and provide water for wild tigers where a desperate need persists. Sadly, we encountered problems we've never faced before.
Work in the area had already been halted by an aggressive tigress with three cubs, whilst the movement of wild elephants presented new challenges too. Then as the cold winter weather arrived, dangerous persistent fog blanketed the work site for what seemed like months but was only a matter of weeks. Finally, the fog cleared and the days were getting warmer with more daylight hours. Work could resume to provide year round water for wild tigers, elephants and other wildlife in the Panpatha buffer forest. This project sought to boost the water supply at two seasonal waterholes which were dependent on monsoon rainfall and frequently ran dry by the end of February each year. The larger waterhole had already been excavated in the summer of 2022 to ensure that a much larger and deeper waterhole would be there in an area with a lack of other water sources. The smaller waterhole is a small pond favoured by an aggressive tiger family, but only big enough to support one tiger at once. The borewell pump would increase capacity at both, or that was the plan.
Green algae had covered the surface of the water at the larger waterhole and had spread across the sandy banks alongside, which had been our preferred location for the borewell. The algae rendered the site swampy and unable to support the weight of the drilling equipment, so we moved to higher ground to find a new drilling site. The water diviner confirmed the location of the underground stream and drilling started. Four days later, the terrain beneath the drill collapsed into the hole where the borewell had been created. Too much sand and not enough rock, we had to relocate again.
That Sinking Feeling Again
Again we moved the drilling site to higher terrain, this time adjacent to the road. The water diviner confirmed the presence of the underground stream below the surface rocks and drilling started again. Before long the drill had cleared the rocky terrain and was again drilling through soft sand. Once again, the borewell collapsed due to instability of the sub-terrain. The drilling equipment was stuck, and retrieving the drill overheated the motor. A new drill would be needed to try elsewhere. Only one more possible site remained, the distance was now more than 1 km (5/8ths of a mile) from the waterholes so underground feeder pipes would be stretched to their maximum capacity. Night had fallen, so it was going to be a task for the next day. The new drill arrived bright and early and there was great optimism that this time the ground would be stable enough to support the borewell pump system, however, it was not to be. After drilling all day and obtaining a small jet of water from the underground stream, the sub-terrain collapsed again. The team was distraught! After months of work, preparing for two permanent waterholes with year-round water for wildlife, our efforts have failed!
So What Happens Now?
Even though disaster has struck and we cannot put a solar pump system in place to provide a permanent water source at the two sites in the Panpatha Buffer Forest, the need does not go away. Filling the waterholes by tankers is not an ideal solution because it acclimatises tigers to large trucks and makes them vulnerable to poachers. So we must look at other options for the longer term. Rainwater harvesting solutions may be possible but further surveys including a full geological survey will be required to assess the terrain before any new work can commence, given the problems already encountered.
Panpatha isn't the only buffer forest area in need of permanent waterholes for wild tigers so we can transfer work to another site. One such site exists in the Dhamokhar buffer where a large seasonal waterhole frequented by seven tigers has already run dry. As I write this report, we are conducting surveys at and near the site to establish the presence of underground water streams and whether these are beneath rocky terrain. On completion of the surveys, we will know if the Dhamokhar site is suitable for our next waterhole project or whether we need to move to the next priority site where human-wildlife and tiger-tiger conflict are rife.
Rainwater Harvesting Projects
We will continue to explore rainwater harvesting solutions alongside our solar pump systems as there are many season water sources which are dry within two months of the end of the monsoon rains but are in locations not suited to solar pump systems. For now, our work in the Panpatha Buffer is on hold and work at the revised location in the Dhamokhar buffer will bring the total number of wildlife waterholes funded by Tigers4Ever to thirteen and the number of tigers which will benefit to 76. It is not where we wanted to be, but with the drought season already on its way we must act quickly before human-wildlife and tiger-tiger conflict get out of hand.
We still hope to put in Rainwater Harvesting systems at priority locations prior to the onset of the 2023 monsoon rains, but this will be subject to both fundraising and completion of essential site surveys. In the meantime, we will focus our efforts, with your help, on providing permanent wildlife water resources at a thirteenth and fourteenth location, which will be amazing. Thank you.
As Tiger and Elephant Numbers Continue to Grow
Wild elephants in Bandhavgarh continue to be a primary cause of human-wildlife conflict. There is no short term solution to the problem, as many factors need to be addresses concurrently. The wild elephant population is increasing year on year and they need space, water and food. Years of forest degradation due to illegal logging, clearance for crop growing, forest fires and plundering of scarce forest resources for both human and livestock benefit, means that a sustained project of forest regeneration and management will be required to redress the decline.
Prior to the pandemic, Tigers4Ever put forward an ambitious proposal for tree planting and habitat restoration. This would initially take 4 years to implement and up to 10 years for the reforested areas to be self-sustaining, but cannot be done in isolation, more waterholes would also be needed in the reforested areas to ensure wildlife returns and aids natural seed dispersal. During 2023-2024 we want to raise sufficient funds to kick-start this project and to plant quick growing vegetation which elephants can eat in areas of denuded forest around potential waterhole sites. In time the new forest canopy will help to retain natural water in streams and pools within the rehabilitated area, but in similar projects elsewhere it can take 10 -15 years to get to this stage. With water and forest cover, it won't be just the elephants which benefit, deer and other herbivores will thrive too.
This project is essential to reducing tiger-tiger conflict too, as the tiger population increases more tigers need more space and more food, reforestation will help this too. As Bandhavgarh's wild tiger numbers continue to increase, more space and more prey are vital for the future survival of the growing population. Tigers4Ever waterholes play a vital role in stabilising and increasing prey numbers too. When there is a shortage of water and food, deer and other prey animals don't breed which means less food for a growing predator population. Tiger-tiger conflict is the result, as they fight for limited available prey. Tiger cub survival rates are still around 90-95% (which is much higher than the 50% average for wild tigers!), whilst this is good news for the wild tiger population, it increases the need for better habitat, more water and more prey.
At Least Sixteen More Waterholes are Needed
To sustain the growth Bandhavgarh's wild tiger population, more permanent wildlife waterholes are needed in areas which can support both prey and predator dispersal. Sixteen such locations have been identified and work is underway to determine the availability of underground water sources for solar pump systems or sites suitable for future rainwater harvesting projects.
We will have our work cut out to provide 16 more wildlife waterholes at the pace at which they are needed. So your continued support and donations are vital to ensuring that our waterholes project (https://goto.gg/34315) can address this need. We need to raise at least £15000/$17000 annually to provide a minimum of three small-medium sized waterholes each year. So it will take us at least 5 years to provide the sixteen waterholes needed! We know that we're in the middle of a cost of living crisis and fundraising will continue to be hard for some time.
Experience tells us that the best way to reduce the Human-Wildlife conflict is to prevent the prey animals from going to the villages in search of water. Thus we prioritise our permanent wildlife waterhole projects as the drought season begins, each year. We hope to provide permanent wildlife water sources at two more locations before the end of March, which will bring the total number of Tigers4Ever waterholes completed to fourteen in total. When prey animals have adequate water and food, the tigers and leopards will have enough food too. When we complete our 13th waterhole project, the number of wild tigers benefitting from Tigers4Ever waterholes will increase to at least 76. Our next target will be to put a larger waterhole in place where it will help to reduce human-elephant conflict and benefit up to six more wild tigers.
100% Match Bonus on New Monthly Donations
This year the GlobalGiving is providing a 100% bonus in matched funds on new monthly donations so long as you donate for at least four months, when your online donations to our waterhole project will qualify for the matched bonus. Imagine if 250 of you wonderful people read this report and donate just £10 ($13) per month each, we will raise enough funds needed towards our next five waterhole projects: https://www.globalgiving.org/projects/water-for-bandhavgarhs-tigers/?show=recurring. With bonus matched funds too we'd be well on the way towards ensuring that wild tigers, their prey and wild elephants have water to drink as the 2023 drought season arrives! It would be amazing if during the matched funding campaign we could raise a total of £15000 (US$17000) so that we can create wildlife waterholes at two more seasonal sites and bring the total number of wild tigers benefitting from Tigers4Ever waterholes to around 90 including cubs.
If you feel able to help during 2023, our friends at GlobalGiving are giving us the chance to gain bonus matched funds on new monthly donations all year; so it's a great time to start a monthly donation now because whatever you donate is sure to have a great impact for wild tigers: https://www.globalgiving.org/projects/water-for-bandhavgarhs-tigers/?show=recurring.
Permanent wildlife waterholes are essential to prevent future tiger-tiger and human-animal conflict, which arise from increased wild tiger numbers, and better cub survival rates. There are currently more tiger cubs (64) in Bandhavgarh than the total number of wild tigers (37) counted in the Tiger Census (in 2010) when Tigers4Ever started its work there, thus we need to do everything we can to prevent wild tiger deaths due to retaliatory response to human-wildlife conflict. One waterhole is nowhere near enough to reduce the conflict caused by wild tigers encroaching on the territories of other tigers and humans, so we need your help to be able to do at least two more waterholes too, before it is too late for the wild tigers and other wildlife: https://www.globalgiving.org/projects/water-for-bandhavgarhs-tigers/. With your help, we can raise enough money to start work on another two waterholes which will save another 16 wild tigers including cubs.
Our Challenges Ahead
We need to keep wild tigers safe right now. Our anti-poaching patrols are tripled to address the risk of retaliatory poisoning and poaching. With your help, we can complete two more waterhole projects soon, which will help to keep at least 16 more wild tigers safe.
These are some of the ways your donations will help us to save wild tigers:
- £10 ($13) per month for a year will help to drill 12 metres (39 feet) of bore-well to access underground water;
- a one-off £20 ($26) gift will help to drill 2 metres (6.5 feet) of bore-well to access underground water;
- a one-off £40 ($52) gift will help to drill 4 metres (13 feet) of bore-well to access underground water;
- £90 ($117) can pay a team of workers to prepare a site for a new waterhole for wild tigers;
- £120 ($169) can cover the cost of labour and preparation of a 1.5 metre wide by 1.5 metre deep elephant proof moat to protect a solar-pump system;
- £2000 ($2600) will enable the creation and lining of one larger waterhole.
Every donation, no matter how large or small, helps us increase and protect the tiger population. Thank you on behalf of the wild tigers, which you help us to keep safe; and on behalf of the wider tiger community in Bandhavgarh, which benefits from providing equipment and labour for our waterhole projects. We couldn't do this without you, thanks to you, the wild tigers can live peacefully and those who live beside them can protect their livelihoods.
Any and all donations are welcome https://goto.gg/34315.
If you can't afford to donate perhaps you could become a Tigers4Ever fundraiser, here: https://www.globalgiving.org/dy/v2/fundraisers/start/?fundraiser.projids=34315 and ask your friends, colleagues and family to donate to your fundraiser to help us keep wild tigers safe.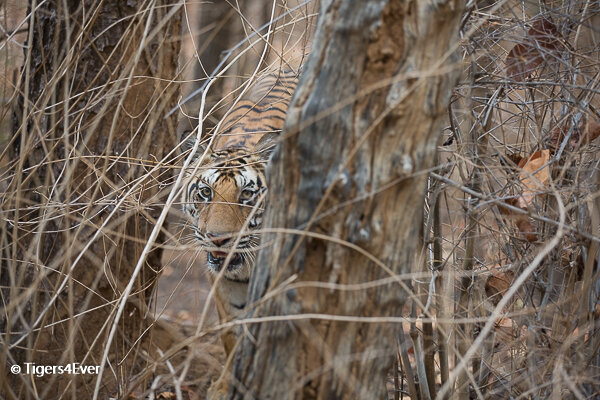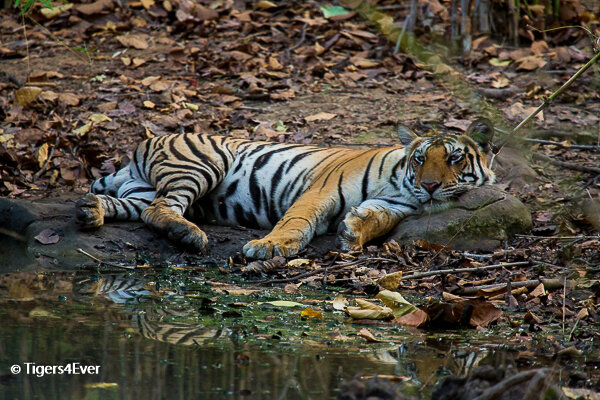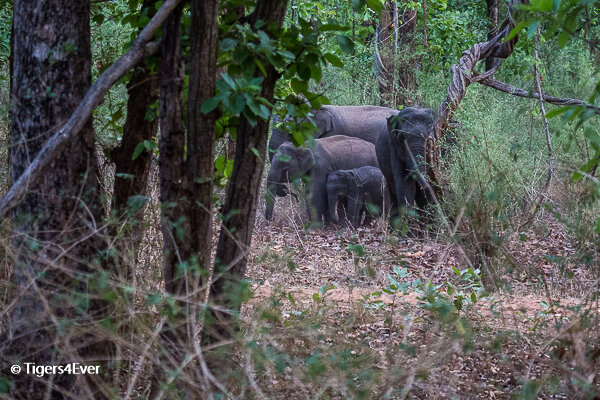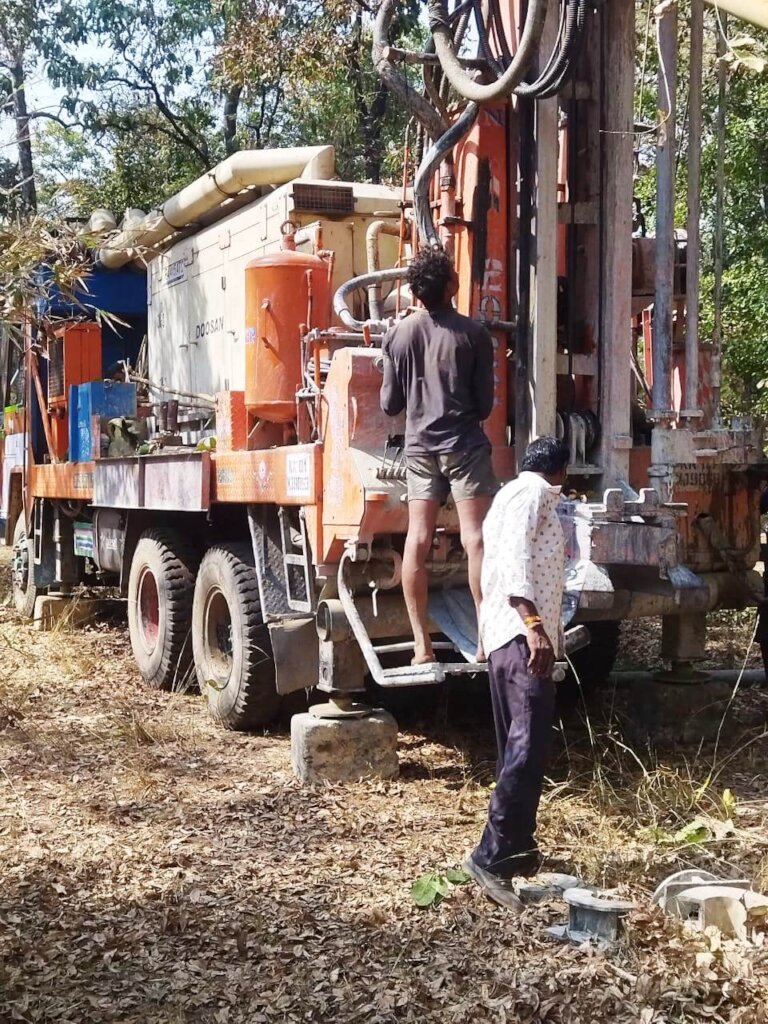 Links: