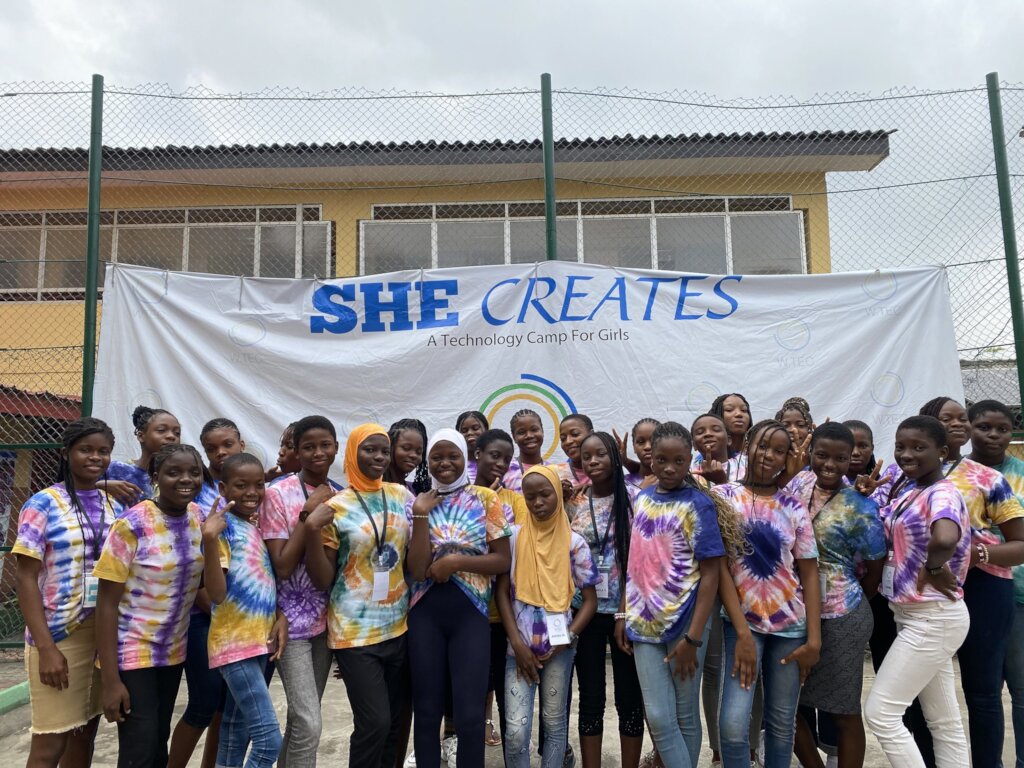 Dear friends,
Trust you are all doing great!
We hope this year has been as wonderful for you as it has been for us, we are pleased to present our report which outlines the progress and achievements made by our organization within the last quarter. We appreciate your continued partnership and support, and hope that this report provides valuable insights into our . We are looking forward to great opportunities this year.
Please read below to see what we have been up to:
W.TEC 2023 She Creates Camp Plans
W.TEC MakeHer Space Review Meeting
W.TEC Academy concluded it second term and resumes its third term for 2022/2023 School Year
SHE CAN WITH ICT programme wrap up and resumption for next cycle
W.TEC She Talks Tech Radio Show
W.TEC celebrated the international Girls in ICT Day
W.TEC 2023 She Creates Camp Plans
The upcoming 2023 She Creates Camp is going to be a unique and special edition as it coincides with our 15th year anniversary. The theme for this year's camp is "Solve with AI". The She Creates Camp is an initiative of the Women's Technology Empowerment Centre (W.TEC) aimed at inspiring young secondary school girls to become more aware of the significance of ICT, acquire the ability to create digital content, and develop skills that effectively and productively utilize information communication technologies.
The two-weeks residential camp will take place at Laureates College, Mafoluku, Lagos, beginning on Sunday August 6th 2023, and ending on Saturday, August 19th, 2023. During the camp, the girls will participate in technology workshops, career talk sessions presentations, excursions, and leadership activities. The She Creates Camp provides a stimulating and high-quality environment where the girls can learn to create useful technologies for everyday living through various courses such as software development, Artificial Intelligence, IoT, computer programming, digital electronics, mobile application development, graphics and 3D design, electrical & electronic solution, filmmaking and digital animation programming.
W.TEC She Creates Evaluation:
As part of a sustainability plan for the She Creates Camp Alumni, W.TEC created a survey for all her camp alumni to evaluate them based on their STEAM skills and how they have been using technology they learnt at the She creates camp in their day-to-day activities.
This evaluation helps us find out how they are using their ICT skills in their various career paths, we also give the alumni the opportunity to share innovative ideas on how to improve our curriculum for the next camp. This evaluation is done annually in order for us to maintain a relationship with all our alumni.
Giving Tuesday is our annual end of year campaign tagged "Make Her Great" which runs from November to December, it aims to build a sustainable support system that will enable us to maintain a long-term pipeline for our W.TEC beneficiaries. Giving Tuesday was created in 2012 as a simple idea, a day that encourages people to contribute towards helping the society. Over the past decade, this idea has grown into a global movement that inspires hundreds of people to give and celebrate generosity. The movement also strives to build a world in which the catalytic power of generosity is at the heart of the society we build together, unlocking dignity, opportunity and equity around the globe.
2. W.TEC MakeHer Space Review Meeting
W.TEC MakeHer Space programme sponsorship was renewed and we have the opportunity to train more girls in this 3rd phase. We commenced this cycle in September with a pre-evaluation session in Lagos State, Kwara State, Nasarawa, Abuja and Bauchi State and training is currently running in cohorts in 21 centers across the states. Our team is set to train more girls on Renewable Energy to build projects like power banks, solar phone chargers, rechargeable lamps and many more.
MakeHer Space is a programme by W.TEC designed to provide women and girls (ages 10-25 years) with hands-on skills, to build technological and engineering-based solutions for their communities. Internship opportunities were also presented to the most outstanding Girls in Abuja, Bauchi and Nasarawa states to further educate them on electronics and renewable energy. In total 17 girls graduated from the internship training and we have 25 girls currently in internship training.
Prior to the project closure, W.TEC held a review meeting with the Team from 3 states (Nasarawa, Abuja and Bauchi) facilitators, state coordinators, supervisors and partners in all the states to review the progress of the project and discuss what went well and areas that need improvement in terms of mobilization, training session, supports, equipment, documentation, curriculum and many more. It was indeed a very productive meeting in all the states as we tackled all the focus areas. W.TEC also had a courtesy visit to some of the partners in Abuja and Nasarawa in May 2023. W.TEC MakeHer Space Programme is done with support from Google.org
3. W.TEC Academy concluded it second term and resumes its third term for 2022/2023 School Year
The W.TEC Academy running in Kwara, Ondo and Lagos state concluded its second term in April 2023, the programme graduated a total of 160, 490 & 499 in Kwara and Lagos respectively. The participants can now confidently build a simple website, create games, create and edit videos, graphic designs, data analysis and work on various programming applications like mobile applications etc. Certificates were presented to the successful participants who completed the programme.
It's back to school for the girls and a new term for the students after the second term break. W.TEC is also set to resume classes for W. TEC Academy, our co-curricular technology programme for secondary school female students.
For the new term, the Academy will be taking place again in the 28 existing secondary schools in Lagos, Ondo and Kwara states and we are planning to add to the existing schools in Lagos state.
The Academy has been carefully designed for students in these schools to help improve their digital technology skill and empower them with necessary information and skills to boost their academic, entrepreneurial and professional outcomes in the future.
The W.TEC Academy team members will continue to put in their best to make sure the participating schools have their facilities in good shape for a smooth sailing class for the girls. The new students selected for this term in Kwara state will be learning computer fundamentals, Website design using Mobirize, graphic design and Mobile Application. The Lagos schools will be learning scratch programming, video game design, mobile App design and video editing. While the Ondo schools will be learning scratch programming and electronics (building power bank, solar phone charger etc.)
W.TEC Academy is a co-curricular technology programme for public secondary school girls, which presents technology in a practical and engaging way, with the ultimate aim of encouraging more girls to pursue science and technology careers.
The Academy programme in Kwara State is implemented in collaboration with Oracle and the Kwara State Ministry of Education, while the Academy programme in Lagos State is implemented in collaboration with the Lagos State Ministry of Education, while the Academy programme in Ondo State is implemented in collaboration with the Ondo State Ministry of Education and the Ministry of youth and works.
4. Sustaining Her Enterprise Career and Network (SHE CAN WITH ICT) programme wrap up and resumption for the next circle
The SHE CAN WITH ICT programme in its training for 2021/2022 & 2022/2023 grant circle combined, has equipped over 1000 existing and inspiring female entrepreneurs with technology skills and knowledge. The programme for the 2022/2023 grant circle is proposed to reach 500 existing and aspiring business women in its in-person and online classes which it has currently surpassed.
The Sustaining Her Enterprise Career and Network (SHE CAN WITH ICT), is a W.TEC Initiative designed to improve the productivity and profitability of women-owned businesses, by equipping them with in-depth practical digital technology skills and tools to catalyze their entrepreneurial growth in an increasingly technology-driven business environment. The Women's Technology Empowerment Centre (W.TEC) is implementing the SHE CAN WITH ICT programme in collaboration with Aspire Coronation Trust (ACT) Foundation. The programme was designed to hold live/in-person classes, online classes are also organised to cater for interested women who cannot take part in the in-person training due to unavoidable reasons.
We look forward to equipping more existing and aspiring female entrepreneurs and impacting more lives in this new year.
5. W.TEC SHE TALKS TECH:
She talks tech is a women's-focused show aimed at presenting technology in a fun, accessible and practical way. Research shows that digital technology has the potential to improve women's quality of life, but much of this potential is unfulfilled due to structural factors like prohibitive cost of access. Our target audiences are women aged 18 to 40 years. The radio show focuses on Interviews with women working in technology careers covering their career journeys, mistakes they made, what their typical day is like, advice to other women building a successful career in technology, Technology tips and techniques for business, managing personal lives, building networks, managing health, education, etc.
6. INTERNATIONAL GIRLS IN ICT DAY
International girls in ICT Day is an annual event and internationally recognized on April 27, declared by the United Nations, to inspire a global movement of girls and women in technology, amplify their voices, support more opportunities in STEM for them and increases awareness of gender inequality they face worldwide. The celebration of the day also "reflects the successful emergence of girls and young women as a distinct cohort in development policy, programming, campaigning and research.
To celebrate the international Girls in ICT Day this year, the Women's Technology Empowerment Centre (W.TEC) marked the event with one of the WTEC academy schools in Lagos state. The event was celebrated in collaboration with Oracle Academy at Bishop Howells Memorial Grammar School on the 28th April 2023.
The event featured well packed and interesting activities to mark the day. We had keynote speakers who gave a talk on the theme for this year "Digital Skills for Life"
Representatives from Oracle, Oracle Academy, and a host of some of our alumnae who are in the STEM field graced the occasion. The young STEM professionals spoke to the girls and had a panel session with the girls. They shared the story of their journey into the STEM field and also how they have succeeded and are succeeding in the STEM fields. The girls also had lot of questions to ask about choosing a career in STEM, and how they will go about it. Gifts were shared among 100 girls that were in attendance.
We appreciate your ongoing support of our various project. Your contribution has been instrumental in allowing us to reach more beneficiaries. We would be grateful if you continue to support our work.
Warm regards,
Diamond Oshomoji
*******************
FOR MORE INFORMATION:
Follow W.TEC on Instagram, Twitter & Facebook
Visit W.TEC website:www.wtec.org.ng
Email W.TEC: info@wtec.org.ng
ABOUT W.TEC & SHE CREATES CAMP:
The SHE CREATES CAMP is an initiative designed toinspire girls to become more confident increating digital contentaswell asdevelopingentrepreneurialskills that usesinformation andcommunicationtechnologies(ICT)productively.
It provides a high quality and exciting environment where the girls learn to create useful technologies for everyday living through programming, mobile application development, graphicsdesigning, electrical and electronics solutions, film-making and digital animation programming. Thegirls participate in financial literacy, gender equality & career workshops led by women working inscience and technology and they also have the opportunity to visit innovative organisations using science and technology. All these help school girls to develop an early interest in science, technology, engineering and related careers.
Through a mix of hands-on classes, workshops, presentations, excursions and leadership exercises,we endeavor to build strong,intelligent,resilientand focused young women,well-prepared for living and working in an increasingly technology-drivenworld.

The Women's Technology Empowerment Centre (W.TEC) is a Nigerian nonprofit organisation committed to building a more inclusive technology ecosystem, with the next generation of women technology creators, entrepreneurs and leaders.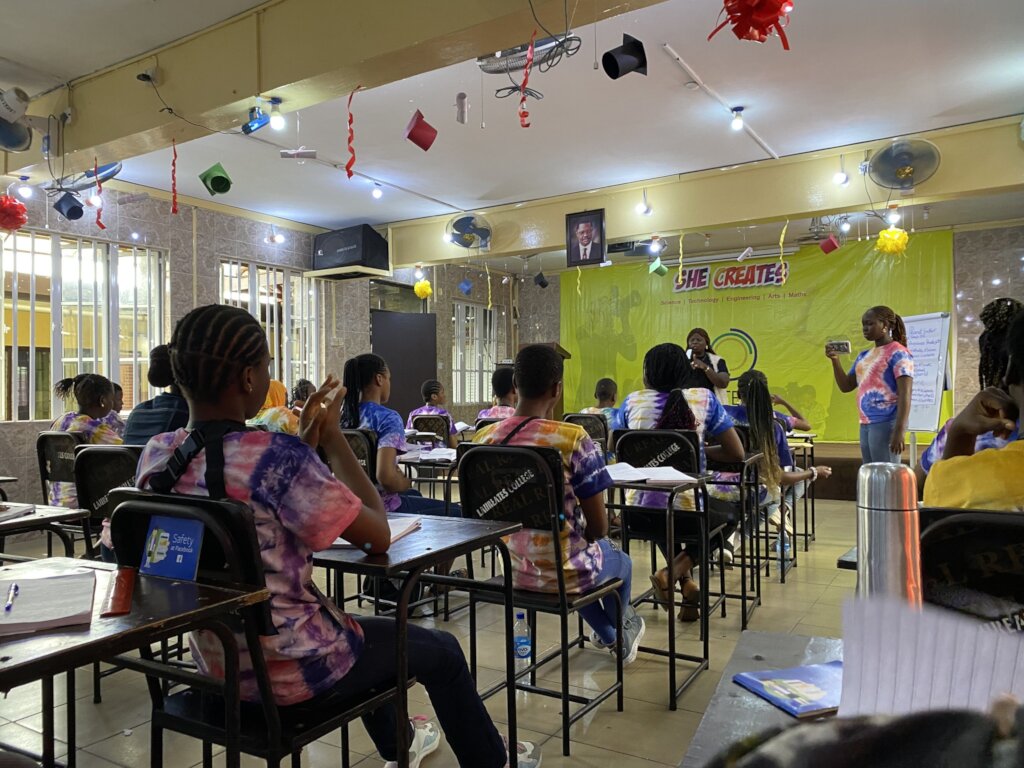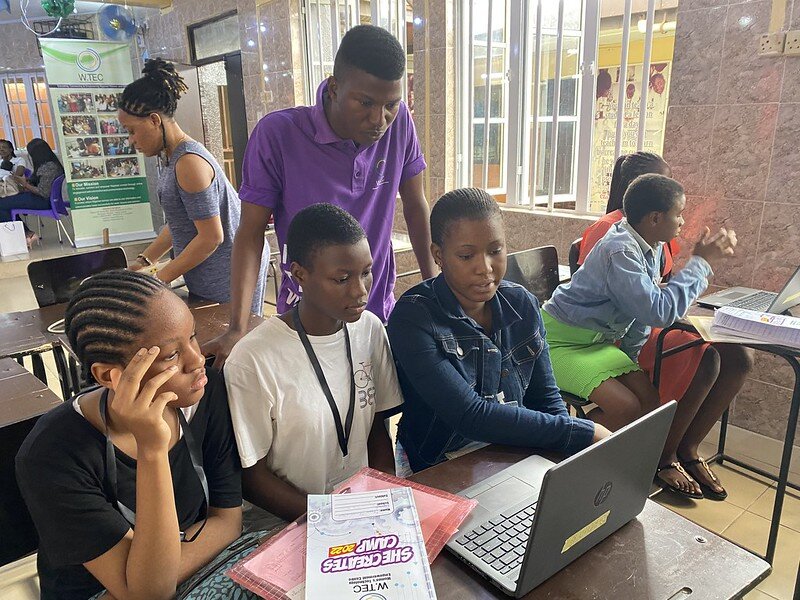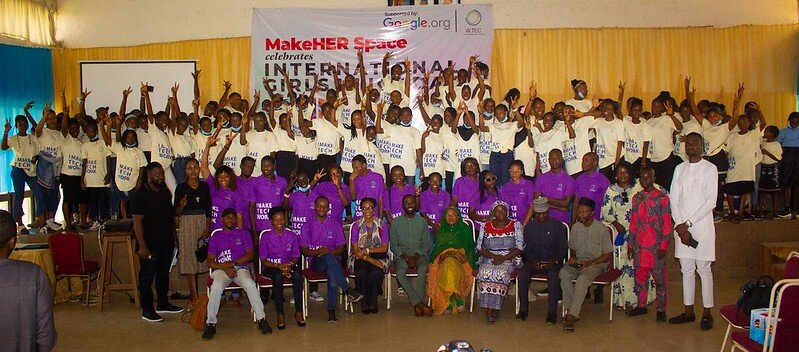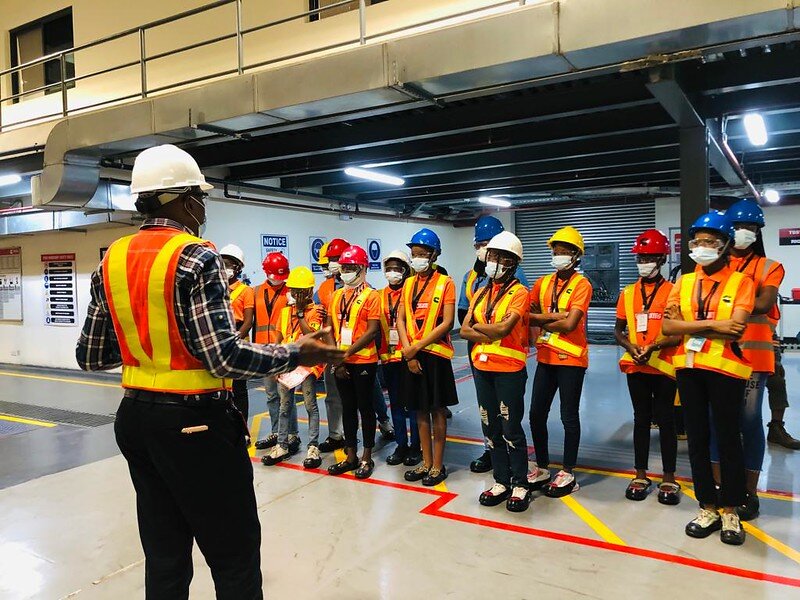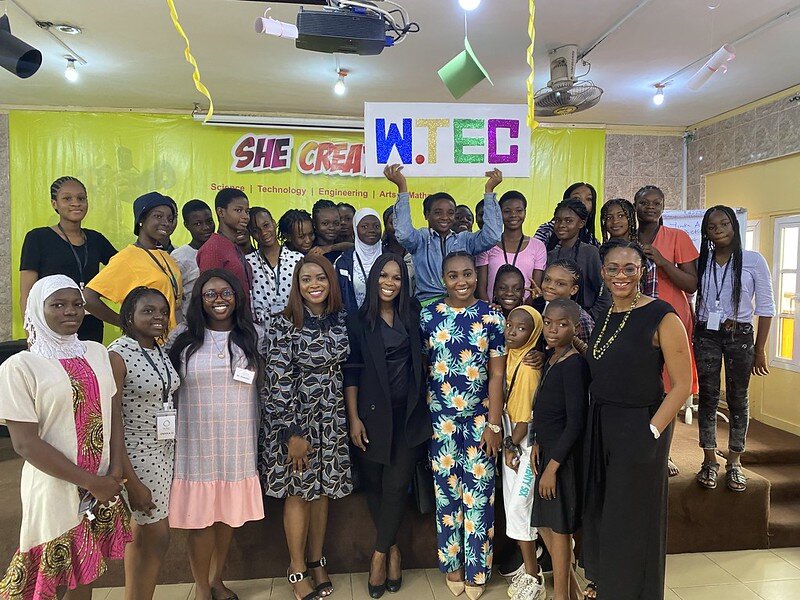 Links: