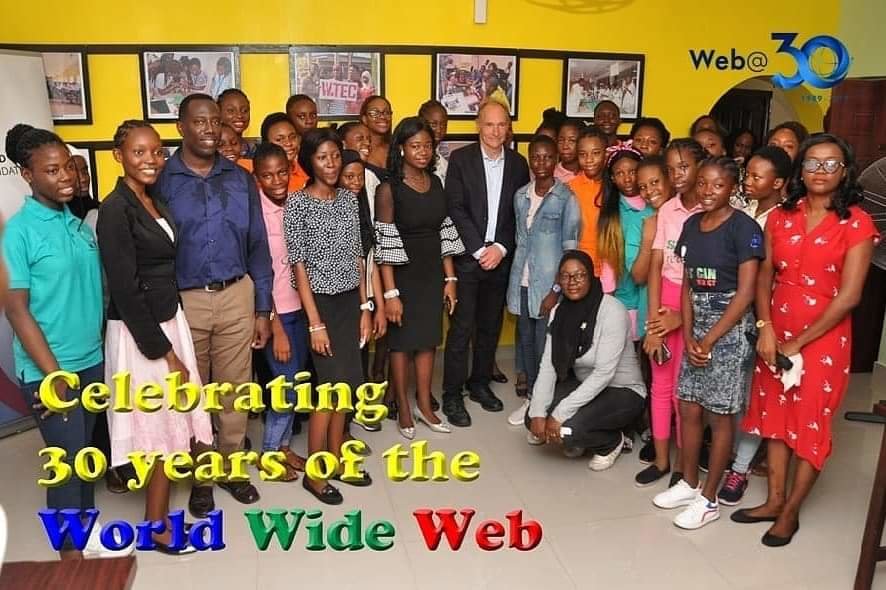 Dear friends,
Activities in 2019 took off speedily, as the planning for the 2019 programmes swung in full gear. As the camp season rapidly approaches, we are happy to share the plans for the camps and updates on other activities over the last quarter.
Over the last 3 months, W.TEC:
Welcomed World Wide Web Inventor, Sir Tim Berners-Lee

Opened-up the 2019 She Creates Camp application

Plans for the 3rd Early Innovators Camp

Celebrated International Girls in ICT Day with the United Nations

W.TEC & Rotary Club – Falomo Empower Girls with Technology & Entrepreneurship Skills

Hosted Panel Session at Digital Rights & Inclusion Forum #DRIF19
a.) W.TEC Welcomed World Wide Web Inventor, Sir Tim Berners-Lee:
W.TEC had the pleasure of welcoming Sir Tim Berners-Lee, the inventor of the World Wide Web(WWW) to our office on Wednesday March 13th 2019 as part of his activities to celebrate the milestone 30 years of the World Wide Web.
Sir Tim Berners-Lee embarked on a marathon 30-hour tour of 3 cities (Geneva-London-Lagos) to celebrate the 30 year milestone of the World Wide Web. The tour which is organised by the World Wide Web Foundation commenced at CERN in Switzerland where he invented the web.
His visit to W.TEC is part of his Lagos trip and while at W.TEC, he was introduced to the organisation's vision, operations and impact over the years by our staff and board.
The highlight of the visit was the showcase by W.TEC alumnae of projects developed by the young ladies, which included Robotics projects, mobile applications, programmes developed in Python, websites and films.
Read more about Sir Tim Berners-Lee's visit: https://wtec.org.ng/sir-tim-berners-lee-celebrates-30years-of-the-world-wide-webwww-at-w-tec/
b.) Opened-up the 2019 She Creates Camp application: We have started accepting applications for the 2019 She Creates Camp series.
The 2019 SheCreates Camps will hold in Lagos, Kwara and Anambra States from July – September and the dates are:
1. SheCreates 2019 Lagos-Mainland Camp – Residential Camp (August 18th – 31st)
2. SheCreates 2019 Lekki Camp – Non-Residential Camp (July 29th – Aug 9th)
3. SheCreates 2019 Awka Camp – Non-Residential Camp (August 26th – Sept 6th)
4. SheCreates 2019 Ilorin Camp – Non-Residential Camp (August 26th – Sept 6th)
Partners for this year's camp so far include Oracle, SAGE Foundation, Laureates College – Lagos, Kenneth Dike eLibrary – Awka, Anambra State and Kwara State Ministry of Education.
The Lagos-Mainland Camp will focus on Electronics and Programming, while the Lekki Camp will focus on Artificial Intelligence and Internet of Things.
Learn more about all the camps on our website: https://wtec.org.ng/programme/she-creates-camp/
c.) Plans for the 3rd Early Innovators Camp: This year's Early Innovators Camp, for 5 to 10 years old girls and boys, is aimed at harnessing the innate curiosity of children by introducing them to computing and science concepts through play and exploration.
This year's edition will focus on Digital Film Making and Animation using Scratch Programming.
There are more details available online: https://wtec.org.ng/early-innovators-camp/
d.) W.TEC Hosted Two International Girls in ICT Day Celebrations: The Women's Technology Empowerment Centre (WTEC), partnered with the United Nations Information Centre (UNIC) -Lagos in conjunction with United Nations Women – Nigeria, to host school girls and ladies for an interactive forum to mark 2019 International Girls in ICT Day at the United Nations Information Centre (UNIC) in Ikoyi -Lagos on April 25th 2019.
The event opened with a welcome address delivered by Ronald Kayanja, the Director of UNIC – Lagos. The keynote address for the event, "Expanding Horizons and Changing Attitudes to Bridge the Gender Digital Divide for Sustainable Development", was given by Comfort Lamptey, the Director – UN Women Nigeria, who was represented by Obiananma Agbim.
The first panel session focused on "Gender Equality in Digital Access, Skills and Leadership" and featured Chidiogo Victor-Willie, Software Enterprise Licensing & Compliance Manager at Oracle with Eduabasi Essien, Partner Development Manager at Microsoft.
The second panel session on "Think Equal: Women Rising in Technology Careers" featured Bisi Osibogun, Sales Development Specialist – Baker Hughes, GE; Simbo Olatoregun, Product Marketing Manager SSA, Grow with Google – Google Nigeria; and Sefunmi Fadahunsi, Oracle Academy Programme Manager, Sub Saharan Africa – Oracle.
Our second Girls in ICT Day celebration took place at the Kiddies Kingdom Private School (KKPS) in Mafoluku – Lagos.
The event, a talk session was based on "computational thinking" to familiarize the girls with of problem solving and learning how to express problems and their solutions in ways that a computer could execute.
During the program the girls were treated to games which illustrates how computer codes are composed and function, functioning of algorithms and others. Thus the girls were engaged numerous exercises which sparked the imagination of the girls on ICT processes as they asked a ton of questions.
e.) W.TEC & Rotary Club – Falomo Empower Girls with Technology & Entrepreneurship Skills: In April, WTEC in conjunction with the Rotary Club – Falomo, Ikoyi and the Ajoke Ayisat Afolabi Foundation (AAF) trained 30 girls to make furniture out of household waste and to use technology to publicise their products.
Stage 1 of the project was a 2-day training on soft furnishing and recycling/ waste to wealth training and project work. At the end of training participants acquired skills useful for managing waste and recycling waste materials, such as, tyres for household furniture.
Stage 2 of the program; was a 2-day technology training, focusing on social media design, branding training and project work. Specifically, they learnt how to use social networking and business promotion tools (including Instagram, Facebook, Mailing Lists and WhatsApp to share information about products and services in a targeted way, reach potential customers, deliver better customer service and building a community with existing clients.
One major testimonial that stood out was from a participant who mentioned that during the workshop she practiced her social media skills by setting up social media accounts for her mum's business and an aunt was willing to pay her a token to set up one her too.
Learn more about this project: https://wtec.org.ng/w-tec-partners-rotary-club-aaf-to-empower-girls/
f.) Hosted Panel Session at Digital Rights & Inclusion Forum – Lagos, Nigeria:On April 25, 2019, W.TEC Executive Director, Oreoluwa Lesi, organised and participated in a panel discussion at the Digital Rights Inclusion Forum 2019 in Lagos, Nigeria.
The Digital Rights and Inclusion Forum (formerly Internet Freedom Forum- IFF) DRIF is an arena where tough topical global issues around Internet rights, especially in Africa, are discussed between civil society, technology companies, government, academia and other stakeholders. Over the last 7 years, DRIF has gained a reputation as an important platform where conversations on digital policy in Africa are shaped, and policy directions forged.
This session was tagged "Internet Governance: Multistakholderism and Participation in the Assigned Names and Numbers Sector" and set out to explain, for newcomers, what Internet Governance in the names and assigned numbers sector is. It outlined how a decentralized and international multistakeholder network can contribute to the development and application of shared principles, norms, rules, decision-making procedures, and programmes that shape the evolution and use of the Internet.
You can read more about the session online at https://wtec.org.ng/at-the-digital-rights-inclusion-forum-drif19/ and also watch the video recording of the panel here: https://youtu.be/v_Pzfd6v4Sk
*******************
In all, this has been an energising quarter for us with the promise of even more impactful months ahead.
Thank you for supporting and sharing our work. Because of you, we have been able to increase our reach and improve the quality of our programming.
Please continue to donate to our work. Also consider becoming a recurring donor and setting-up automatic monthly payments to us. And please share our work with others in your network.
Together, we can keep working to build a pipeline that supports girls and women throughout their journeys from early engagement to a career in technology and sciences. We thank you and our girls thank you too.
Warm regards,
Oreoluwa Lesi

FOR MORE INFORMATION:
See more photos of the camps online: https://www.instagram.com/wteconline/ and https://www.facebook.com/pg/wteconlinepage/photos/?tab=album&album_id=215083191865726


View videos from the camps & our other programmes: https://www.youtube.com/user/watchwtec
Follow W.TEC on Instagram,Twitter and Facebook
Visit W.TEC website: www.wtec.org.ng
Email W.TEC: info@wtec.org.ng
ABOUT W.TEC & THE GIRLS TECHNOLOGY CAMP:

The She Creates Camp is an initiative designed to help Nigerian secondary schoolgirls develop an early interest in computer science, information technology and related careers. The She Creates Camp helps to intervene early, combat stereotypes and tackle the digital gender divide. We teach girls to create digital content, create software and develop skills that use information and communication technologies. Our two-week immersion programme empowers girls to contribute meaningfully to the digital economy and improve their economic opportunities.

The Women's Technology Empowerment Centre (W.TEC) is a Nigerian nonprofit organisation committed to building a more inclusive technology ecosystem, with the next generation of women technology creators, entrepreneurs and leaders.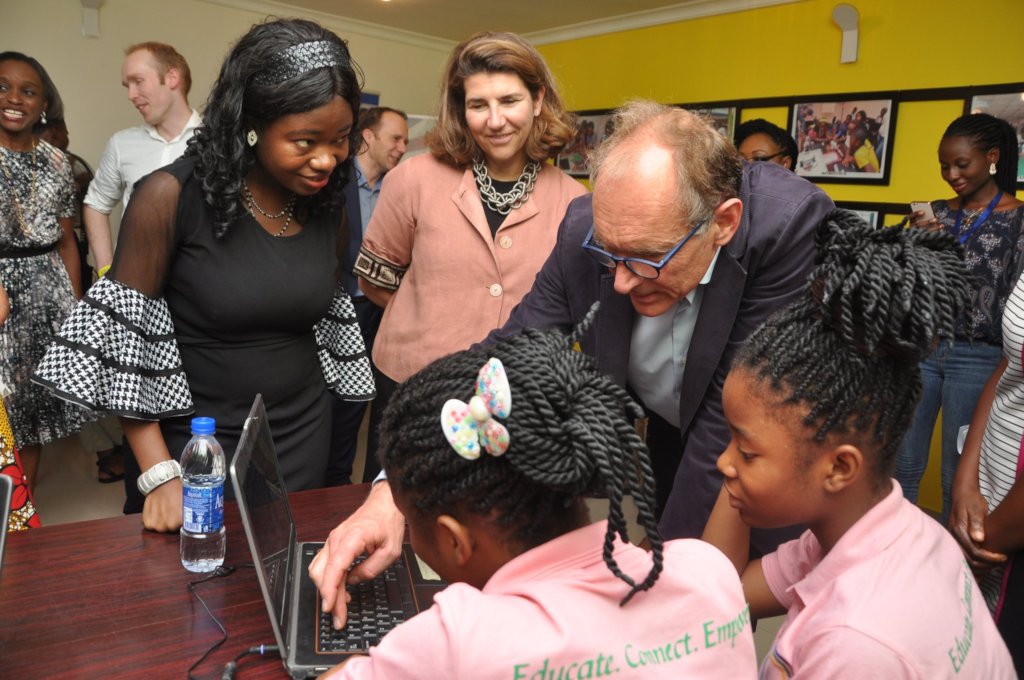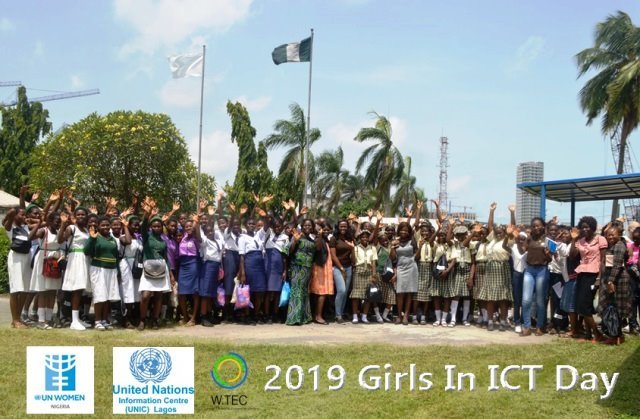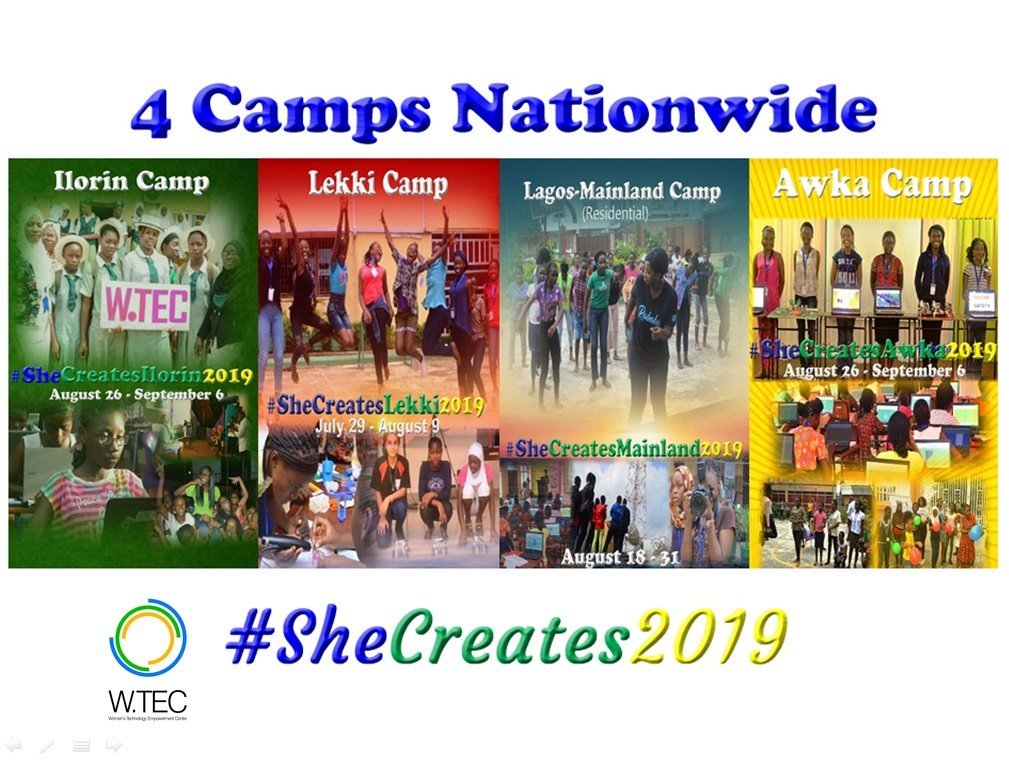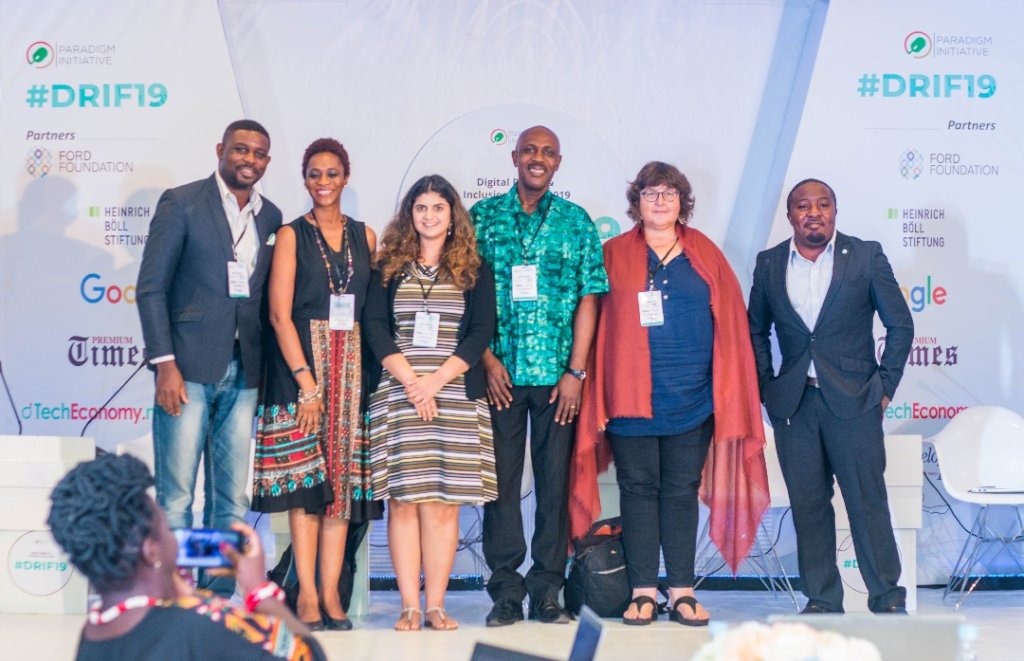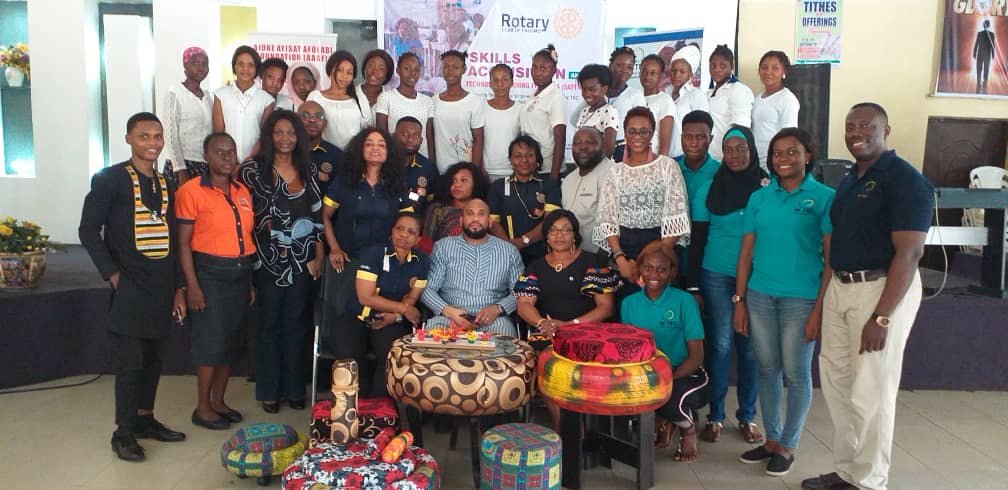 Links: