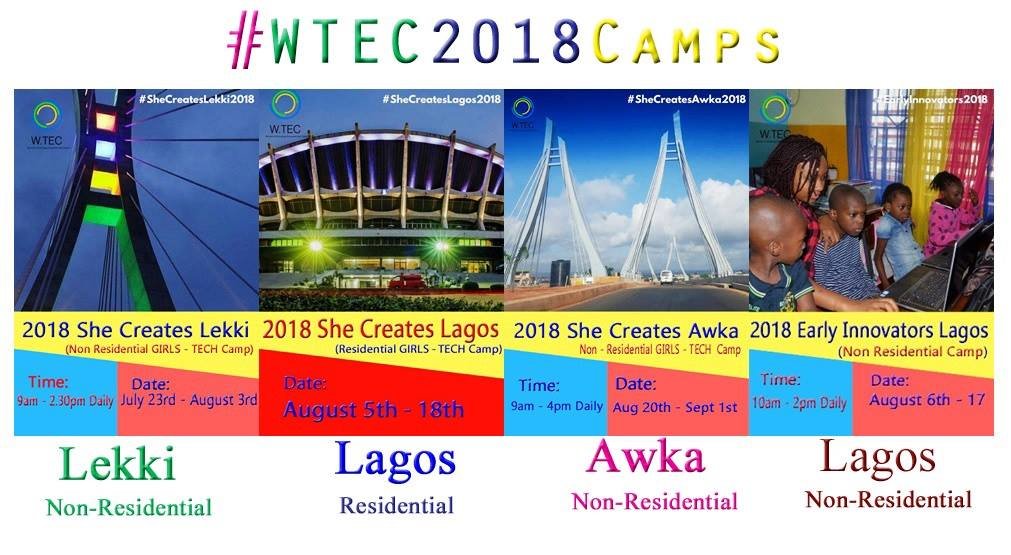 Dear friends,
Over the last quarter, we at W.TEC HQ have been immersed in the planning and preparation for the upcoming 2018 camp season.
Major highlights for this quarter include:
Call for Camp Applications Opens
Launch of Mentoring Programme
Girls in ICT Day – Ilorin, Kwara State
Courtesy Visit to Lagos State Education District IV
W.TEC Alumnae Inspired By Black Panther
New W.TEC Website Launched
a.) Call for Camp Applications Opens
The W.TEC Girls Technology Camp – now rebranded as the She Creates Technology Camp – will take place in 3 locations across Lagos and Anambra states:
She Creates Camp, Lagos Mainland - Jul 23 - Aug 3
She Creates Camp, Lagos Island - Aug 5 -18
She Creates Camp, Awka, Anambra State – Aug 20 – Sep 1
The girls will participate in technology workshops on Robotics, Renewable Energy, Software Design, Animation, 3D Design and Printing), career talk sessions, team-building exercises and excursions.
The theme for this year's camp will be Online Security. Over the last few months in particular, several events – from Cambridge Analytica's access to and misue of personal data to the questioning of Facebook's role in the incidence to the implementation of the General Data Protection Regulation (GDPR) – have brought into renewed focus the reality that personal information shared online is extremely vulnerable and can be easily shared with shared and misused.
Young people make-up a large proportion of the online population and while they are adept at using the range of available tools, they do not always pay attention to securing their information. At the camp, we will explore the problem of online data insecurity and design solutions to adresss these – from tools to safeguard personal information to apps that can inform about data breaches.
In addition to these camps for girls aged 13 to 17 years, we will organise for the second year running, a technology camp for students of 6 to 9 years old called the Early Innovators Camp.
The Early Innovators Camp serves to harness the innate curiousity of children and introduce them to computing and science concepts through play and exploration.
Email info@wtec.org.ng to learn more or apply for any of the camps.
b.) Launch of Mentoring Programme
The Early Innovators and She Creates Camp represent the first steps in building a cadre of future women technology creators. However, if a pipeline of support is not available for the young women, many will lose motivation and become discouraged when they encounter obstacles on their educational and career preparation path.
As a result, W.TEC has created a mentoring programme for young women enrolled in tertiary institutions and studying STEM-related degrees. Each mentee will be matched with a mentor – a woman technology professional and leader, who will help provide important career and technical guidance to enable the young women navigate their future careers in a more informed and strategic manner.
Applications are currently being accepted online at https://goo.gl/FYgZv9
c.) W.TEC Celebrates Girls in ICT Day
W.TEC organised 3 special Girls in ICT Day events in Lagos and Kwara states.
Girls in ICT Day is a day recognised by the International Telecommunications Union (ITU) to create awareness about the gender gap in technology and takes place on the last Thursday of April each year.
To celebrate this day, we hosted 3 events with students from
W.TEC afterschool technology clubs in Ilorin, Kwara State
Laureates College in Mafoluku, Lagos
Reagan College for Girls in Yaba, Lagos
Close to 100 girls who are members of the W.TEC Academy across public schools in the city of Ilorin in Kwara State attended the event in Ilorin. The keynote address was given by Dr. Yemisi Adeyeye, the CEO and Founder of Lifefount Hospital in Ilorin. She spoke about the importance of technology in today's world – especially as the age of the digital or 4th industrial revolution is upon us. In particular, she drew from her personal and professional experience to talk about the benefits that technology has had on her work and life – from increased exposure for her hospital, ability to work remotely, more efficient supervision of all departments and the ability to work faster.
At the Laureates College event, Ms. Chidiogo Victor-Willie, a senior staff of Oracle spoke about her educational and career journey in technology and encouraged the girls to explore this career path.
At Reagan College, W.TEC programme staff Ms. Folashade Braimoh and Mr. Yemi Odutola led the girls in lively discussions on careers in technology.
d.) Courtesy Visit to Lagos State Education District IV
As part of our year-long celebration of W.TEC's 10th anniversary, the staff and some of our programme beneficiaries visited one of our key partners – the Lagos State Educational District 4. We met with the Tutor General and other top-level staff within the district. W.TEC presented them with a special award in recognition and appreciation of their support, which has enabled us impact close to 5,000 girls within the Yaba and Surulere environs of Lagos.
Three of our beneficiaries, Monsurat, Blessing and Ifeoma shared how the W.TEC camp and afterschool club has informed their career choices and equipped them with skills that has generated some income for them.
e.) W.TEC Alumnae Inspired by Black Panther
Thanks to the generous support from an individual donor, 25 W.TEC alumnae were invited to a screening of the film Black Panther. The young women were especially excited by the character Shuri, a mathematical and scientific genius who develops many interesting and useful devices. They left the film inspired about the potential they each had to create some similarly life-changing tools and solutions.
f.) New W.TEC Website Launched
W.TEC launched a new website - www.wtec.org.ng - which offers a much improved and enjoyable experience for users and visitors. A wide range of useful information about our work is available for potential programme participants and partners, parents, educators, the media and all other stakeholders.
*******************
This quarter has certainly been a productive one and we look forward to hearing from you with your questions, comments and suggestions.
Thank you again for supporting and sharing our work. Because of you, we have been able to increase our reach and improve the quality of our programming.
Together, we can keep working to build a pipeline that supports girls and women throughout their journeys from early engagement to a career in technology and sciences.
Warm regards,
Oreoluwa Lesi

FOR MORE INFORMATION:

See more photos of the 2017 camps online: Lagos photos, Ibadan photos, Early Innovators Camp

View videos from the camps & our other programmes: https://www.youtube.com/user/watchwtec

Follow W.TEC on Instagram, Twitter and Facebook
Visit W.TEC website: www.wtec.org.ng
Email W.TEC: info@wtec.org.ng
ABOUT W.TEC & THE GIRLS TECHNOLOGY CAMP:

The She Creates Camp is an initiative designed to help Nigerian secondary schoolgirls develop an early interest in computer science, information technology and related careers. The She Creates Camp helps to intervene early, combat stereotypes and tackle the digital gender divide. We teach girls to create digital content, create software and develop skills that use information and communication technologies. Our two-week immersion programme empowers girls to contribute meaningfully to the digital economy and improve their economic opportunities.

The Women's Technology Empowerment Centre (W.TEC) is a Nigerian nonprofit organisation set-up to encourage more girls to pursue technology careers and support women (entrepreneurs and in civil society) to use technology confidently to increase their economic power and ability to speak about issues affecting their lives.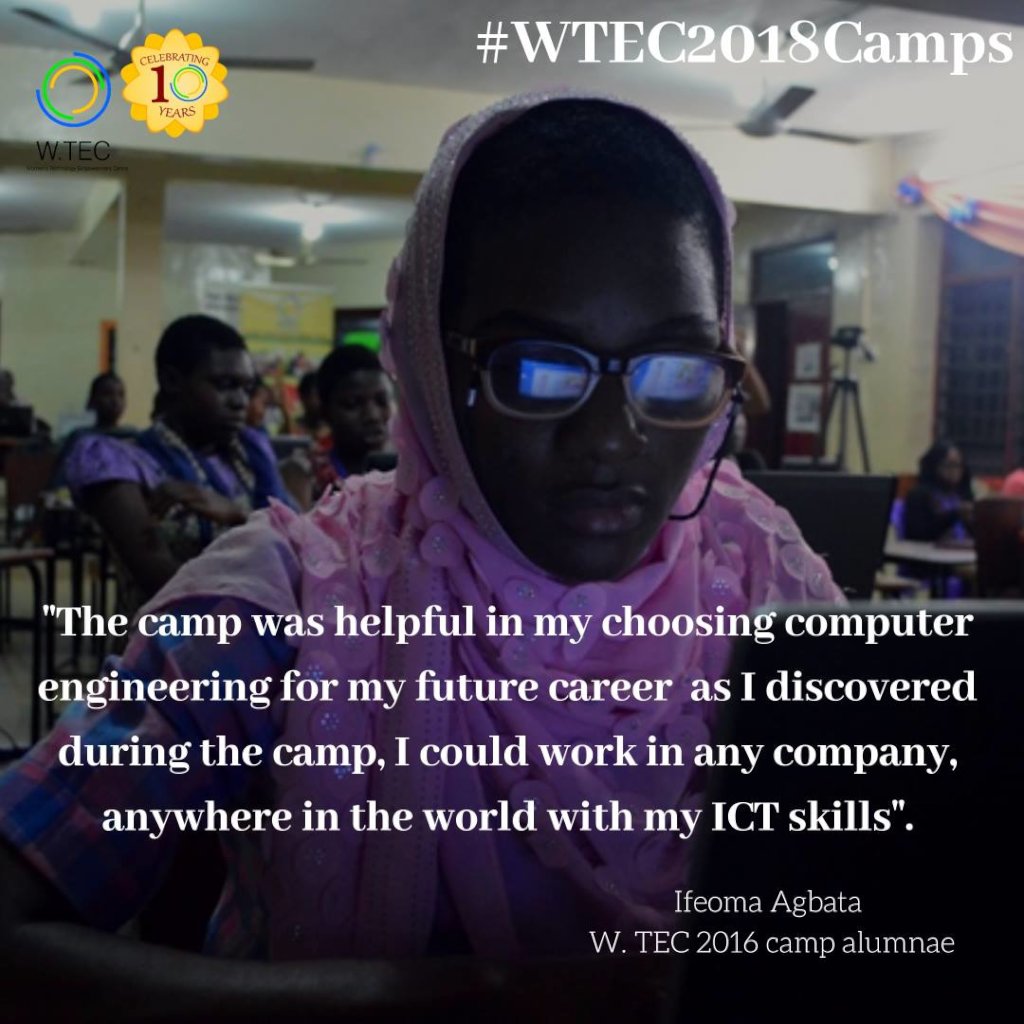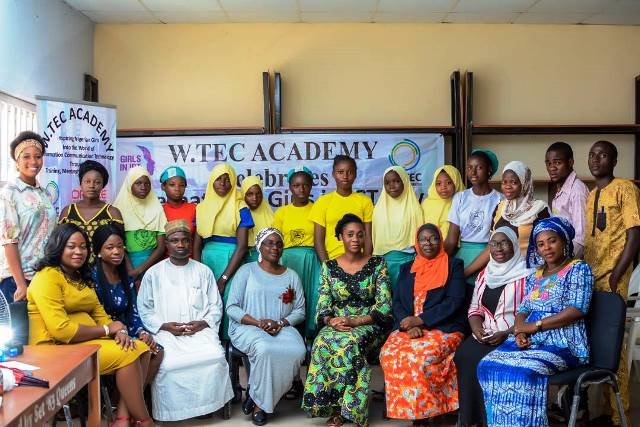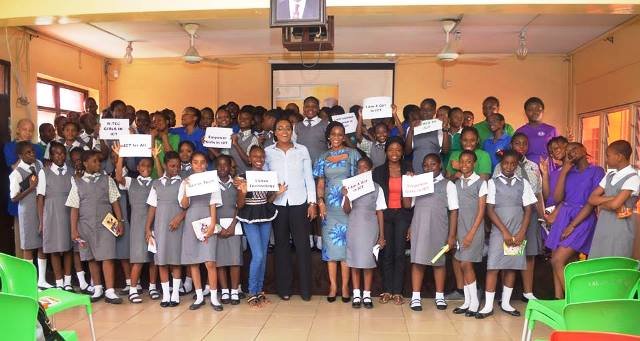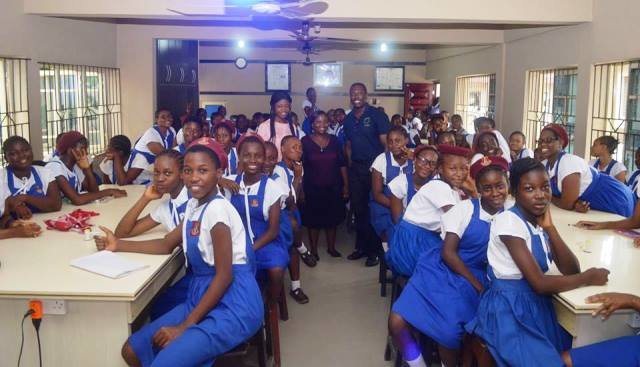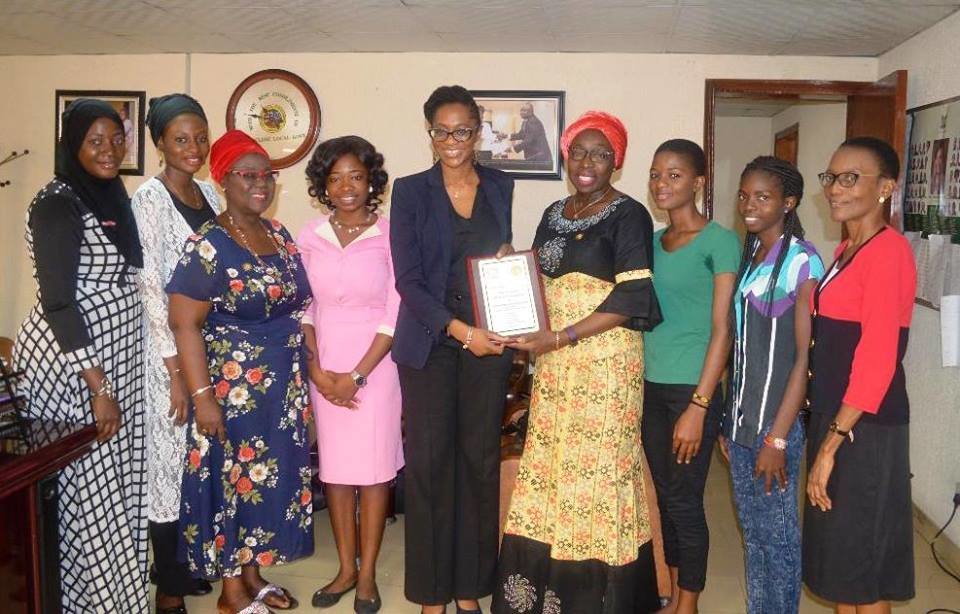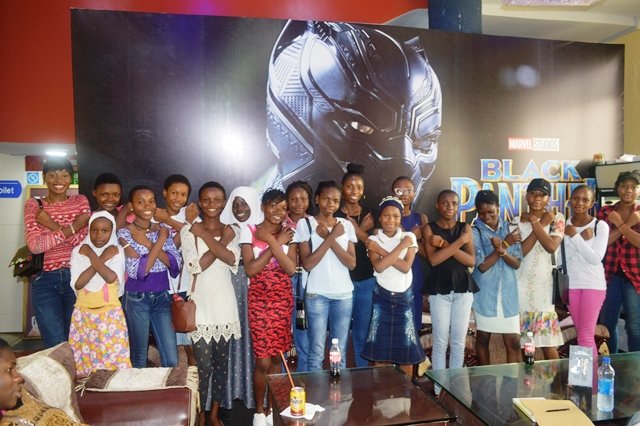 Links: