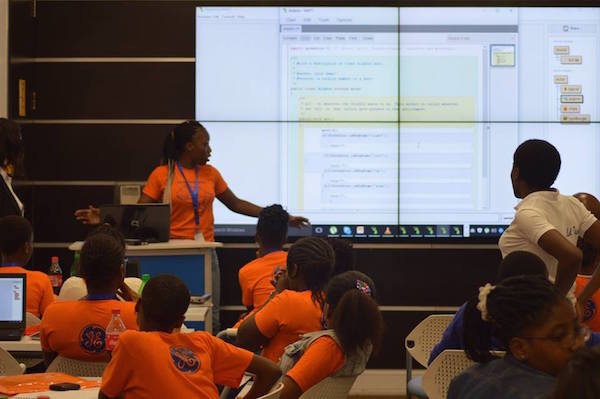 Dear friends,
It has been an eventful year for W.TEC. We welcomed 66 girls (ages 13 to 17 years) to 2 camps in Lagos and Ibadan, Oyo state. The 2017 W.TEC Girls Technology Camp was the 10th edition of the annual programme. And for the first time, W.TEC extended the initiative outside of Lagos state.
We also extended our work to include girls from ages 6 and up, in a separate camp for primary school students.
We have started planning for the 2018 editions of the camp and are looking to extend the camp to 1 additional location. We have started discussions and exploratory visits to the location and will be able to confirm the city and dates when these have been decided on.
In 2017, we achieved the following:
Launched our first girls camp outside of Lagos
Launched our first technology camp for primary school students (ages 6 to 10 years)
Expanded our afterschool technology club from just secondary schools (ages 11 to 17 years) to primary schools (ages 6 to 10 years)
Launched a technology and entrepreneurship programme for young women in university
Helped develop the technology capacity of 36 public libraries across Nigeria and help make them more comfortable spaces where girls within the local communities can access technology and the Internet
Were a 2017 WSIS (World Summit on Information Society) Prizes Nominee – Category 4 (Capacity Building)
Were featured on

Wikipedia

as a leading organisation working to close the gender gap in technology : http://bit.ly/2z49Gm1
Worked with no less than 2,888 girls and women
Although the bulk of our work is with girls, our vision is to build a pipeline that supports girls and women throughout their journeys from early engagement to a career in technology and sciences. So your support is needed more than ever.
We look forward to sharing our plans for 2018 in the new year.
In the meantime, we wish you all a wonderful Christmas and an exciting 2018.
Warm regards,
Oreoluwa Lesi

FOR MORE INFORMATION:

See more photos of the camps online: Lagos photos, Ibadan photos, Kids Camp

View videos from the camps & our other programmes: https://www.youtube.com/user/watchwtec

Follow W.TEC on Instagram, Twitter and Facebook
ABOUT W.TEC & THE GIRLS TECHNOLOGY CAMP:

The W.TEC Girls Technology Camp is an initiative designed to help Nigerian secondary schoolgirls develop an early interest in computer science, information technology and related careers. The W.TEC Camp helps to intervene early, combat stereotypes and tackle the digital gender divide. We teach girls to create digital content, create software and develop skills that use information and communication technologies. Our two-week immersion programme empowers girls to contribute meaningfully to the digital economy and improve their economic opportunities.

The Women's Technology Empowerment Centre (W.TEC) is a Nigerian nonprofit organisation set-up to encourage more girls to pursue technology careers and support women (entrepreneurs and in civil society) to use technology confidently to increase their economic power and ability to speak about issues affecting their lives.