When you think of wellness, I'm sure the first thing to pop into your head isn't your teeth and gums. The truth is that your mouth is a good indicator of your body's overall health. Obviously by virtue of the fact that I'm a dentist, I tend to look at overall health through a lens of oral health. There is an increasing body of evidence showing that oral health is a key component of overall health. By simply brushing your teeth more often, you can reduce low grade systemic markers of inflammation (http://www.bmj.com/content/340/bmj.c2451) that are known to cause cardiovascular disease. It's amazing to think that such a simple task of brushing our teeth more frequently can lead to such dramatic results.
When we look over a lifespan, good oral health begins already in infancy. Did you know that the American Academy of Pediatric Dentistry (http://www.aapd.org/media/Policies_Guidelines/G_Periodicity.pdf) recommends that a child should have their first dental visit by the eruption of the first tooth or at the latest, by age one? It appears that much of high caries risk behaviors starts by age one, so it is an ideal time to intervene with parents. Much of this first visit is to educate parents about good oral hygiene habits, demonstrate how to brush their child's teeth, and provide children with optimal fluoride supplementation, if needed. Simple recommendations like not putting a baby to bed with anything other than water in a bottle can prevent a phenomenon often known as baby bottle cavities from starting. Wiping down the gums and teeth after feedings, helps to prevent to accumulation of milk or formula on the teeth that could otherwise promote the formation of dental cavities.
Many simple healthy recommendations that help prevent obesity in adults and children also help to prevent cavities. Some of my favorite examples are drinking soda (http://www.mndental.org/public_home/educational_activities/sip_all_day_get_decay/the_hard_facts) and eating a diet high in sugars. Not only do sodas contain lots of sugar, they also have a low pH level that additionally weakens the enamel in the teeth. Sour candies (http://www.mndental.org/public_home/educational_activities/the_power_of_sour_on_your_teeth/the_hard_facts/) are very popular too and have a terrible effect on teeth, eroding the enamel as well. The hardest part is motivating people to make big changes in their lives even when it will have such a huge personal benefit.
As a public health dentist concerned about my community, I would be amiss to leave out a simple message about water fluoridation, in this context of wellness. Portland, Oregon is one of the largest metropolitan areas in the nation to not provide fluoridated water to our citizens. Our great state of Oregon, that is progressive in so many other ways, has the dubious distinction of being almost dead last amongst US states in the percentage of communities served with water fluoridation. There is an awful lot of misinformation out there about fluoride and even more scare tactics. I encourage you to look at the scientific facts that support the safety, efficacy and cost-savings of community water fluoridation. Every major national dental and medical organization supports community water fluoridation as a safe and effective means to reduce cavities in the community.
Considering that we have such a problem with access to dental care and so many in desperate need of dental care, it is critical that folks who never see a dentist could benefit from such a public health measure. The Centers for Disease Control and Prevention rank water fluoridation as one of the top 10 public health achievements (http://www.cdc.gov/mmwr/preview/mmwrhtml/00056796.htm) of our time. Please take a moment to look at the scientific facts (http://everyonedeserveshealthyteeth.org/) as you ponder this topic. Virginia Garcia Memorial Health Center has joined over 80 other local organizations in supporting water fluoridation in our communities. I hope you'll join us too.
I hope I've given you something to chew on. Next time you think about wellness, maybe you'll remember your teeth and gums! Alas, the mouth IS part of the body, something we as oral health professionals try to remind folks about every day.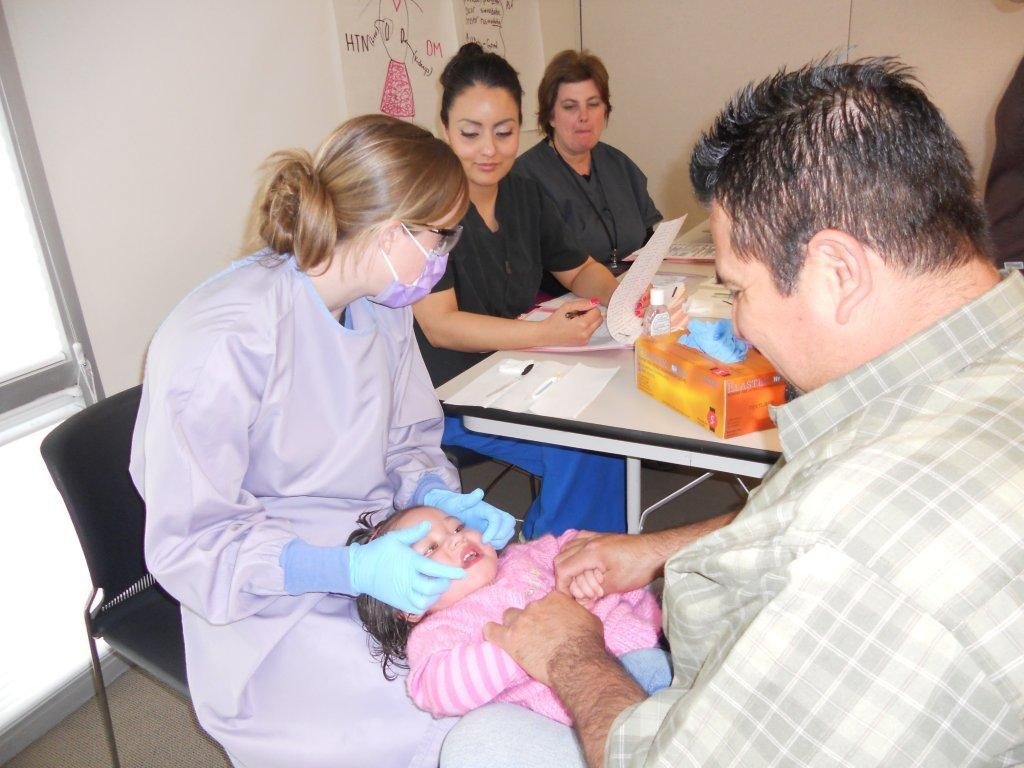 Links: