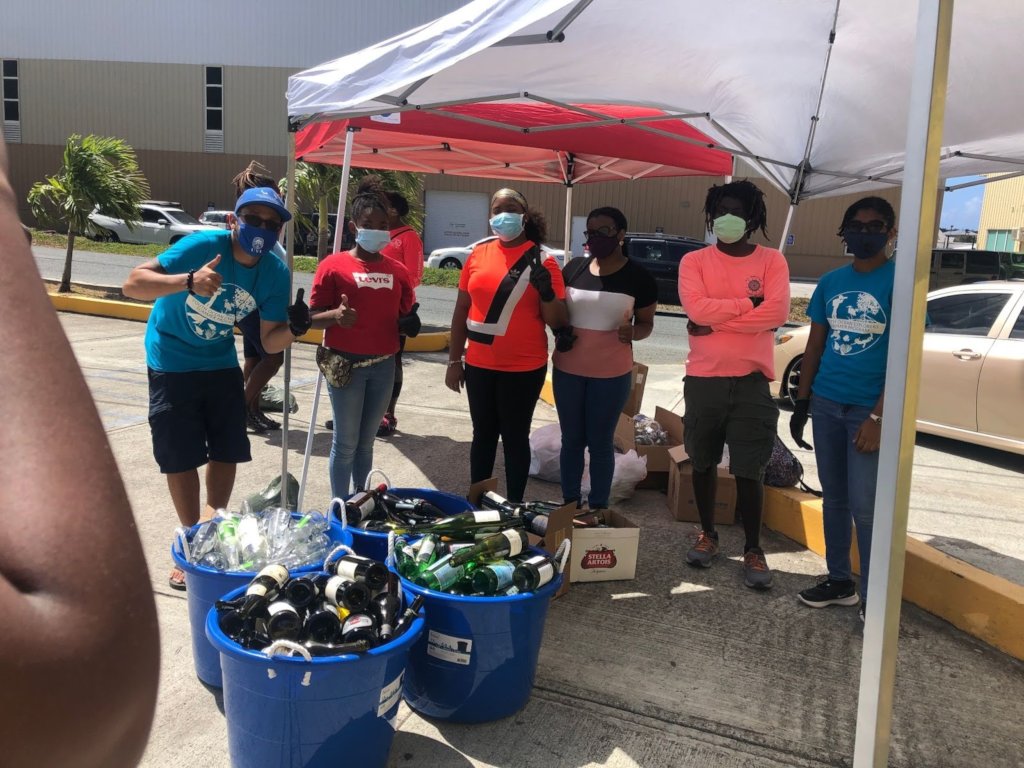 We are pleased to share updates with you regarding the USVI hurricane recovery and resiliency projects funded through your support!
Several projects are ongoing, with anticipated end dates throughout 2021 and 2022. As updates become available on the impact of COVID-19 on planned activities, we will include that information in future reporting.
University of the Virgin Islands (UVI): Glass Recovery USVI
Glass crushing machines have been provided to 2 local organizations and additional machines will be distributed. One machine is now housed on the UVI Albert A Sheen Campus and this machine's operation will be coordinated by the University Bound Program. There has been one community drop off event to date, where community members were able to drop off any glass to be recycled, and additional events are scheduled. As of May 2021, 2,148 glass bottles had been crushed and 65 sandbags were created.
UVI: Indoor/Outdoor Campus Recycling
UVI started a recycling program on both campuses, but unfortunately the official launch has been postponed due to the COVID-19 pandemic and the subsequent UVI campus closing. In the meantime, student volunteers have been helping to move recycling units and put up educational posters around campus and a cardboard and can bailer have been purchased and will be delivered soon.
University of the Virgin Islands (UVI) Caribbean Green Technology Center: Environmental Native Fruit Tree Program with a focus on Water and Soil Quality in the USVI
UVI started their project addressing food and water security in the territory by building a network for drought monitoring; providing virtual training to community members on gardening, farming, selling products and quality testing at home; and creating a fruit tree replanting initiative that serves local farmers and the local community. Volunteers provided approximately 50 hours of service time representing more than 12 volunteers that helped organize and sort dragon fruit, set up gifting, and also boxed and prepared the plant cuttings for shipment between islands. 911 families received pitaya (drought tolerant) with instructions on how to grow it and six farmers were given varieties of dragon fruit to replant their farms. 750 trees and 200 water filters are also on the way for future community distribution. CGTC has hosted 4 water quality seminars and 2 drought seminars, as well as 3 community webinars on home gardening, art /journaling therapy and mental health.

Community Action Now: CAN Academy
CAN has been able to provide training and support to 15 displaced workers while hiring local instructors, thereby reinvesting in the local economy. The overwhelming response to the program has highlighted the need for this program in the territory. The individuals will continue to receive training and support in the areas of life skills, entrepreneurship and small business certification, certified administrative professional, and/or bookkeeping over the next 6 months.
My Brother's Workshop: MBW Heavy Equipment Training Course
All of the equipment for the heavy equipment operations program has been delivered and set up in the MBW office. A community event was held on June 1st to showcase the equipment and introduce the new training program. The program will allow trainees to gain experience with forklifts, front end loaders, backhoes, skid steer loaders and more - 48% of businesses utilize some form of heavy equipment and this professional program offers real life experience and workforce development in a field with high demand for employees.
TLC Foundation: Green School Farm
The organization is working to acquire land to support the creation of a plant and tree farm to educate, train, and employ young adults in replicable permaculture and regenerative farming practices, provide workshops and classes to the community, sell and educate about food in the local community, create compost using restaurant scraps, and create a native seed bank.
Friends of Virgin Islands National Park: Native Plant Restoration, Protection and Education
116 volunteers have contributed 481 hours of work including planting, fencing, watering, and nursery work. On Earth Day (April 22), 500 plants were distributed to 96 community members. So far, 180 trees have been planted, 120 at Cinnamon Bay, and 60 at Trunk Bay.