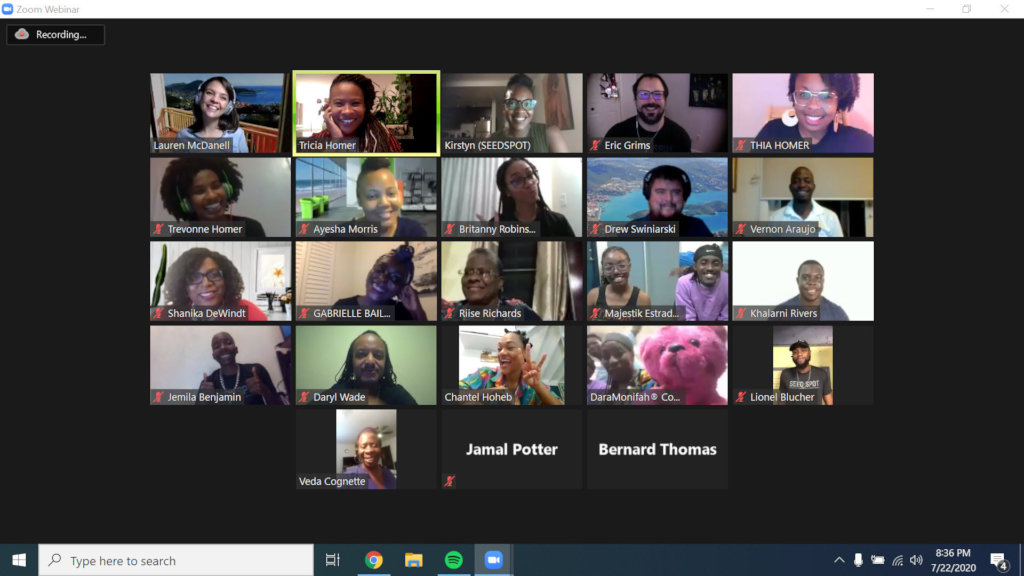 We are pleased to share updates with you regarding the USVI hurricane recovery and resiliency projects funded through your support!
Several projects are ongoing, with anticipated end dates throughout 2021 and 2022. As updates become available on the impact of COVID-19 on planned activities, we will include that information in future reporting.
SEED SPOT: Empowering Entrepreneurs to Fuel Recovery Efforts (St. Thomas)
SEED SPOT provided resources and training to Virgin Islands-based entrepreneurs, building their capacity to innovate, dissect problems, develop solutions, and lead change within the community. The Launch Camps provided an entry point for idea-stage entrepreneurs and empowered a pipeline of entrepreneurs to build investment-ready ventures with social impact. During the grant period, SEED SPOT hosted two Launch Camp experiences and served a total of 31 entrepreneurs - 68% were women, and 88% were entrepreneurs of color. This project is now complete!
Island Green Living Association: Commercial Composting Phase 1: Vegetation Chipping (St. John)
Island Green Living Association (IGLA) launched the Island Green Brush Chipping Pilot Program, which aimed to recapture a rich and valuable resource on St. John (brown & green material), reduce the volume of debris headed for the territory's overflowing landfills, and lower solid waste transportation costs. IGLA established an MOU with Virgin Islands Waste Management Authority (VIWMA) and developed a brush chipping yard at the Susannaberg Transfer Station, where vegetative debris is brought by landscapers and homeowners on St. John. IGLA purchased the heavy equipment necessary to separate debris and began processing vegetative debris into mulch. This project is now complete. We are excited to share that the outcomes supported by the Island Spirit Fund garnered the attention of our Board and a second phase of the project has begun, with a grant of other CFVI funding.
Clean Sweep Frederiksted: Urban Garden Project (St. Croix)
Clean Sweep Frederiksted created and implemented a comprehensive 8-week Urban Garden Workforce Development program designed to teach participants the fundamentals of farming by providing a classroom and hands-on experience in the community garden, resulting in the transformation of the Frederiksted Community Garden into thriving farm plots. Funds were also used to provide each participant with seeds, tools, online advanced level gardening classes, and a tour/fish fry at a new sustainable farm located in Frederiksted, helping participants learn more about additional farming techniques, harvesting, and creating value-added products and off-set costs for growing their at home or new farming businesses. This project is now complete!
Testimonial:
"Thank you for having such a wonderful program. It has opened my eyes to food and food sustainability not only in Frederiksted but throughout the Virgin Islands and world. After receiving my farming license I have continued farming and plan on having plantains for sale in the next couple of months." - Amanda B. of UFarms
TLC Foundation: 100 Days of Service (St. Thomas)
TLC Foundation brought yoga, mindfulness, and wellness training to the general population of St. Thomas, as well as to the front line workers and health care providers that prioritized helping others after the storms and put their own health and wellness on hold. Classes were taught to the staff of Schneider Regional Medical Center and to public school teachers; mindfulness training was provided to 3 new local yoga teachers on island; and subsidized classes were offered for furloughed and unemployed community members. This project is now complete!
St. George Village Botanical Garden: Trees for St. Croix (St. Croix)
St. George Village Botanical Garden promoted tree planting on St. Croix through the development of a 1500 sq. ft. nursery, seed bank and training of staff. Trees were propagated, grown and distributed to more than 1000 interested residents primarily to replace trees lost during the 2017 Hurricanes Maria and Irma. This project is now complete!
UVI: Glass Recovery USVI (Virgin Islands)
UVI has purchased 7 sand crushing machines, along with personal protective equipment, to collect and crush recycled glass from beach cleanups and community members. The recycled glass will be used to create sandbags, which will then be distributed to local organizations.
UVI: Indoor/Outdoor Campus Recycling (Virgin Islands)
UVI started a recycling program on both campuses but unfortunately the official launch has been postponed due to the COVID-19 global pandemic and the subsequent UVI campus closing. The program will be expanded by purchasing a can crusher and baler, and a cardboard bailer. There are plans to resume once the campus is reopened to students
UVI Caribbean Green Technology Center: Environmental Native Fruit Tree Program with a focus on Water and Soil Quality in the USVI (Virgin Islands)
UVI is leading a project addressing food and water security in the territory by building a network for drought monitoring; providing virtual training to community members on gardening, farming, selling products and quality testing at home; and creating a fruit tree replanting initiative that serves local farmers and the local community. The funds will be used in conjunction with other federal funding including USDA-NIFA in an effort to provide fruit trees to families involved in programs that benefit the broader community.
The following projects were just awarded funding and are getting underway. We will have more detailed updates in our next report.
Community Action Now: CAN Academy
Funding will be used to train and certify displaced workers (in the areas of life skills, entrepreneurship and small business certification, certified administrative professional, and/or bookkeeping) in order to equip them with new skills that enable them to re-enter the workforce and/or to grow their small businesses.

My Brother's Workshop: MBW Heavy Equipment Training Course
Funding will be used to introduce a new training program in the area of heavy equipment operations by purchasing a simulator that will allow trainees to learn how to operate heavy equipment.

Rotary Club of St. Thomas East ECO: Energy Equity for Low- and Moderate-Income Families via Resilient Solar Power
Funds will be used to support a solar affordability partnership that will help reduce the household energy burden for qualified Low- and Moderate-Income (LMI) Families on St. Thomas by increasing the affordability and accessibility of solar energy and the resilience of battery backup power.

TLC Foundation: Green School Farm
Funding will be used to launch a comprehensive regenerative permaculture farm project, which will include planting, establishing a seed bank, training/workshops, and other farming practices and initiatives that can support hurricane recovery and sustainability.