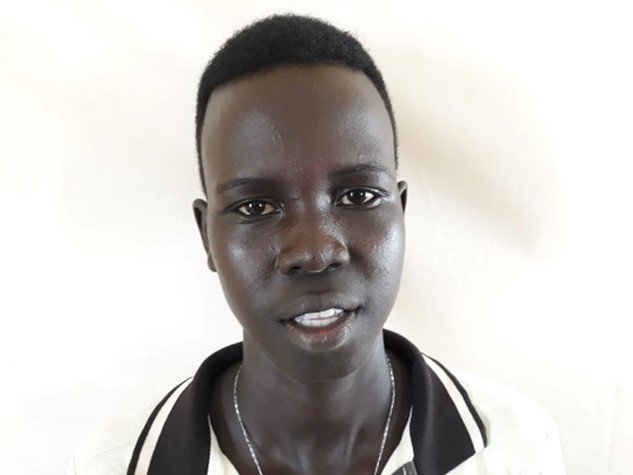 Schools were closed by Coronavirus in South Sudan last April. Since there is no widespread internet available to families in homes, there has been no online learning as a substitute for in-school classes. Each family is lucky to have a single cell phone to stay in touch with friends and relatives, so communication with students and their families has been difficult. Schools are now beginning to reopen. For now, only the 8th and 12th year students have returned. These two grade levels must take required national exams at the end of the year, so the government is allowing them to return to school early so that they can prepare. Other grades will reopen in the early months of next year.
Even though schools have been closed and contact with students is limited, Daniel, our in-country director, has been able to give out personal care supplies to students who have come to the office a few at a time. He has also been able to distribute solar lights so they can continue to study in the evenings. As students have come into the office, Daniel has interviewed some of them to find out how they are doing. Let me tell you about one of these students Daniel interviewed over the summer. Her name is Anyier, currently in 10th grade, and a member of the Lion Group. Each PESS supported student is part of a girl group for camaraderie and mutual support.
Anyier shared some of her personal passions in her interview. One thing stood out: Anyier mentioned a woman in leadership whom she admires, Amuor Pach, former Minister of Health for the region of Jonglei. Anyier says the reason she admires this woman is because of her education. Anyier goes on to say that this gives her great motivation to struggle to go further so that she can be like Amuor Pach, or maybe to hold a position higher than this hero of hers. Wow! Anyier does not want to be ordinary. She is determined to join the group of women who will change their young country for the better.
Here's the thing though – a few years back Anyier wanted to go to school and she fully expected that her father would see her eagerness to learn and would send her to school. However, as Anyier says in her own words, "…shockingly, he chose my younger brother to go to school and I was left behind with household chores." This outcome is not unusual in Anyier's world. What made the difference for Anyier is that PESS offered her a scholarship so that she could stay in school. How can a parent turn that down, even a parent who might favor educating sons rather than daughters? You see, most South Sudanese families are cash-strapped and have to choose.
I hope you grasp the significance – your support is helping Anyier prepare for future leadership. Would you like to support the Lion Group with Anyier as one of its members? You can become part of a support team who each give $35 per month to provide scholarship funds and after-school support for the Lions… and Anyier. She won't forget it!